How do you start a blog? This is probably the number one question I get.
Getting a blog started is a lot easier than you'd think, the hardest part is to just do it.  I talked to Trevor about starting a blog for over a year before I finally did it and I kick myself every day for not starting it sooner!

You're here… no more excuses, LET'S DO THIS!
Three simple steps to start a blog
STEP 1: Get hosting and pick a name
Hostess with the mostest!
Your blog needs to live online somewhere. That's where hosting comes in.  We recommend using Bluehost as your host.  It's what this site is streaming to you from right now.  It's fast, reliable, well known and we've never had any problems.  This is the best place to start your blog and it's inexpensive!  What more could you want?!? 🙂
Visit Bluehost and select the "Starter" plan, you pay it in a lump sum which gives you the best value and it's the perfect plan to start your blog on. Plus… you get your domain name for free!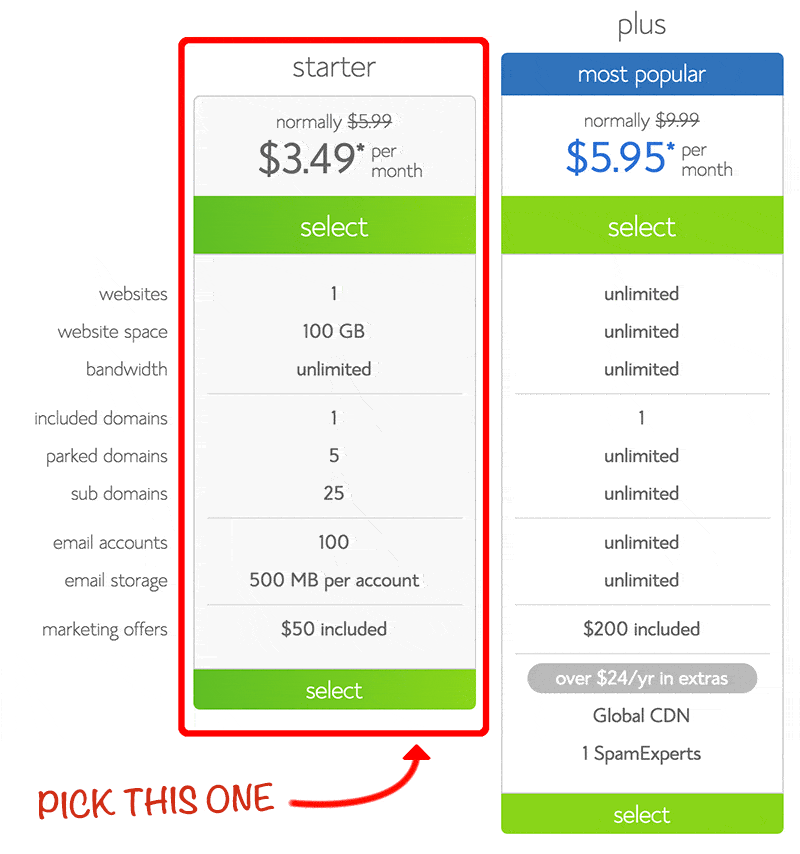 What's in a name?
Once you've selected your hosting package, you'll need to choose a domain name.  When you're coming up with the domain name keep two or three things in mind:
Keep it simple
Make it memorable
Be marketable (optional)
If you're blogging for fun, one and two above are all you need to worry about…  you want a name that's easy for people to type AND easy for people to remember.
If you're looking to turn your blog into a business, "JanesBlog.com" doesn't tell us what your blog is about and may not be the most marketable name in the future.  Sorry Jane. 😉
As you can see in your address bar, our domain name is showmetheyummy.com.

Here are the options that we suggest.  You can skip most of the extras, but we would suggest the "Domain Privacy Protection", which means that your full name and contact information won't be known to anyone looking up your site.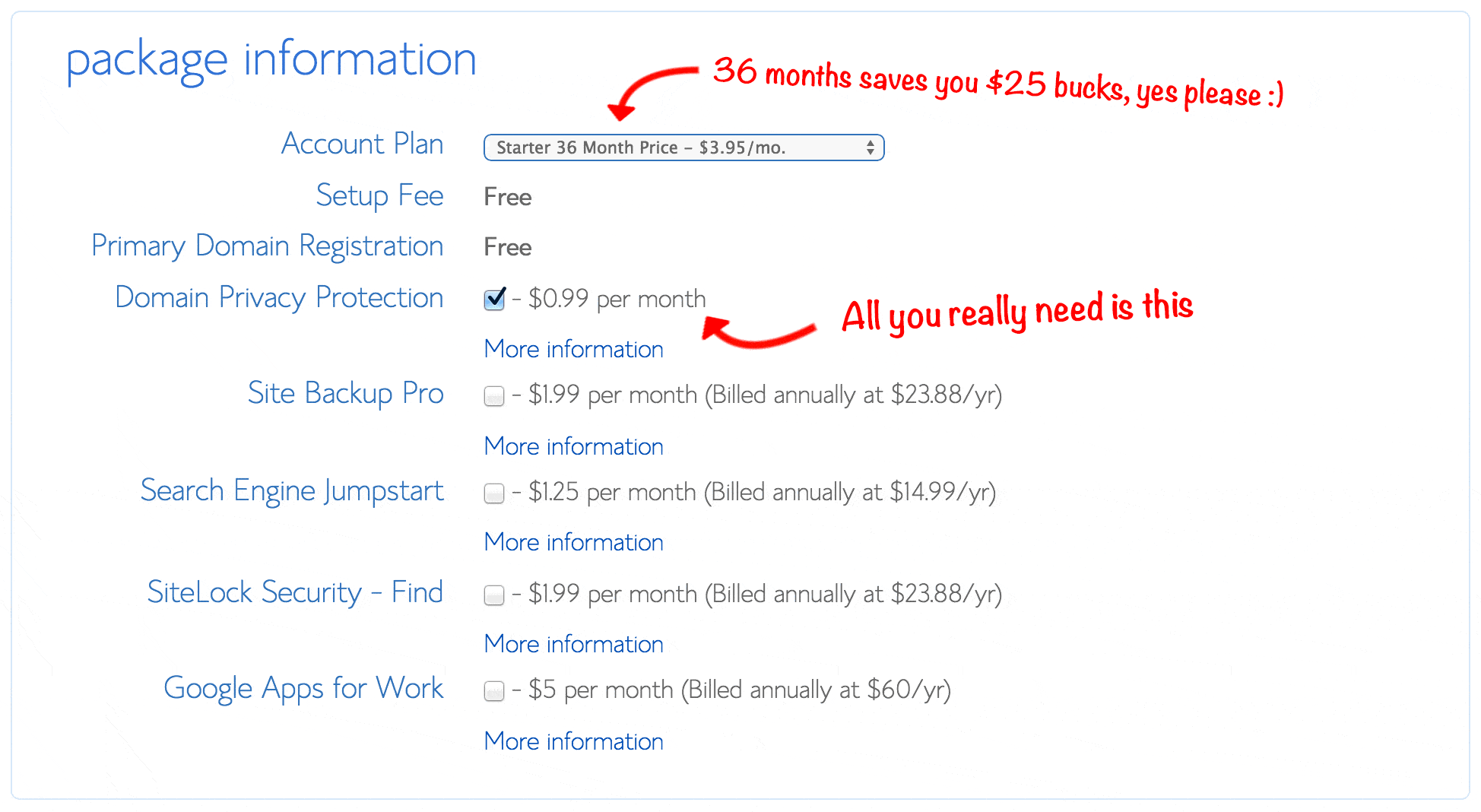 STEP 2: Install WordPress
Okay, hosting set up CHECK!  Next thing you need to do is get WordPress installed.  Wordpress is a content management platform that makes it super easy to spend your time blogging and not building a website.  25% of all sites on the web use WordPress, so feel confident that this is the way for you to go.
Login to Bluehost and click on "Install WordPress" in the "Website Builders" section.

Definitely go with the "Do it yourself for Free" option, because… well… it's free and there's nothing to it.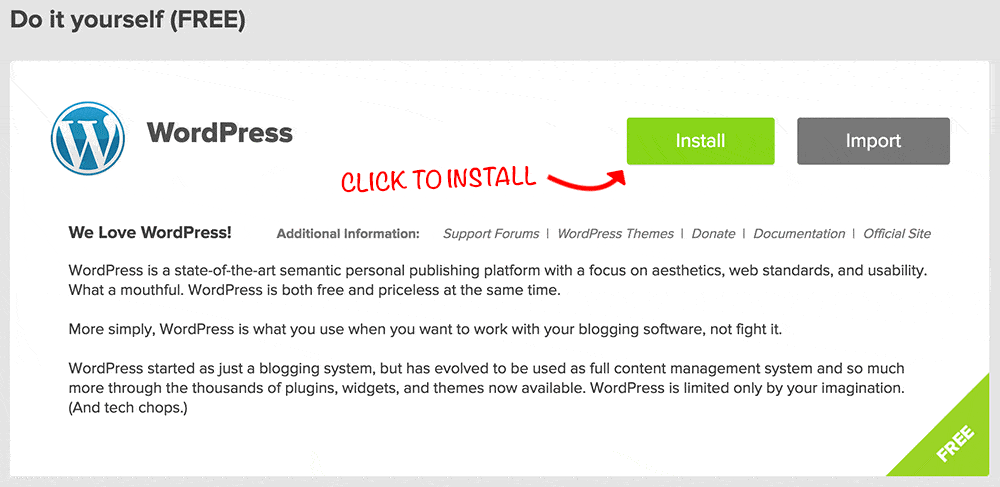 Bluehost will then check your domain to make sure everything is in order.

You're only one checkbox and a button click away!!!

Wahoo!!!  You did it!  Click on "View Credentials" to get your temporary username and password, you'll want to change this when you log in for the first time.
Visit your Admin URL, it will be http://yourdomainname.com/wp-admin/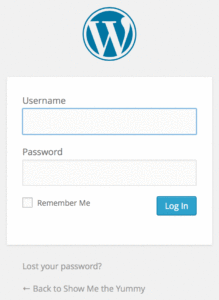 Log in using your temporary username and password and…CONGRATULATIONS!  Welcome to your new blog!!!
STEP 3: Strut your stuff!
So, you've got the basics set up on Bluehost, now how do you take it up a notch and make it look great?
WordPress comes with a couple default themes, but you're really going to want to find something different.  You can browse through the WordPress catalog of free themes.
If you want your new blog to look really good, we suggest using the Genesis Framework, which is what this site is built on.  You can then choose from the various Studio Press Themes like the Foodie Pro Theme that we use.