This Vegan Mac and Cheese Recipe is SO easy and SO cheesy! A simple one pot dish that takes less than 30 minutes from start to finish!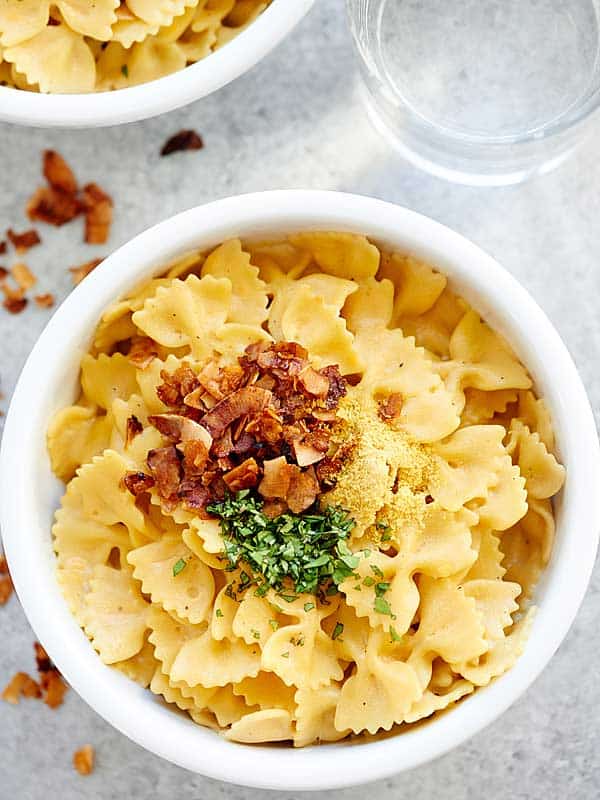 You guyyyyyyys. It's officially back to reality, so this Vegan Mac and Cheese Recipe is a m.u.s.t. to get me through today.
It's ridiculously easy – helllloooo one pot wonder, it's creamy, it's comforting, and it just so happens to be vegan!
But before we get into the recipe, let me catch you up on what's been going on. First of all, Thanksgiving happened. We got home from Thanksgiving on Friday and we were leaving in just one short week for a ten day trip to Mexico. I literally could not wait and I was working my booty off to get recipes ready while we were gone. Which, btw, if you haven't made these cookies yet, or this easy biscuits and gravy recipe… dooooo it.
By Wednesday, November 25th around 11:00 PM, I was feeling pretty good about work related stuff, so I decided to start packing. First up, my kindle charger, of course! I was dying to read another Gillian Flynn book, but my kindle was dead.
As I was looking for it, I looked at Trevor's passport and his was expired by 6 months. He hadn't even realized it had been ten years since he first got it! Woooomp. Woooomp.
S.E.R.I.O.U.S.L.Y?!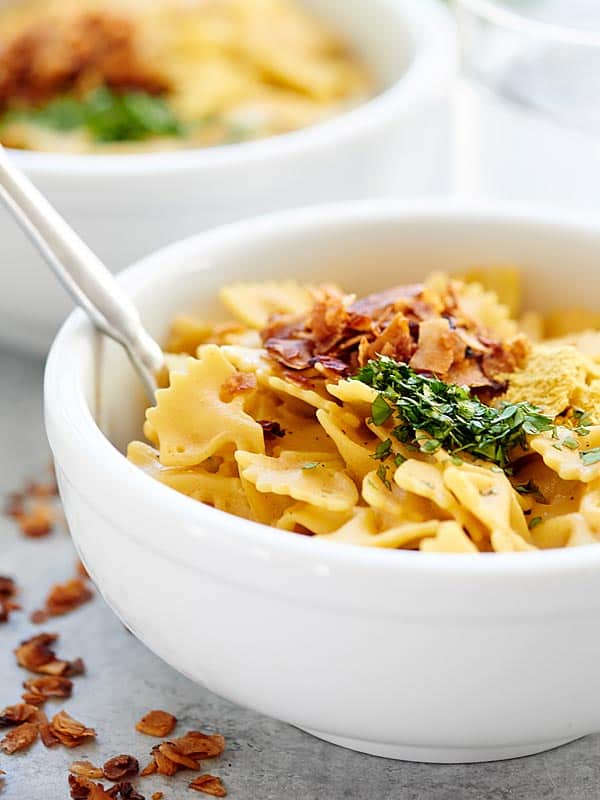 We always check stuff like this and we had been looking forward to this trip for months, so you can imagine we were pretty bummed since we were supposed to leave in about 28 hours.
Trevor started doing some research and found that we could go to a Passport Agency in Minneapolis (about 4.5 hours away) and if we're lucky, we could get new passports (mine needed my new last name also) issued same day. The problem? It was midnight, we don't have a car, car rental offices don't open until 6 AM, it's about a five hour drive, and Passport Agency offices close at 3:00PM.
S.E.R.I.O.U.S.L.Y?!
So. Trevor being the genius he is, found a Megabus (basically it's a 2 decker charter bus that travels to major cities at an affordable rate) leaving at 1:45 AM.
We Ubered (that's a verb now right?) it downtown, hopped on the Megabus, didn't sleep a *w.i.nk.*, got to Minneapolis by 7:30 AM, got our passport photos taken, walked to the agency, and anxiously waited in line right at 8:00 AM.
Long story short, we miraculously got our passports by 11:00AM (THANK YOU Minneapolis Passport Agency!), drove back to Madison by 5:00 PM, slept for like two hours, packed and started our drive to Chicago by 2:00 AM the next morning.
It was a whirlwind, BUT we made it to Mexico where we stayed at the Excellence Playa Mujeres.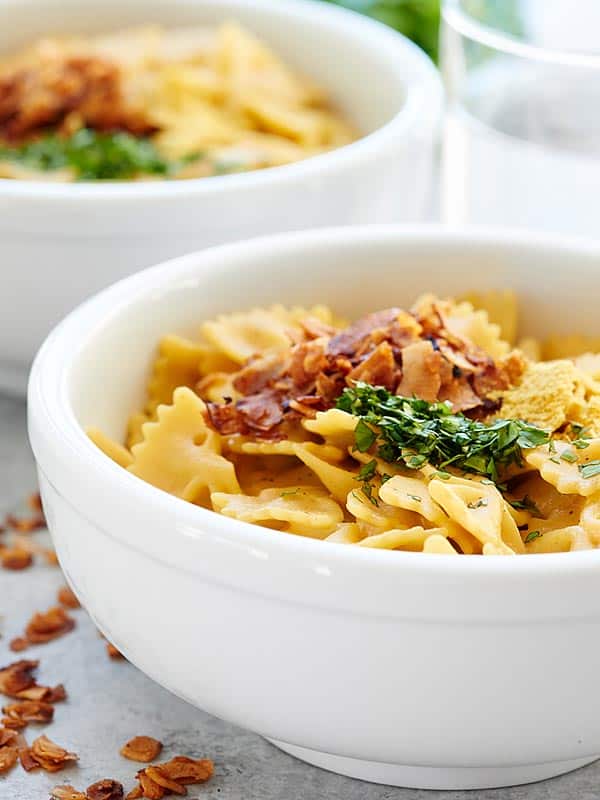 You guyyyys. It was amazing. If you're looking for an adults only getaway, I'd highly recommend this resort. It's an all inclusive…the staff is unbelievable – so friendly and caring, the resort itself is ridiculously gorgeous, and don't even get me started on the food (I'll have some recipes coming up at some point inspired by the food we had during our stay). And then the day before we left, my computer died.
S.E.R.I.O.U.S.L.Y?! 😉
So.
As you now understand, after a hectic month leading up to the trip, plus a super hectic day before our trip, then an amazing time in paradise, then having my computer die…getting back to reality has been pretty tough.
But I'm here and I really am SO ready to share this Vegan Mac and Cheese Recipe with you! 🙂
This Vegan Mac and Cheese Recipe is based off of my One Pot Mac and Cheese, but this time, I made it, um, well, vegan! If you're new to the vegan thing, that means no animal products were used in this recipe – no dairy, no meat, no nothin'! 😉
I was inspired to do this recipe, because a reader (Hi Angie 👋 ) requested a vegan mac and cheese!
I started doing my research and came across quite a few fairly difficult vegan mac and cheese recipes. I, however, wanted something just as simple as my one pot mac and cheese.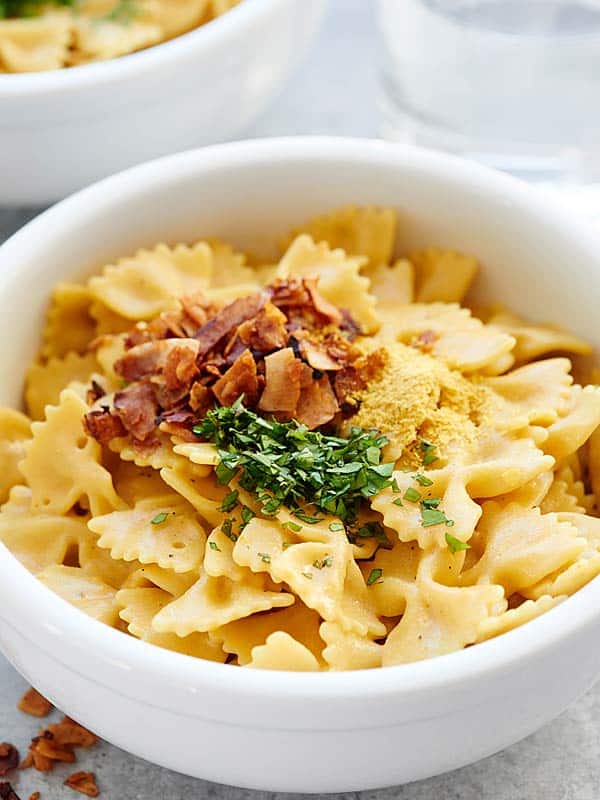 I had used Daiya cheese in the past, and thought, why not just replace cow's milk cheese with their vegan cheese?
Let me tell you…it worked like a charm.
Daiya cheese melts really well and honestly tastes just like cow's milk cheese to me! Trevor couldn't even tell the difference (see video 👆 if you don't believe me 😉 ) …and that's saying something. So I replaced the Monterey Jack with Daiya's jack style cheese, the cheddar cheese with their vegan cheddar cheese, and Asiago with nutritional yeast <– this stuff is magical and gives this dish an extra cheesiness that you'll ♡ ♡ ♡.
Here's all you need to do for this recipe:
1. Place pasta, veggie stock, almond milk, salt, and pepper into a large stockpot.
2. Bring mixture to a simmer and simmer until pasta is al dente.
3. Stir in cheeses and serve with homemade vegan bacon if you like!
That's. It.
This vegan mac and cheese recipe is crazy easy, crazy cheesy, is ready in less than 30 minutes, and will surely please vegan and non vegans alike!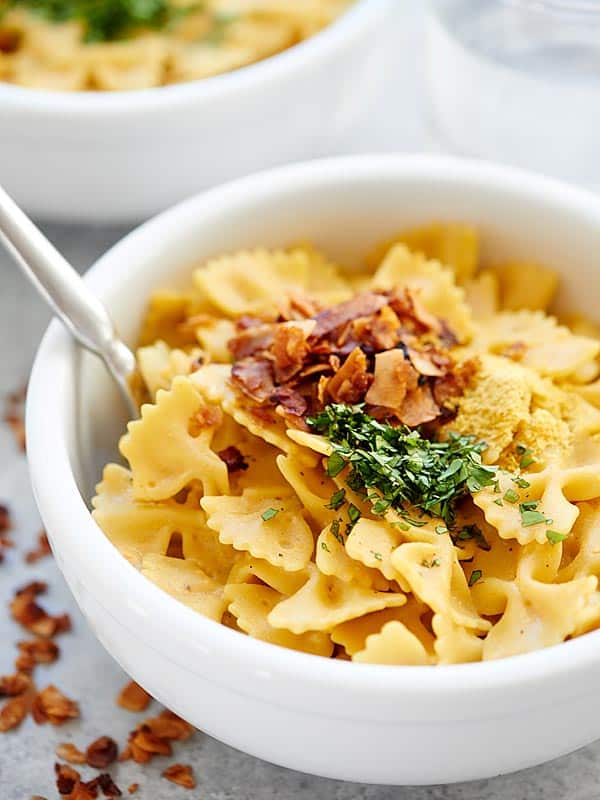 Because you know –> carbs + cheese = magic.
– Jennifer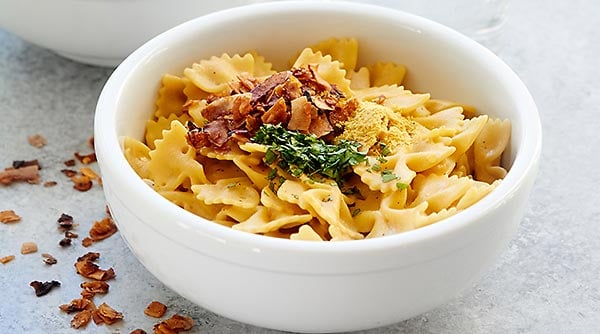 Vegan Mac and Cheese Recipe
This Vegan Mac and Cheese Recipe is SO easy and SO cheesy! A simple one pot dish that takes less than 30 minutes from start to finish!
Equipment for this recipe
(equipment shown are affiliate links)
Ingredients
1

(16 oz) box

bow tie pasta

uncooked

3

cups

vegetable broth

2

cups

unsweetened almond milk

1

teaspoon

salt

more or less to taste

1/4

teaspoon

black pepper

more or less to taste

1/2

cup

nutritional yeast

1/2

cup

shredded vegan jack style cheese

like Daiya

1

cup

shredded vegan cheddar style cheese

like Daiya

vegan coconut bacon - optional for topping

cilantro - optional for topping
Instructions
Place bow tie, vegetable stock, milk, salt, and pepper and in a large stockpot.

Over medium/medium low heat, bring the mixture to a low simmer (this will take a few minutes), stirring regularly.

Once simmering, simmer for about 5-7 minutes or until pasta is al dente. Stir constantly. You may need to adjust your heat to keep it at a low simmer.

Once the pasta is al dente, lower the heat to the lowest setting and stir in the three cheeses.

Stir until the cheese has completely melted.

Taste and re-season, if necessary.

Remove from heat and serve immediately with vegan coconut bacon and cilantro!
STORING
Reheat:
If frozen, thaw in fridge then microwave to heat
*Storage times may vary based on temperature and conditions
Nutrition Information
Nutrition Facts
Vegan Mac and Cheese Recipe
Amount Per Serving
Calories 418
Calories from Fat 63
% Daily Value*
Fat 7g11%
Cholesterol 2mg1%
Sodium 1176mg51%
Potassium 369mg11%
Carbohydrates 71g24%
Protein 15g30%
Vitamin A 415IU8%
Calcium 136mg14%
Iron 1.6mg9%
* Percent Daily Values are based on a 2000 calorie diet.
*Note: Nutrition information is estimated and varies based on products used.
Keywords:
bow-tie pasta, One Pot, vegan