These monster cookies are ultra chewy, loaded with creamy peanut butter, M&Ms, chocolate chips and are ready in just 30 minutes!
Monster cookies are my favorite kind of cookie, but I could never seem to find the perfect recipe. You know the saying, if you want a job done right, do it yourself. Hundreds of cookies and two months of testing later, I've done it. These are the best monster cookies!
Why?  I use more brown sugar to create a richer flavor and prevent spreading and I'm not shy with the peanut butter or M&Ms, which we all know, are the best parts of a monster cookie. They're also made without flour, just oats! This  creates an ultra thick, hearty, and chewy cookie.
What are monster cookies?
Monster cookies are soft and chewy peanut butter, oatmeal cookies with a variety of mix-ins often including chocolate chips & M&M's. 
Some monster cookie recipes contain flour – for a more cake-like texture – and other mix ins like raisins and butterscotch chips, but I wanted to keep today's recipe flourless, hearty, and simple.
Ingredients
The ingredient list may look like your standard monster cookie, but what makes this recipe special is the use of more peanut butter, hearty old fashioned oats, and extra chocolate!
Unsalted Butter – gives these cookies that classic, buttery taste and a chewy texture.
Dark Brown Sugar – adds a rich, molasses flavor to the cookies.
Granulated Sugar – in addition to the sweetness it adds to the cookie, granulated sugar offsets the stickiness of brown sugar helping create the perfect cookie shape and texture.
Eggs – help create a structure to the cookie while also binding all the ingredients together.
Vanilla Extract – adds flavor depth and helps to highlight the molasses-y flavor of the brown sugar.
Creamy Peanut Butter – also works to bind the dry ingredients together keeping the cookies from spreading out too much while baking. It also gives that iconic rich, nutty flavor everyone loves in a monster cookie!
Old-Fashioned Oats – creates a thick, fluffy, chewy, and sturdy cookie.
Baking Soda – gives the cookie lift.
Salt – balances out the sweetness of the cookie while also enhancing other flavors within the dough.
M&M's – adds a sweet, creamy flavor and a great candy-crunch to the cookies.
Semi-Sweet Chocolate Chips – not too sweet, not too bitter, semi-sweet chocolate is the best for these cookies!
There isn't a lot of wiggle room for substitutions in today's recipe, but feel free to try crunchy peanut butter and other candy additions to mix things up a bit.
How to make this monster cookie recipe
Pro tip
This recipe makes a lot of cookies, so use a VERY large bowl to avoid a mess when stirring.
Use a hand mixer to beat together wet ingredients.
Mix in dry ingredients, M&Ms, and chocolate chips.
Use a cookie scoop to portion out cookie dough and place on a prepared baking sheet.
Bake, top with more M&Ms, and enjoy!
I like a baking a few cookies as a test batch before baking a full pan of cookies. Why? Because if they're spreading, I'll pop the dough in the fridge for 30-60 minutes and that usually solves the problem!
PSST – These also make amazing ice cream sandwiches! 😉 For a no-bake option, try my monster cookie bites.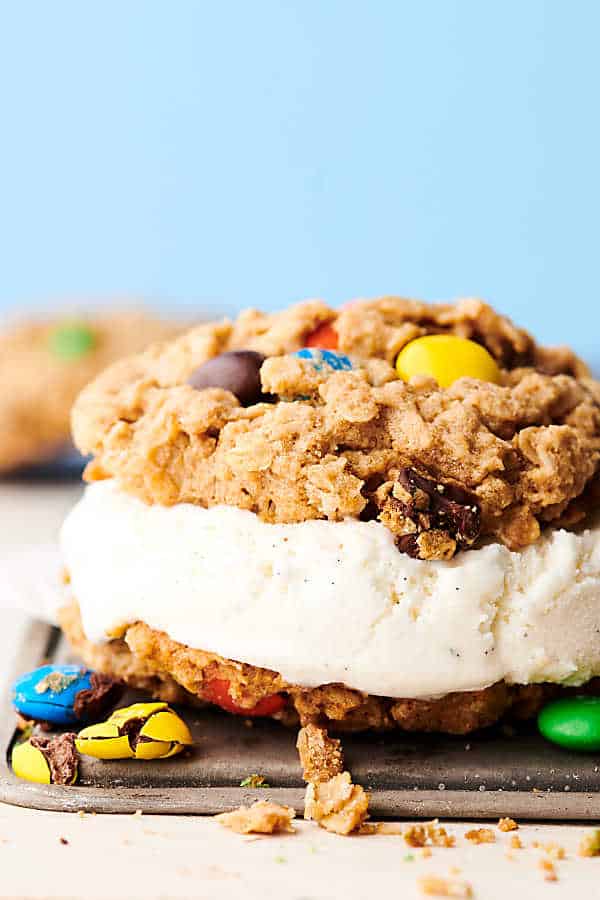 What kind of peanut butter to use
Processed creamy peanut butter like Jiff or Skippy are recommended to obtain the best results. These keep your cookie from spreading too much, while also providing a rich, peanut butter-y flavor! I prefer smooth peanut butter, but crunchy will also be fine (*not tested). 
Do not use an all-natural peanut butter for this monster cookie recipe because these tend to be runnier and may cause the cookies to spread too much. 
What kind of oats to use
I suggest using old-fashioned oats to get the fluffiest result. You can use quick-cooking oats but these tend to spread more, preventing the monster cookies from reaching their potential in thickness, fluffiness, and sturdiness.
Steel-cut oats will not work, because they need to be cooked prior to eating, and the texture is not like old-fashioned or quick oats. 
The best mix-ins for monster cookies
While the sky is the limit here, I prefer to keep my mix-ins simple with just M&Ms and semi-sweet chocolate chips.
M&Ms – we used standard M&Ms but other flavors would be fun additions as well such as peanut, peanut butter, etc.
Chocolate chips – we used semi-sweet, but dark, white, or milk chocolate chips would be great too!
Other mix-in ideas: raisins, nuts, butterscotch chips, etc.
What are YOUR favorite monster cookie mix ins? Let me know in the comments below!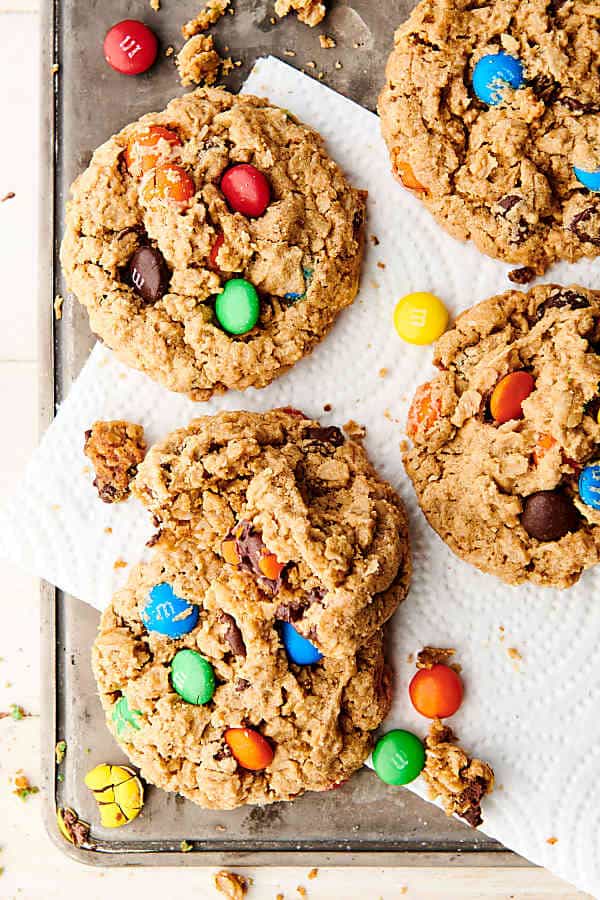 Why do my cookies go flat?
There are a number of reasons your cookies might not be as thick as you want them to be:
Is your baking soda fresh? Old baking soda won't work nearly as well.
Are you using old-fashioned oats? Instant or quick oats don't hold up as well. Steel-cut oats won't work.
Are you measuring your oats correctly? Too few oats in your dough and the cookies won't have enough bulk to keep them thick and fluffy.
Is your butter at room temperature? Butter should be taken out of the refrigerator prior to making the dough. Do not microwave it. Microwaved butter or melted butter are too hot which causes the dough to spread.
Are you refrigerating the cookie dough? Refrigeration is not necessary for this recipe but may prevent the cookie dough from spreading out while baking.
Are you using a cookie scoop? I always use cookie scoops to pack and portion out the dough rather than hand-rolling. This helps the cookies hold their shape.
That being said, I've made these look at least 20 times and I've never had a problem with my cookies being flat.
How to store
You can store these monster cookies in an airtight container at room temperature for up to a week, in the refrigerator for up to two weeks or in the freezer for up to three months!
Serve room temperature, cold, or warm. To reheat, just pop them in the microwave until warm and gooey.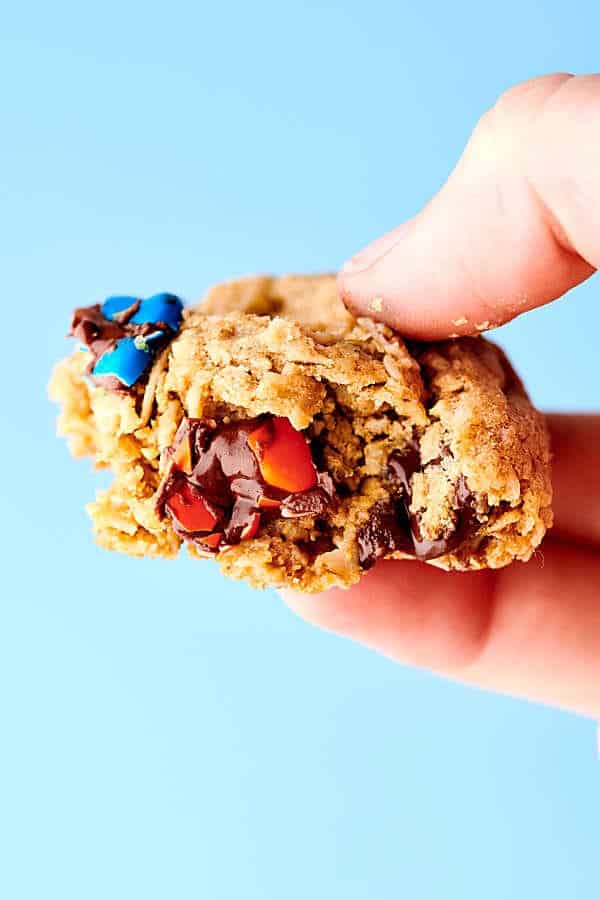 If you're a fellow peanut butter cookie fanatic, you'll also love my: easy peanut butter cup cookies, easy peanut butter blossoms, and peanut butter cream cheese cookies. 
– Jennifer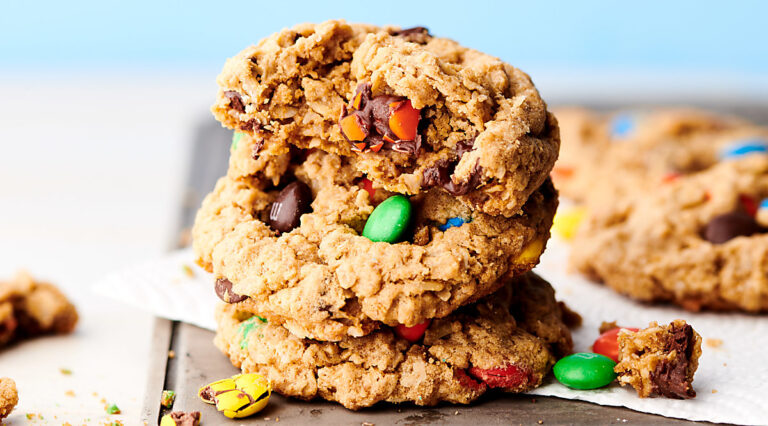 Monster Cookies
These monster cookies are unique, because they're made without flour - only oats, so they're ultra chewy and hearty! They're also loaded with creamy peanut butter, M&Ms, and chocolate chips.
Equipment for this recipe
(equipment shown are affiliate links)
Ingredients
1/2

cup

unsalted butter

softened to room temperature

1 1/4 

cups

dark brown sugar

packed

1 

cup

granulated sugar

3 

large

eggs

room temperature

1

tablespoon

vanilla extract

1 1/2 

cups

creamy peanut butter

4 1/2 

cups

old fashioned oats*

certified gluten free if necessary

2 

teaspoons 

baking soda

1/2 

teaspoon

salt

1 

cup

M&M's

1 

cup

semi-sweet chocolate chips
Instructions
Place butter, sugars, eggs, vanilla, and peanut butter in a large bowl.

Using a hand mixer or stand mixer, beat together until well combined. 


Add in oats, baking soda, salt, M&Ms, and chocolate chips.

Mix until well combined.

Optional: chill the dough for at least 30 minutes. I never do this, but if you're worried about spreading, I'd recommend chilling the dough. 


Preheat oven to 350 degrees F and line a rimmed baking sheet with a silicone baking mat. 


Use a cookie scoop** to scoop cookie onto prepared baking sheet. I bake 12 at a time.


Depending on the size of your cookie scoop, bake cookies for 8-12 minutes (8 for smaller cookies, 12 for larger cookies).

Remove from oven and let cool for a few minutes, before removing them from the cookie sheet and placing the cookies on a cooling rack.

Serve immediately or cool completely before storing in airtight containers!
STORING
Reheat:
Reheat in microwave.
*Storage times may vary based on temperature and conditions
Notes
*I've had success with quick cooking oats and rolled oats, although the results are different. Quick cooking oats aren't quite as thick, fluffy, and sturdy as the rolled oats.
**If you use a smaller cookie scoop, you'll get about 4 dozen cookies and the calorie count will be smaller.
Nutrition Information
Nutrition Facts
Monster Cookies
Amount Per Serving (1 cookie)
Calories 253
Calories from Fat 108
% Daily Value*
Fat 12g18%
Cholesterol 25mg8%
Sodium 161mg7%
Potassium 119mg3%
Carbohydrates 31g10%
Protein 5g10%
Vitamin A 45IU1%
Calcium 25mg3%
Iron 0.8mg4%
* Percent Daily Values are based on a 2000 calorie diet.
*Note: Nutrition information is estimated and varies based on products used.
Keywords:
baked, m&ms, sweet
This recipe was originally posted December 8, 2014. It's been updated to include a how-to video and new content.