The ultimate guide to Super Bowl Snacks! Whether you want chips and dips, pizza, sliders, or cookies we've got you covered!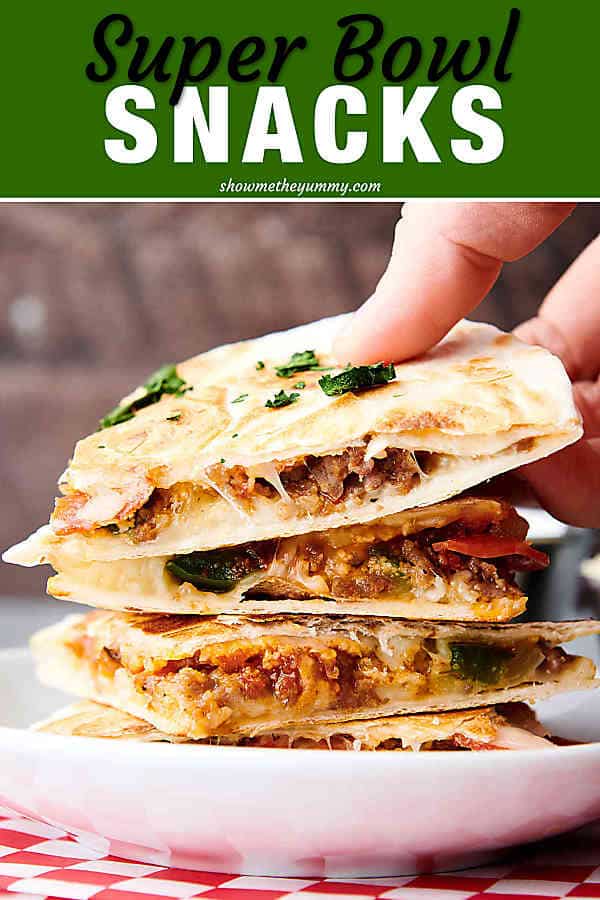 Let's be real, the only thing that really matters on game day is the snack spread. I mean, isn't that why people get so excited about the Super Bowl? Or is it the football? 😉
What is the most popular food for the super bowl?
Chips and dip, pizza, and wings are the top three most popular foods for the Super Bowl. Nachos, cheese and crackers, burgers and sliders, and cookies also make the top 10. Anything snack-y or handheld is very popular.
The key to a great Super Bowl party is ease and variety.
Dips
One of the most popular Super Bowl snacks is dip. Not only is it super easy to serve, but there are so many different kinds which means there's something for everyone!
Fill a platter up with a spread of tortilla chips, potato chips, crackers, pretzels, etc. and whip up a few different easy and delicious dips!
Pizza
Another classic Super Bowl food is anything and everything PIZZA! It's so easy to serve—especially to a larger group of people. Serve whole pizzas, appetizer-style by cutting it into bite-sized pieces or try out any of these pizza-inspired recipes!
Sliders and sandwiches
Sliders are a really popular Super Bowl snack. I love to make a big batch of filling in the crockpot or instant pot so it's easy to transport and keep warm. Grab a couple bags of slider buns at the nearest grocery store and you're set!
Salty snacks
These salty finger foods are the perfect addition to a Super Bowl party. Easy to make, easy to serve, and SO easy to snack on. 😉
Sweet snacks
You can't have a bunch of savory and salty snacks on deck without a few sweet ones to level out the playing field. These recipes are so easy to make and perfect for the sweet snackers! If you're looking specifically for cookies, be sure to check out all our cookie recipes!
Football-themed recipes
Feeling more creative? Make any of these recipes with team colored sprinkles, candies, or frosting! Take your sugar cookies, rice krispies, and brownies a step further by using a football shaped cookie cutter!
– Jennifer