Quick and Easy Fall Recipes for breakfast, lunch, snacks/sides/apps, dinner, and dessert! Bring on the pumpkin spice, apple, and all things cozy and delicious! Some healthy. Some indulgent. All TASTY!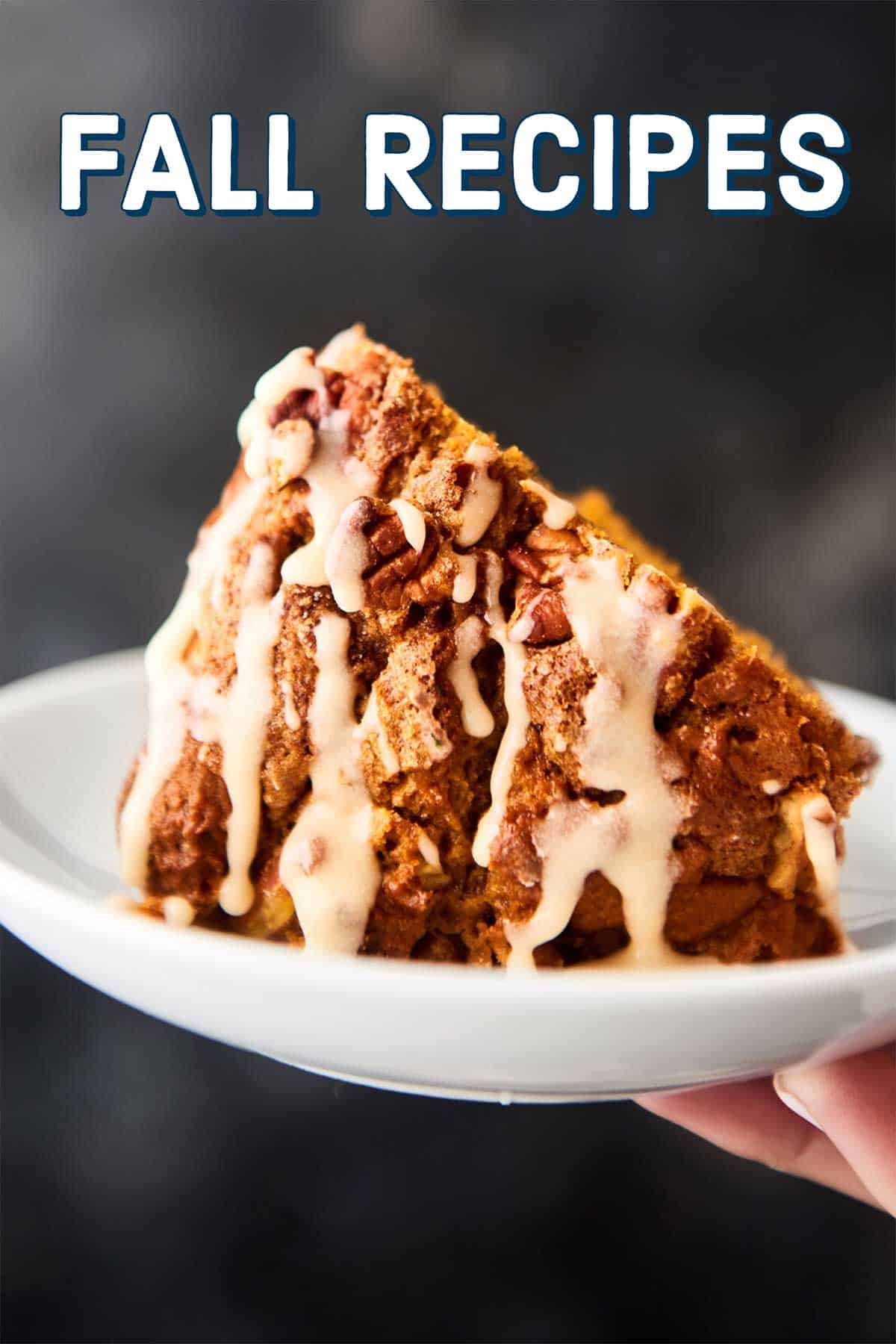 Quick and Easy Fall Recipes comin' at ya, because Labor Day is over.
Which means.
It's past September 1st.
Which means.
It is now socially acceptable to talk about all things pumpkin and apple.
While the weather might not be QUITE reflecting those fall temperatures yet, it will be before you know.
So if you're not quite ready for these quick and easy, cozy and delicious recipes, just put 'em in your back pocket.
Although.
I have to say.
The temperatures here are still toasty, but . . .
BRING OOOOOON the quick and easy fall recipes!
Quick and Easy Fall Breakfast Recipes
This Easy Pumpkin Coffee Cake is perfect for your fall breakfasts and brunches! Spice cake mix + pumpkin puree, cinnamon, pecans, and a maple icing!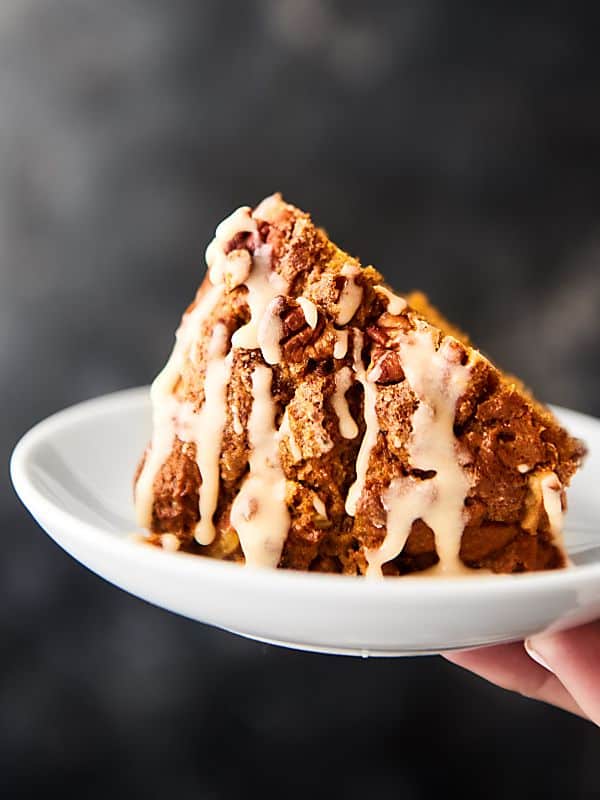 These Breakfast Bacon Bread Bowls are a breakfast lovers dream come true: rolls stuffed with bacon, eggs, and cheese! Perfect for quick and easy, on the go breakfasts!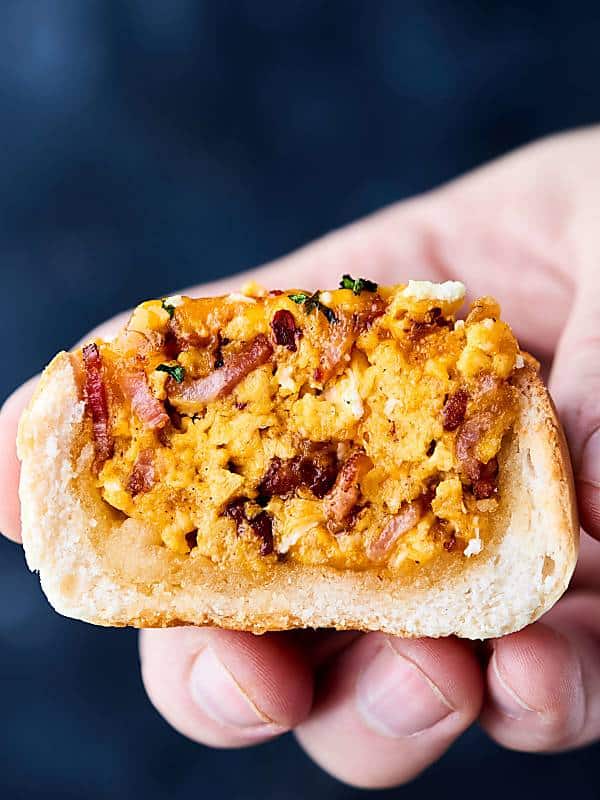 These healthy vegan pumpkin muffins are made w/ whole wheat flour & are naturally sweetened w/ maple syrup! They're topped w/ pecan streusel & maple glaze!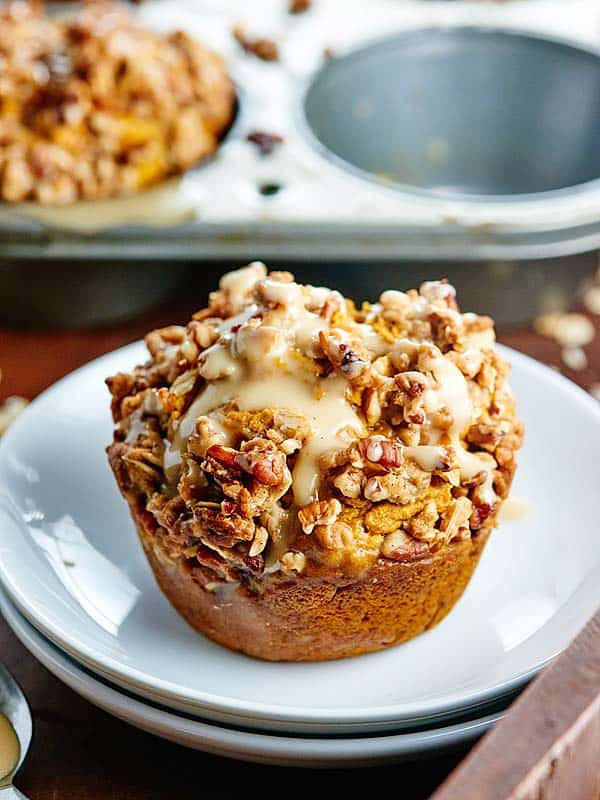 This Sweet Potato Hash Recipe is perfect for brunch! Full of bacon, eggs, sweet potatoes, cheese, and spices, this breakfast hash is filling, easy, and yummy!
This Easy Baked Pumpkin Donuts Recipe is the perfect way to celebrate the start of fall. Tender, perfectly spiced donuts smothered in either a maple glaze or cinnamon sugar!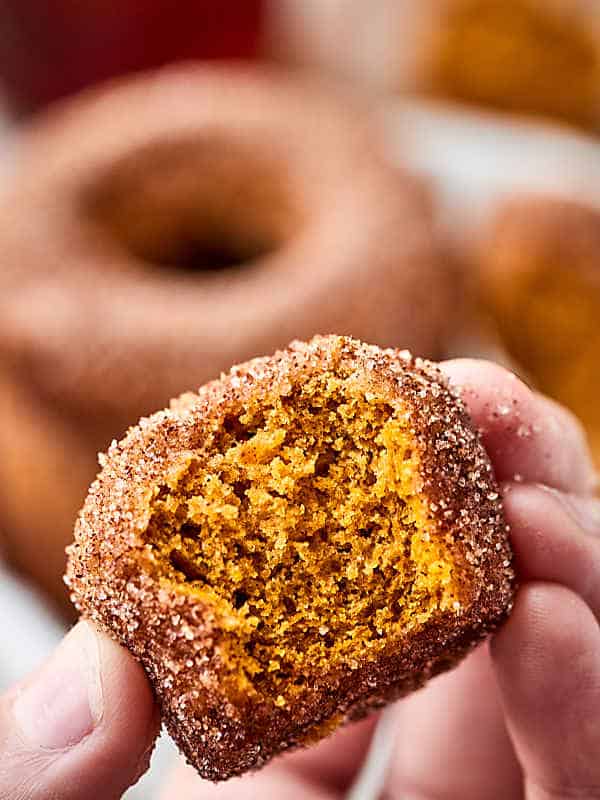 An Easy Cheesy Bacon Breakfast Tart Recipe full of crispy bacon, smoky gouda, and creamy sweet potatoes! Made ultra easy with store bought pie dough!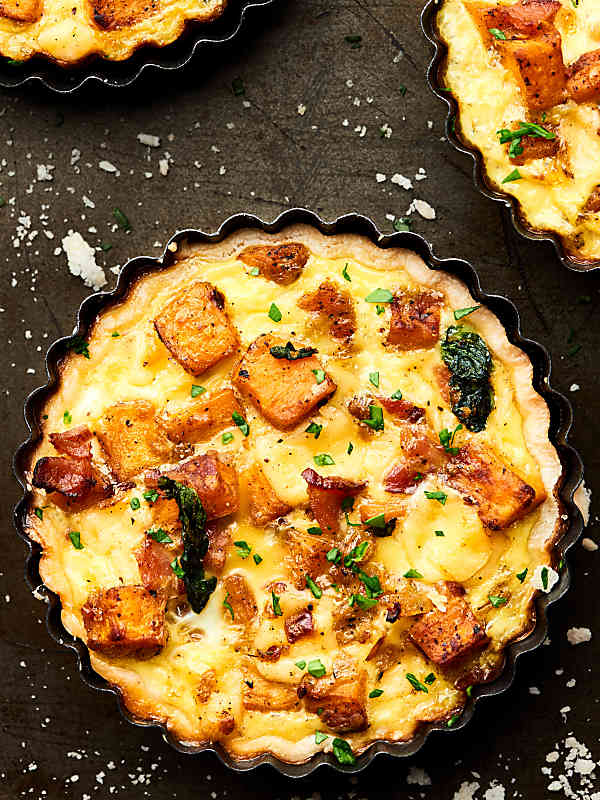 This Pumpkin French Toast Recipe is made w/ pumpkin bread that's filled w/ chocolate & butterscotch chips. Bring out the maple syrup for an easy breakfast!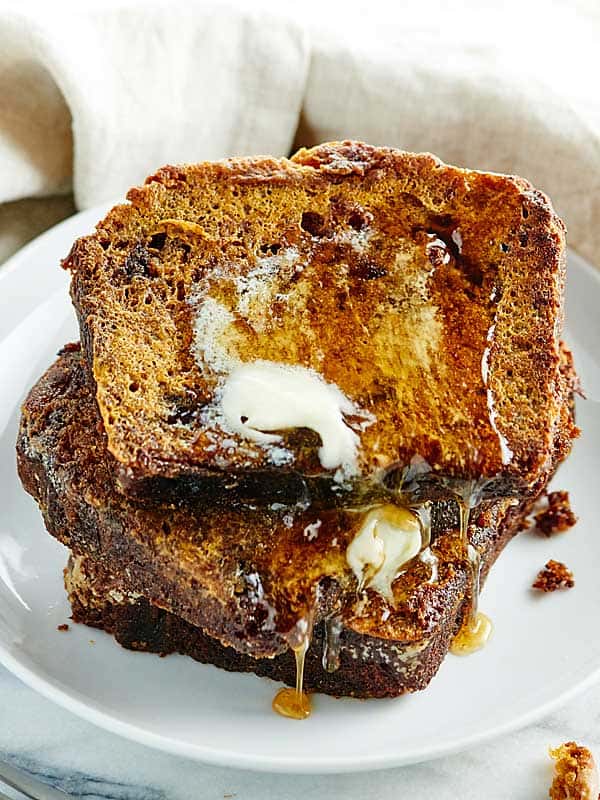 Want more? Be sure to check out all our fall breakfast recipes.
Quick and Easy Fall Lunch Recipes
This Roasted Carrot Soup is healthy, vegan, gluten free, and loaded with roasted carrots, onion, garlic, ginger, and coconut milk! Easy and delicious!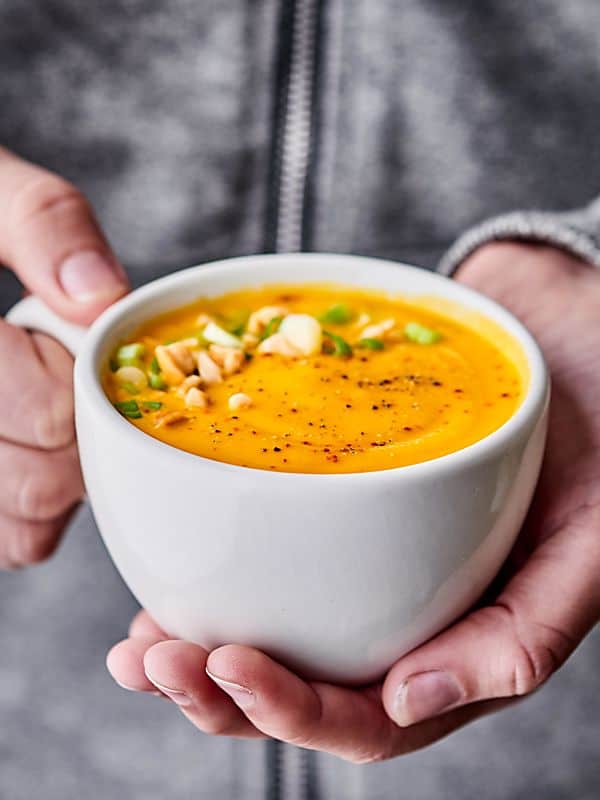 This Crockpot Potato Soup is SO quick and easy to make and is loaded with leftover ham, bacon, and frozen hash browns! Gluten free and no cream of "x" soup!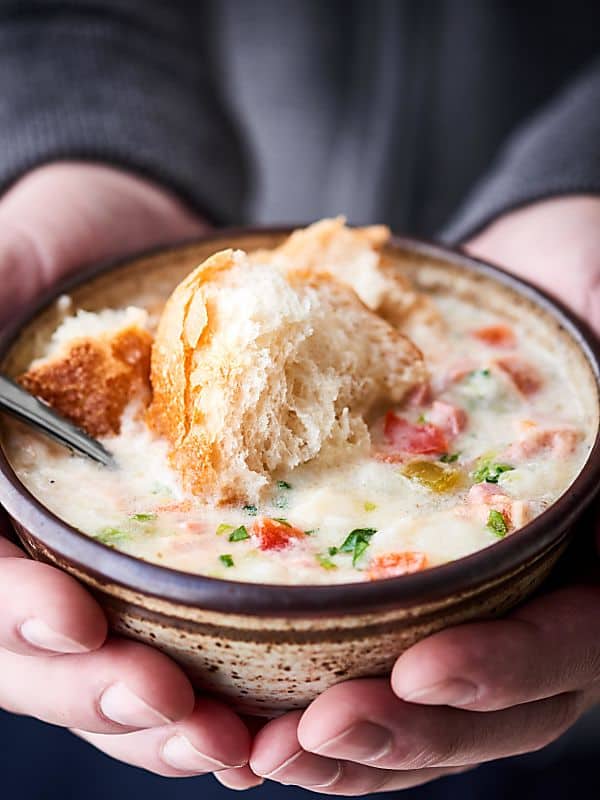 This Healthy Turkey Pot Pie Soup is a lightened up version of a classic! Loaded with leftover holiday turkey, veggies, black eyed peas, cozy spices, and topped with leftover pie crust!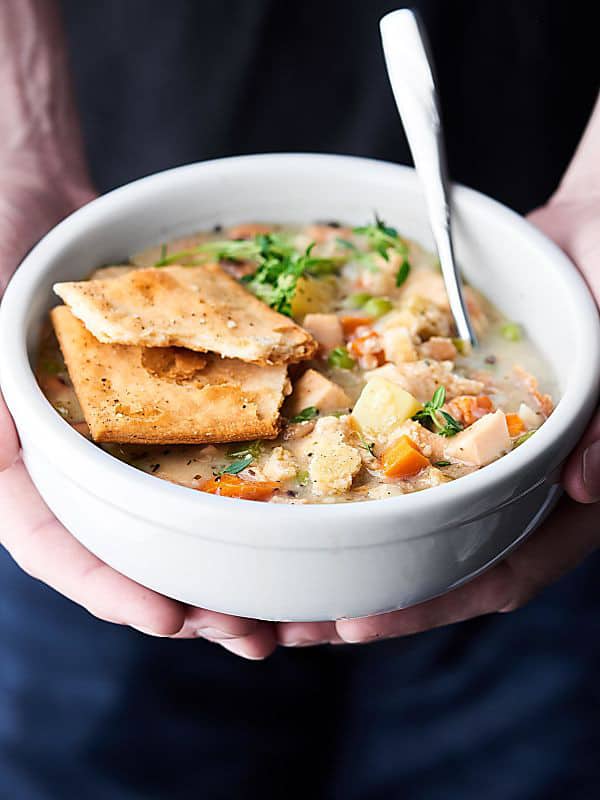 At 200 calories per serving, this Skinny Broccoli Cheese Soup Recipe is a significantly lightened up version of a classic! While it may be light on calories, it certainly isn't light on flavor!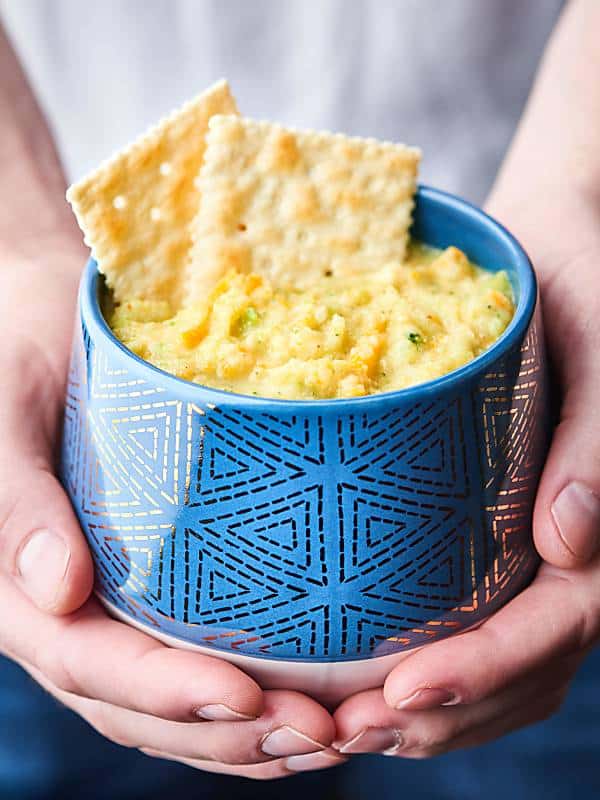 This Instant Pot Chicken Noodle Soup is quick, easy, cozy, healthy-ISH, and so delicious! Full of egg noodles, tender chicken, spices, and veggies! Ready in 30 mins!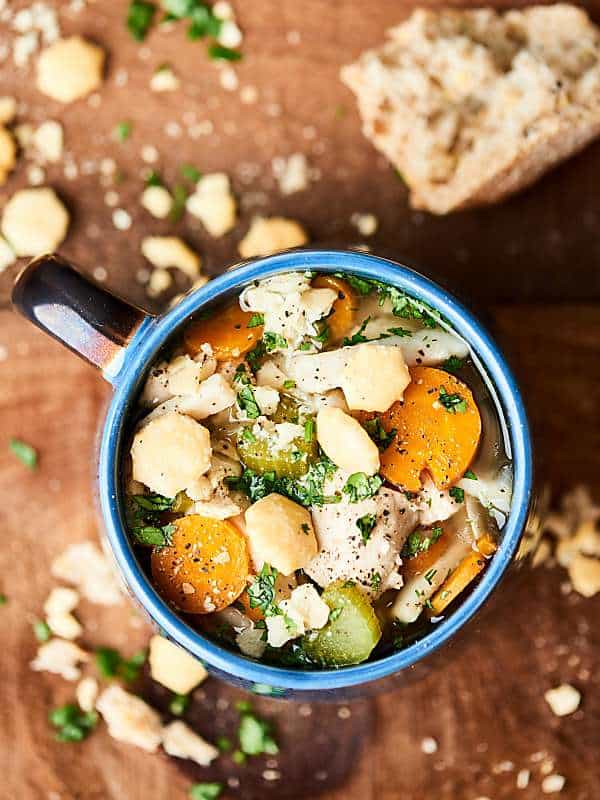 This Crockpot Butternut Squash Soup Recipe is vegan, gluten free, healthy, full of vegetables, and topped with coconut cream, cilantro, and coconut bacon!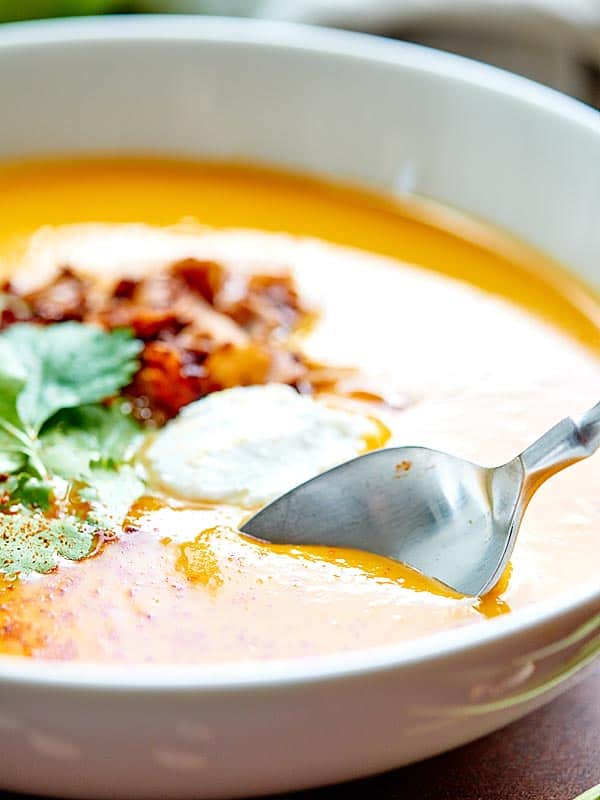 This Easy Cheesy Corn Chowder is loaded with potatoes, sweet corn, creamed corn, bacon, and three kinds of cheese! 20 minute, 1 pot meal!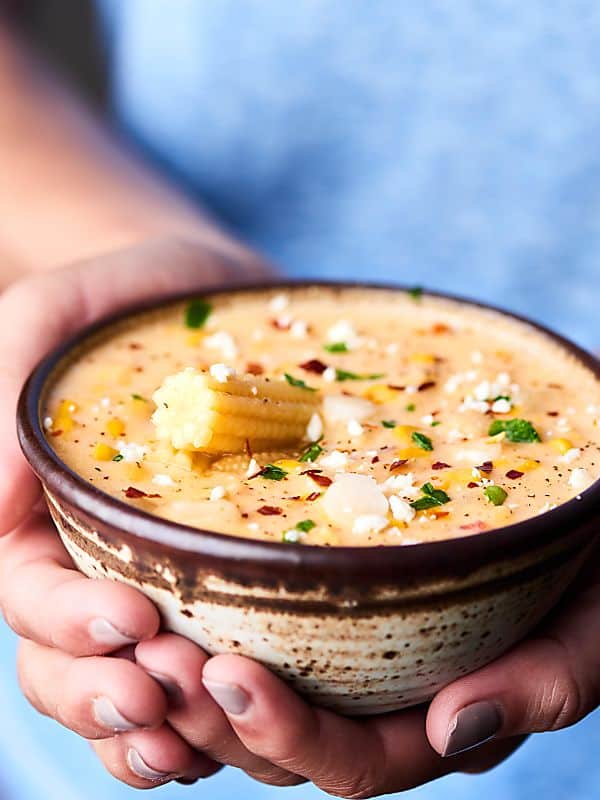 Want more? Be sure to check out all our fall lunch recipes.
Quick and Easy Fall Snacks, Sides, and Apps Recipes
This Roasted Sweet Potato and Wild Rice Salad makes the perfect, healthier, light fall lunch or vegetarian side dish addition to your Thanksgiving menu!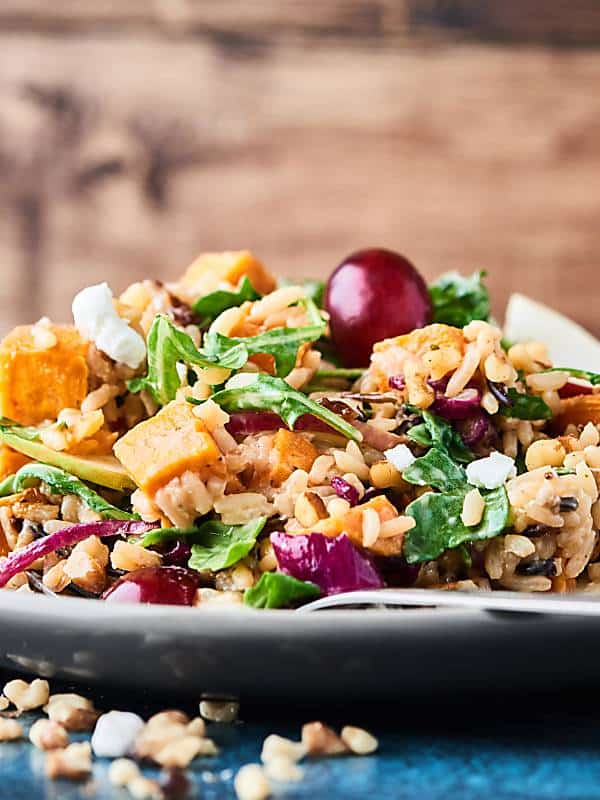 This pumpkin cornbread is a great, easy, vegan side dish for any meal! It's made with whole wheat pastry flour, coconut oil, and smothered in maple syrup!
Instant Pot Stuffed Acorn Squash. Squash stuffed with veggies, wild rice, spices, herbs, chickpeas, cranberries, pecans, and more! Perfect for an easy meatless weeknight meal or as a vegetarian/vegan Thanksgiving side or main! Easy, healthy, can be vegan and gluten free!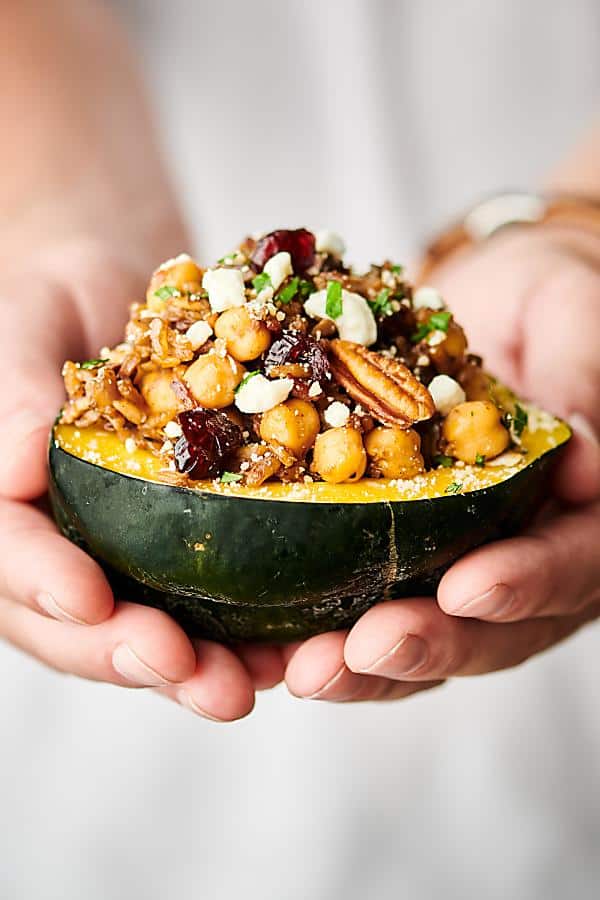 This Pumpkin Bread Recipe is studded w/ chocolate chips, butterscotch chips, & is so moist & easy! It tastes like fall. It can also be made into muffins!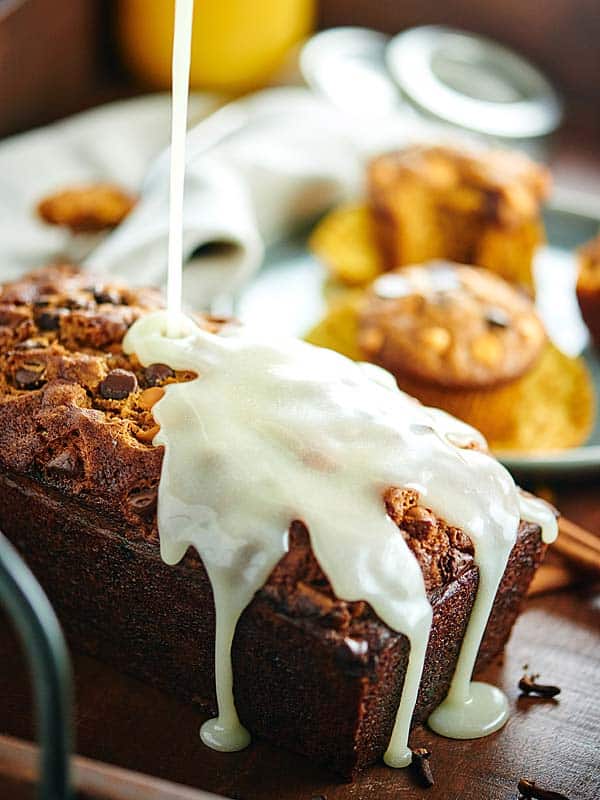 A healthy-ish side dish that's perfect for any occasion! You're only 10 ingredients and 30 minutes away from devouring these super simple and delicious Honey Roasted Carrots!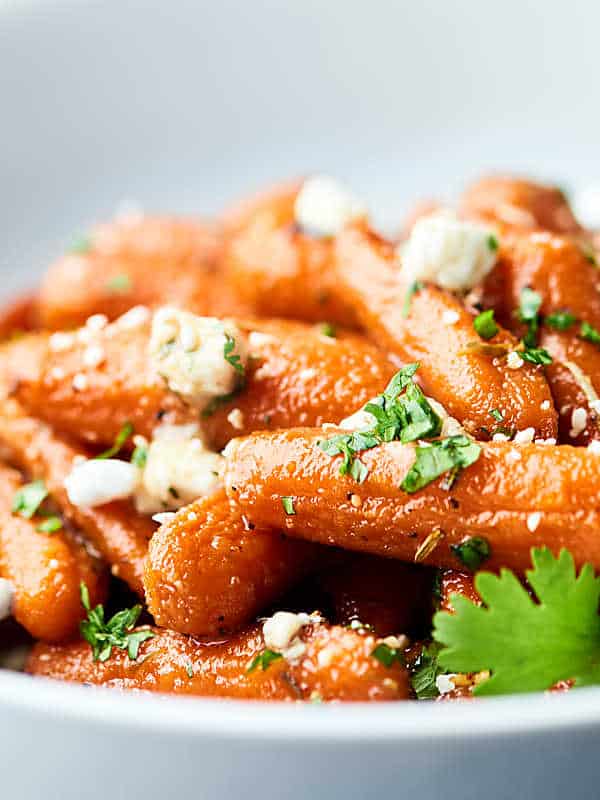 Roasted Butternut Squash Bruschetta. Chewy baguette topped with goat cheese, arugula, roasted butternut squash and tomatoes!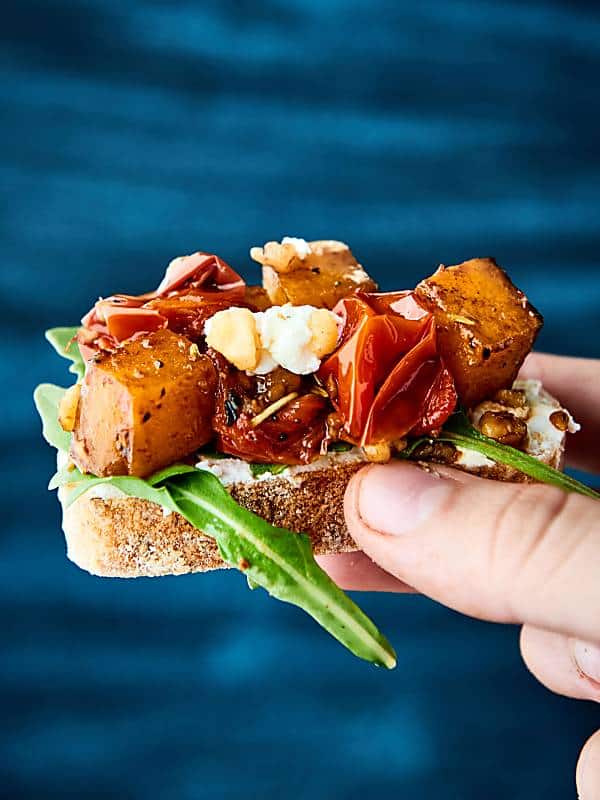 Pumpkin Energy Bites. All your favorite pumpkin pie flavors made into a quick and easy, healthy snack! Full of oats, pecans, pumpkin puree, and spices with an optional chocolate drizzle. Vegan. Gluten Free.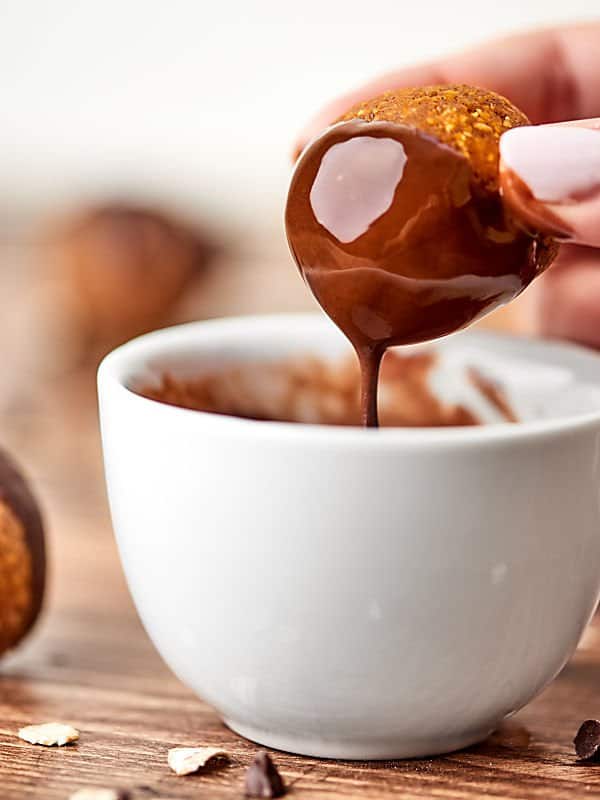 Want more? Be sure to check out all our fall snacks, sides, and apps recipes.
Quick and Easy Fall Dinner Recipes
This One Pot Ham and Cheese Pasta Recipe is the perfect way to use up that leftover holiday ham! A quick and easy recipe full of pasta, swiss cheese, and ham!
This Crockpot Chicken and Dumplings Recipe is winter comfort food perfection! Super quick and easy to make and SO hearty and cozy! No cream of "x" soup. Uses refrigerated biscuit dough!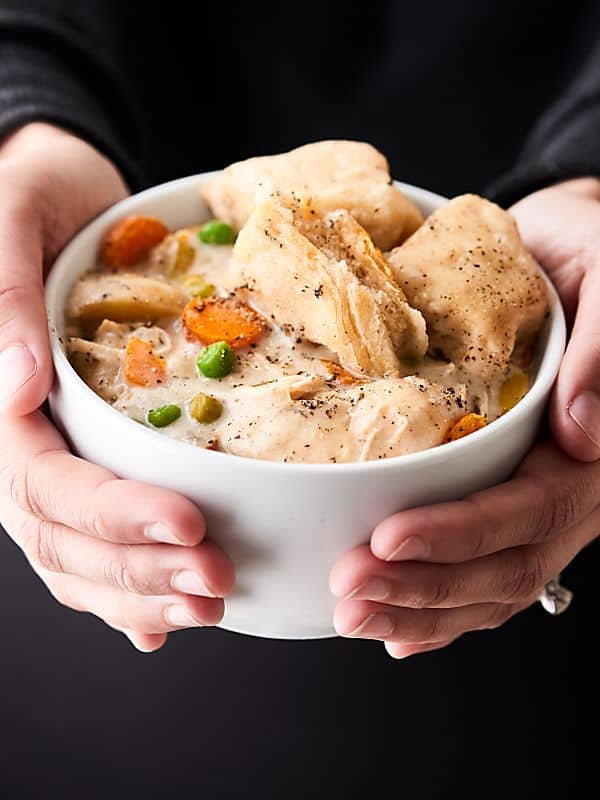 Love beef stroganoff? You'll love my Slow Cooker Beef Stroganoff! It's made in the crockpot, has no "cream of x" soup, & uses my blend of spices!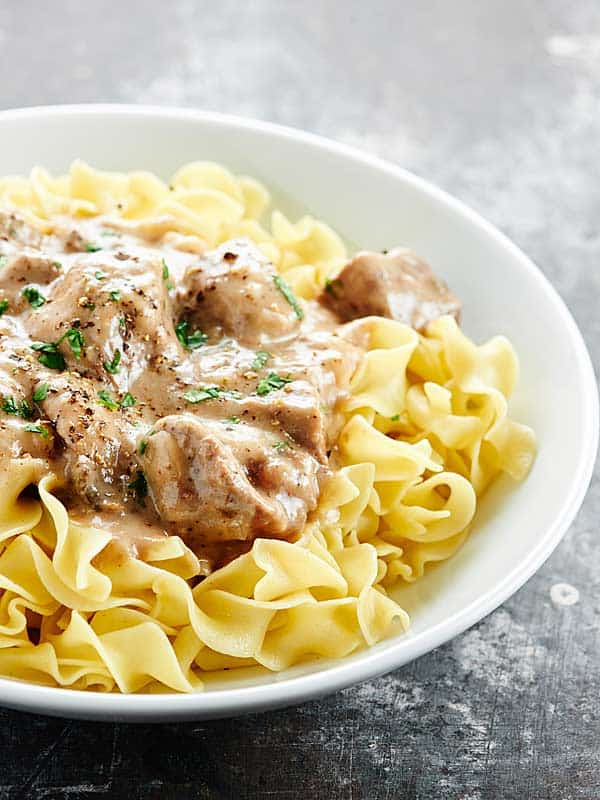 This Pork Tenderloin Recipe is quick, easy, healthy, and so tasty! Loaded with pork, sweet potatoes, brussels sprouts, onion, and apples, and smothered in balsamic vinegar and spices: garlic, rosemary, thyme, paprika, salt, and pepper!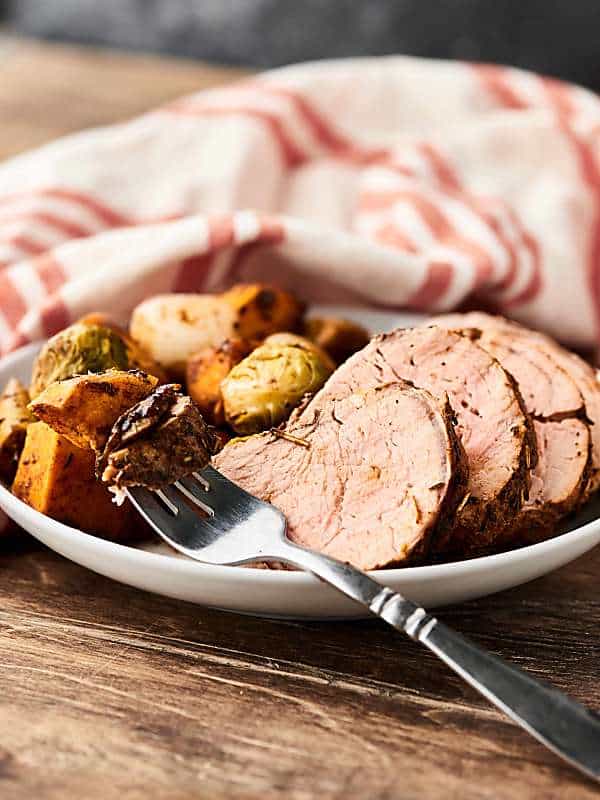 This Healthy Chicken Chili Mac is full of ground chicken, veggies, spices, beans, pasta and cheese! I love this healthy twist on a classic!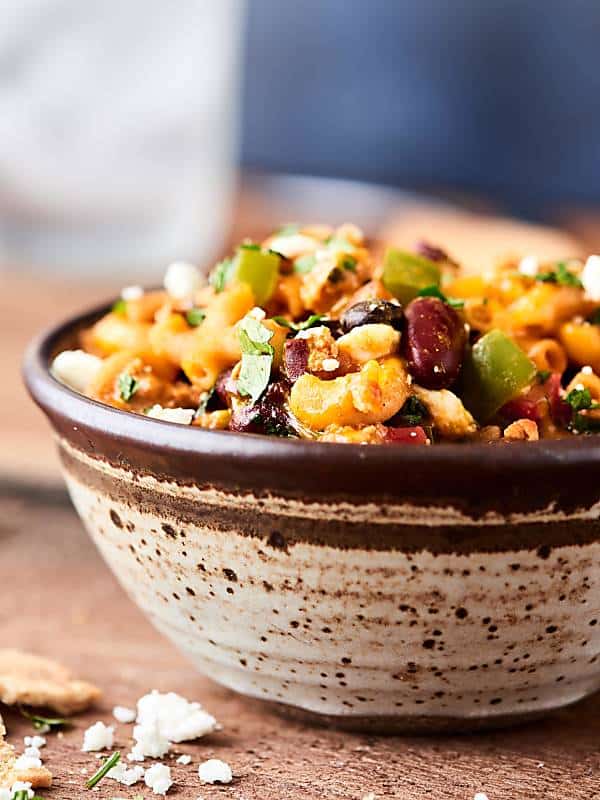 This Leftover Turkey Cornbread Casserole is the PERFECT way to revive Thanksgiving leftovers. Turkey and veggies topped with gravy and an easy cornbread!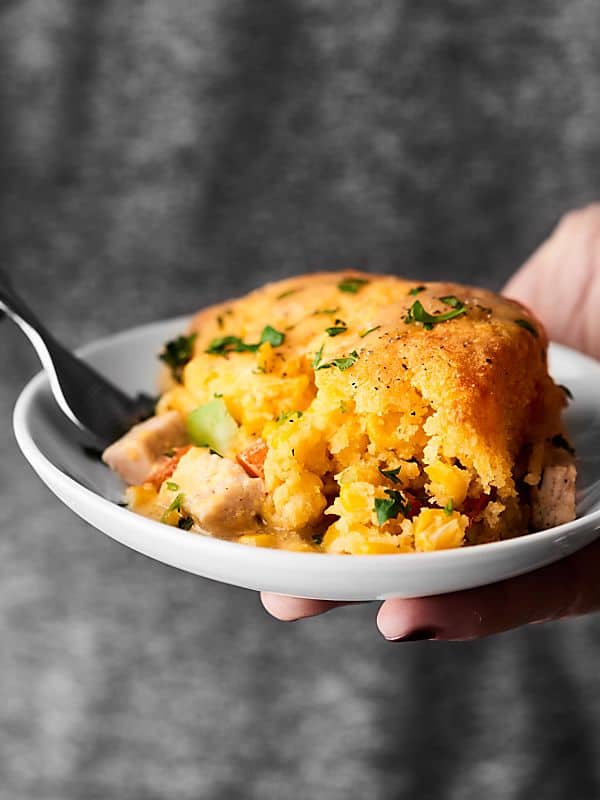 One Pot Lasagna. All your favorite lasagna flavors: Italian sausage, spices, tomatoes, red wine, and cheese, but made quicker, easier, and less messy in ONE pot!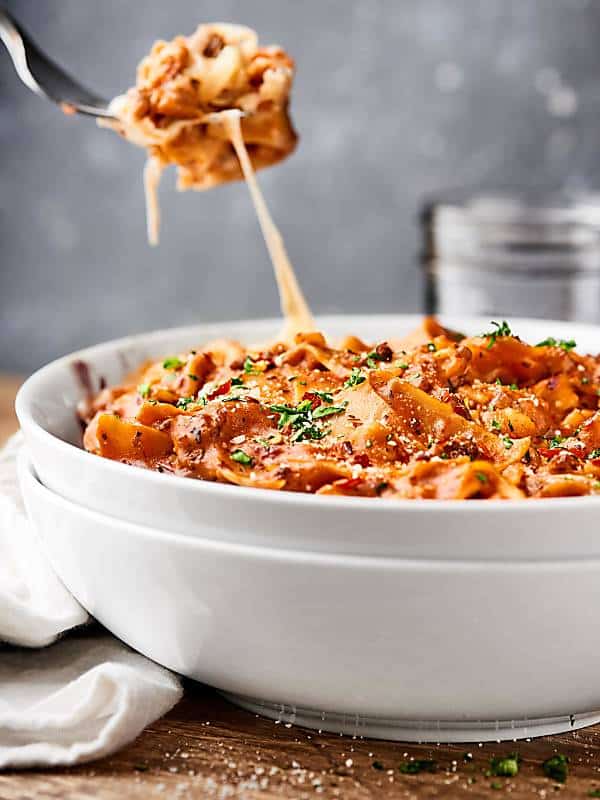 Want more? Be sure to check out all our fall dinner recipes.
Quick and Easy Fall Dessert Recipes
Easy Pumpkin Bars Recipe with Cream Cheese Frosting. These bars are ultra dense and full of all your favorite pumpkin pie spices! Topped with the smoothest, tangy cream cheese frosting!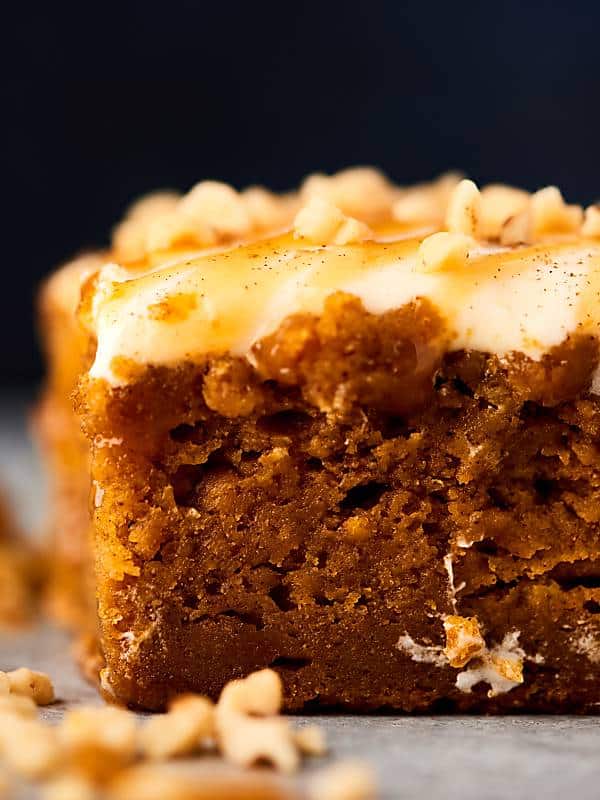 This Slow Cooker Caramel Apple Dump Cake Recipe might be my easiest recipe yet! Only 5 ingredients: apple pie filling, pecans, caramel, spice cake mix, and butter!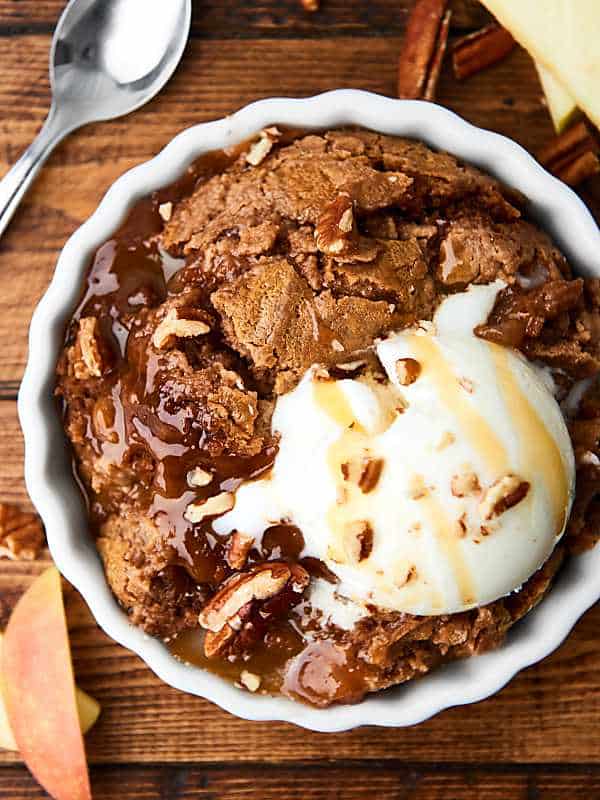 This Hot Chocolate Cheesecake Dip Recipe only requires 6 ingredients and 10 minutes of prep! Full of cream cheese, yogurt, marshmallow creme, hot cocoa mix, cool whip, and marshmallow bits! Serve with cookies, pretzels, fruit, and more!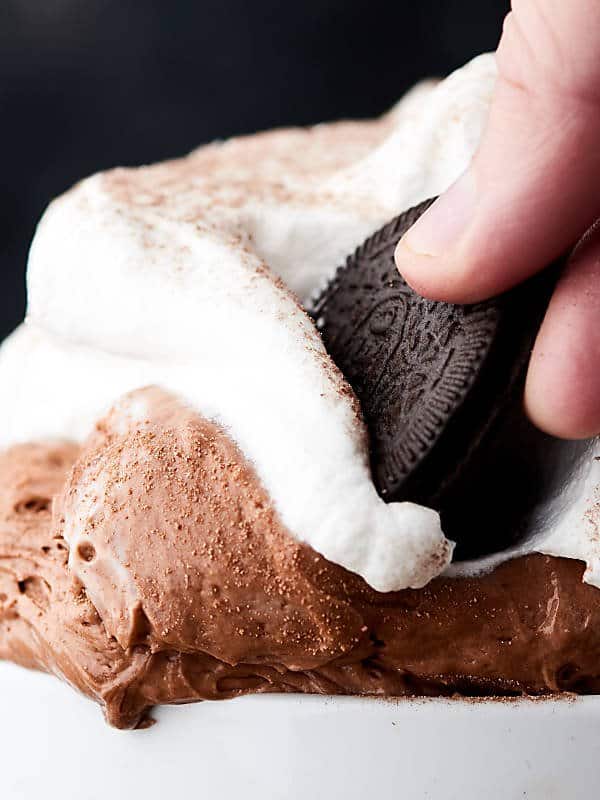 These Pumpkin Pie Egg Rolls are a fried, fun twist on a classic & served w/ white chocolate cool whip and ooey-gooey caramel! A new tradition has been born!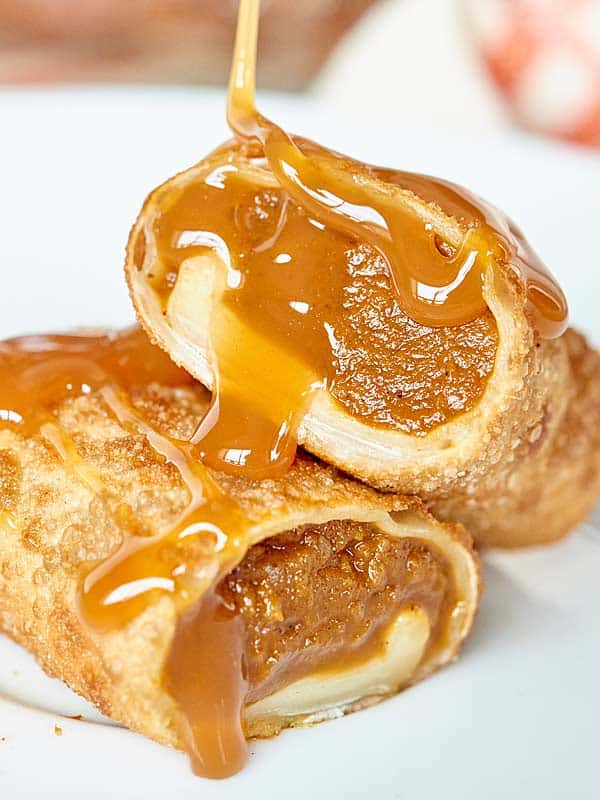 This Cream Cheese Pound Cake Recipe is moist, dense, and full of flavor! Serve with your favorite toppings depending on the season!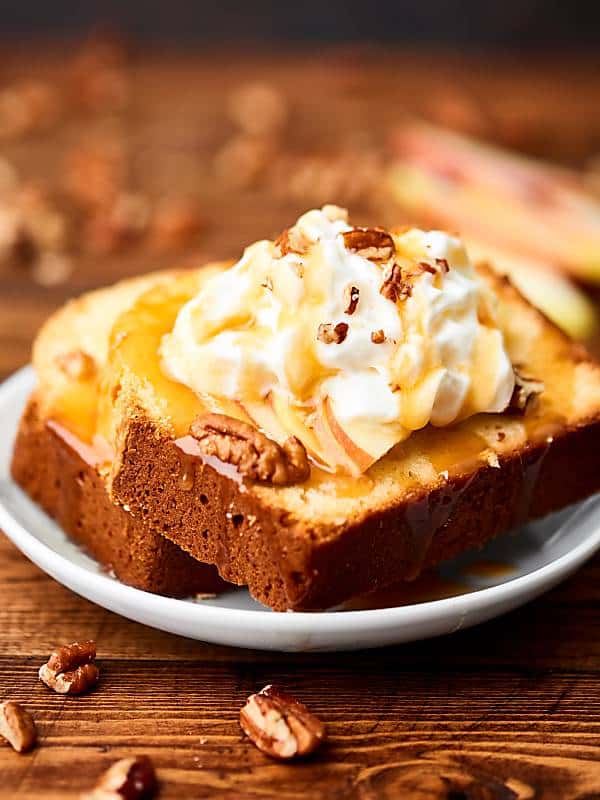 The BEST fall dessert: Snickers Caramel Apple Dessert Pizza. A giant peanut butter cookie topped with a fluffy caramel frosting, apples, and Snickers candy!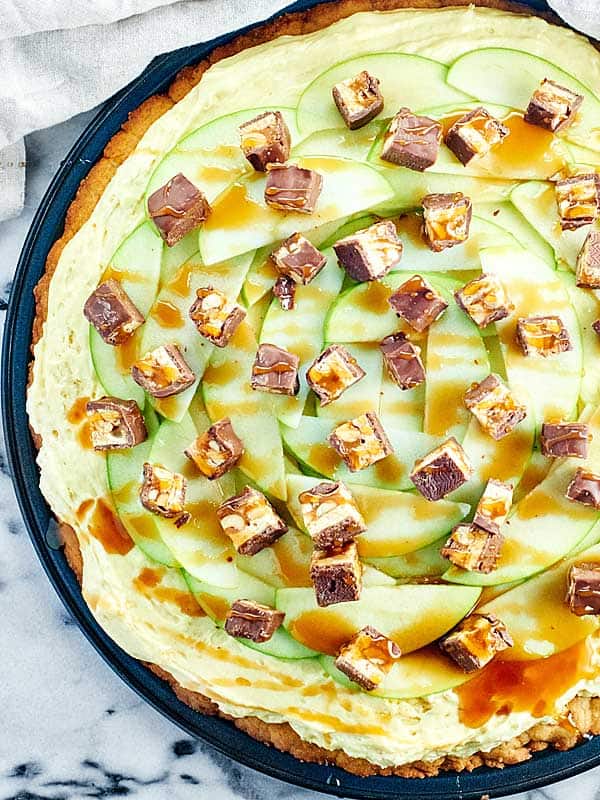 These No Bake Mini Pumpkin Cheesecakes are the perfect fall or holiday dessert! A simple graham cracker crust topped with a cream cheese, pumpkin, cool whip filling! Don't forget the nuts and caramel drizzle!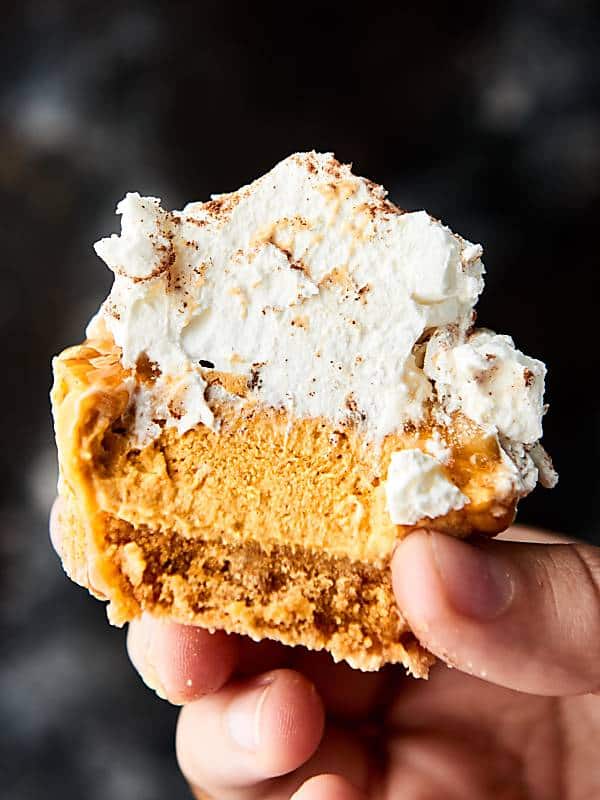 Want more? Be sure to check out all our fall dessert recipes.
– Jennifer
What other fall recipes do you want to see? Show Me the Yummy!