This baked Falafel Recipe is fresh, authentic, and requires just 10 minutes of prep! It's crispy on the outside, fluffy in the middle, and packed with fresh herbs. Bonus: it's vegan!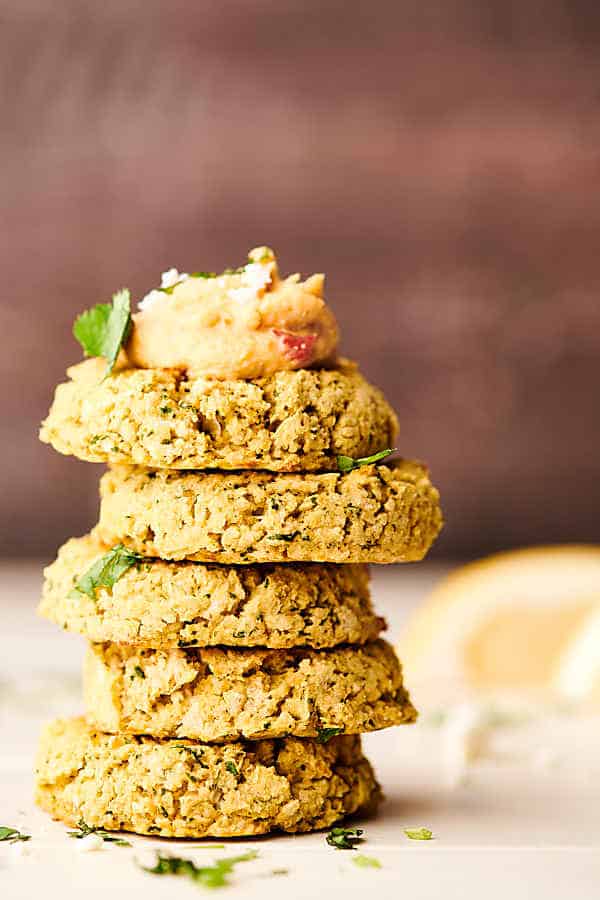 I LOVE falafel. It's so yummy and can be eaten in a variety of different ways – plain, with a dollop of tzatziki, stuffed into pita with fresh veg . . . the possibilities are endless!
Plus, bonus: it's healthy AND vegan. I love how quick and easy this recipe is to whip up so I can throw together a light and fresh vegetarian appetizer or meal in no time!
What is falafel?
Falafel is a popular Middle-Eastern "fast food" traditionally made with chickpeas, oil, herbs, and spices. The ingredients are processed together then rolled into balls or formed into patties and fried (or, in this case, baked) until crispy.
It can be served as a main dish, an appetizer, a salad, or a bowl. However you choose to enjoy it, falafel is SO GOOD!
Ingredients
This falafel recipe is packed with the freshest herbs and spices to make it so flavorful.
Flaxseed Meal and Water – make up the flax "egg" which helps the falafel hold its shape. If you're not vegan, feel free to use a "regular" egg.
Chickpeas – the main falafel ingredient. I used canned chickpeas to save time but you can also cook dried chickpeas!
Yellow Onion and Garlic – adds a sweetness and a subtle nutty taste.
Cilantro and Parsley – brightens the flavors and adds so much freshness. Not a fan of cilantro? Just use more parsley!
Ground Cumin, Salt, and Black Pepper – this simple combination of spices adds a great earthiness, spice, and brightness to the falafel.
Baking Powder – helps the falafel achieve that fluffy texture on the inside while remaining crispy on the outside.
Olive Oil – moistens the falafel.
Lemon Juice – brightens the flavor to contrast the earthy cumin.
Panko – fills the falafel out and helps it become crispy when baked.
Pita, Hummus, Greek Yogurt, Lemon Juice, Cilantro, and Feta – optional, for serving!
Pro tip
Use fresh herbs! The flavor they give the falafel is so bright and fresh. Dried herbs won't have quite the same effect. Trust me, it's so worth it!
How to make
Today, we're adding a healthier twist by baking the falafel instead of frying it!
Make your flax "egg" by combining flaxseed meal and water in a small bowl. Set aside.
Place all ingredients, including your prepared flax egg, in a food processor and combine.
Use a large cookie scoop to scoop the mixture onto a baking sheet lined with a silicone baking mat.
Gently flatten each falafel with your hand.
Bake then serve and enjoy!
Pro tip
Feel free to make the "batter" a couple days in advance before baking!
How to cook falafel
You can bake, deep-fry, pan-fry, or even air fry falafel. Baking falafel is my preferred method, because it's the healthier option and bonus: it's the easiest, but here are a couple other cooking methods you can use!
Deep-fry. To deep-fry, heat about three inches of oil in a stockpot to 375ºF then fry each ball for 3-4 minutes or until golden-brown and crispy.
Pan-fry. To pan-fry, heat a few tablespoons of oil in a non-stick skillet on medium-high heat then cook each side for 2-3 minutes.
Air-fry. To air-fry, pre-heat air fryer to 350ºF then cook for 14 minutes, flipping halfway through.
All three cooking methods result in slightly different textures (deep frying and pan frying will get the outsides crispier) but no matter how you cook it, it is sure to be DELICIOUS!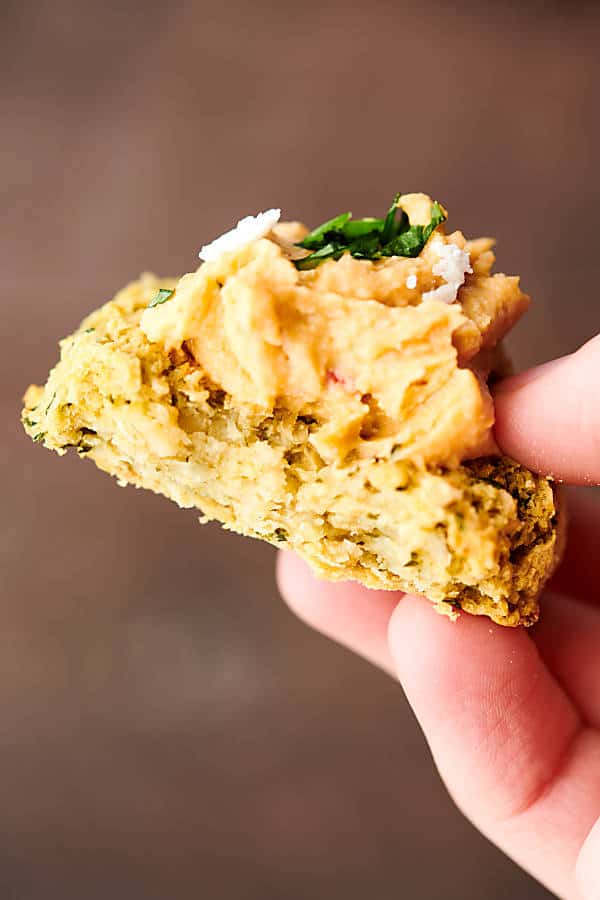 Is falafel healthy?
Yes! Falafel is absolutely healthy, especially since we're baking instead of frying today. Chickpeas, like other legumes, are an excellent source of vegetarian/vegan protein and are really high in fiber which benefits heart health, weight management, blood sugar levels, and digestive health. They are also packed with vitamins and minerals!
1 falafel contains about 90 calories, 3 grams of fat, 13 grams of carbs, 3 grams of fiber, and 4 grams of protein.
Is falafel gluten-free?
Not quite, but it easily can be! To make this recipe gluten-free, simply sub the Panko for a gluten-free breadcrumb variety!
As always, check all your ingredients to ensure that they are certified gluten-free before using them in this recipe.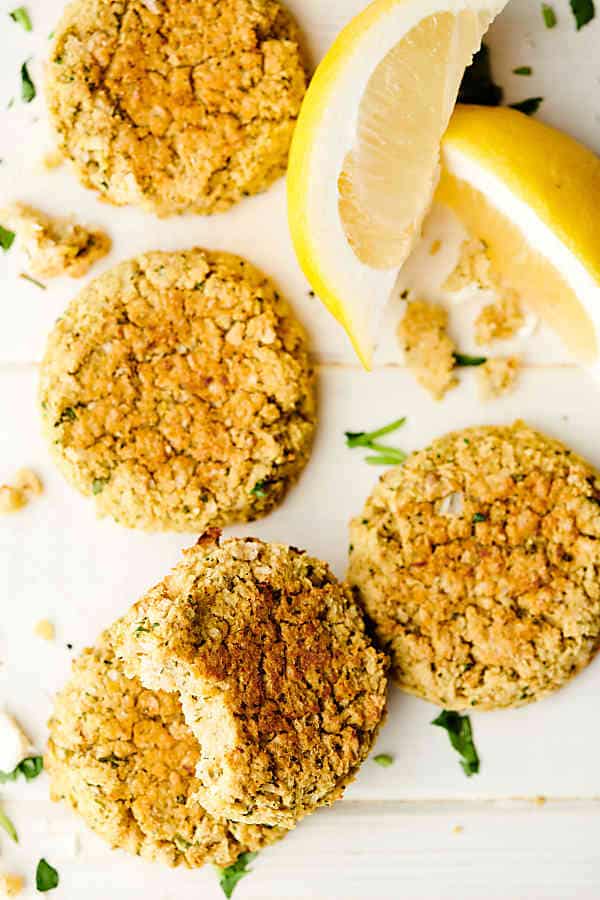 How to serve
As a sandwich or wrap. Serve on pita bread or tortilla with hummus, tahini sauce, lettuce, tomato, feta, and other fresh veggies of your choice!
In a salad or bowl. Serve it over brown rice, orzo, or a bed of fresh greens with onion, bell peppers, cucumber, tomato, etc.
As an appetizer. Serve it on an appetizer platter with sliced veggies, hummus, tahini, and tzatziki sauce.
What to serve with falafel
Make this a bulkier meal with some of these delicious recipes!
How to store
Cooked falafel will keep in an airtight container in the refrigerator for 3-4 days or in the freezer for up to 6 months.
To reheat, set your oven to 350ºF then bake your leftovers for 15-20 minutes, flipping halfway through.
-Jennifer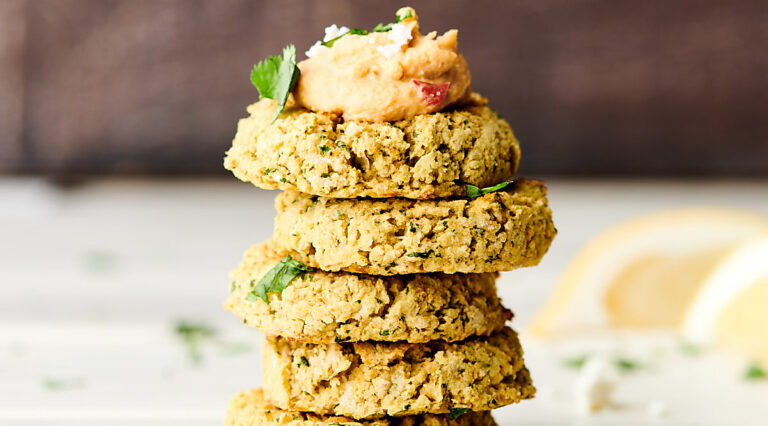 Falafel
This baked Falafel Recipe is fresh, authentic, and requires just 10 minutes of prep! It's crispy on the outside, fluffy in the middle, and packed with fresh herbs. Bonus: it's vegan!
Equipment for this recipe
(equipment shown are affiliate links)
Ingredients
1

tablespoon

ground flaxseed meal

3

tablespoons

water

1

(15 oz) can

chickpeas

drained

1/2

yellow onion

diced

4

cloves

garlic

minced


1/2

cup

packed cilantro

1/2

cup

packed parsley

2

teaspoons

ground cumin


1

teaspoon

salt

1/4

teaspoon

black pepper

1

teaspoon

baking powder

1

tablespoon

olive oil

1

tablespoon

lemon juice

1/2

cup

panko

Pita, hummus, Greek yogurt, lemon juice, cilantro, and feta

optional, for serving
Instructions
Preheat oven to 375 degrees F and line a baking sheet with a silicone baking mat. Set aside.

Mix flaxseed meal with 3 tablespoons water in a small bowl. Set aside for 15 minutes. This is your flax "egg".

Place flax "egg", chickpeas, onion, garlic, cilantro, parsley, cumin, salt, pepper, baking powder, olive oil, lemon juice, and panko into food processor and process until combined into a coarse texture.*

Use a large cookie scoop to scoop the mixture out onto the prepared baking sheet (you'll make 12 falafel).

Gently flatten each falafel slightly with your hand so that it is about 1/2-inch thick.
*

Bake for 30 minutes in preheated oven, flipping halfway through.

Serve with optional garnishes and enjoy!
STORING
Reheat:
Bake or microwave to warm
*Storage times may vary based on temperature and conditions
Nutrition Information
Nutrition Facts
Falafel
Amount Per Serving (1 falafel)
Calories 88
Calories from Fat 27
% Daily Value*
Fat 3g5%
Sodium 218mg9%
Potassium 180mg5%
Carbohydrates 13g4%
Protein 4g8%
Vitamin A 269IU5%
Vitamin C 5mg6%
Calcium 47mg5%
Iron 2mg11%
* Percent Daily Values are based on a 2000 calorie diet.
*Note: Nutrition information is estimated and varies based on products used.
Keywords:
chickpeas, healthy, vegan