Easy Valentine's Day Recipes! Everything from appetizers –> dinners –> desserts –> champagne cocktails! ♡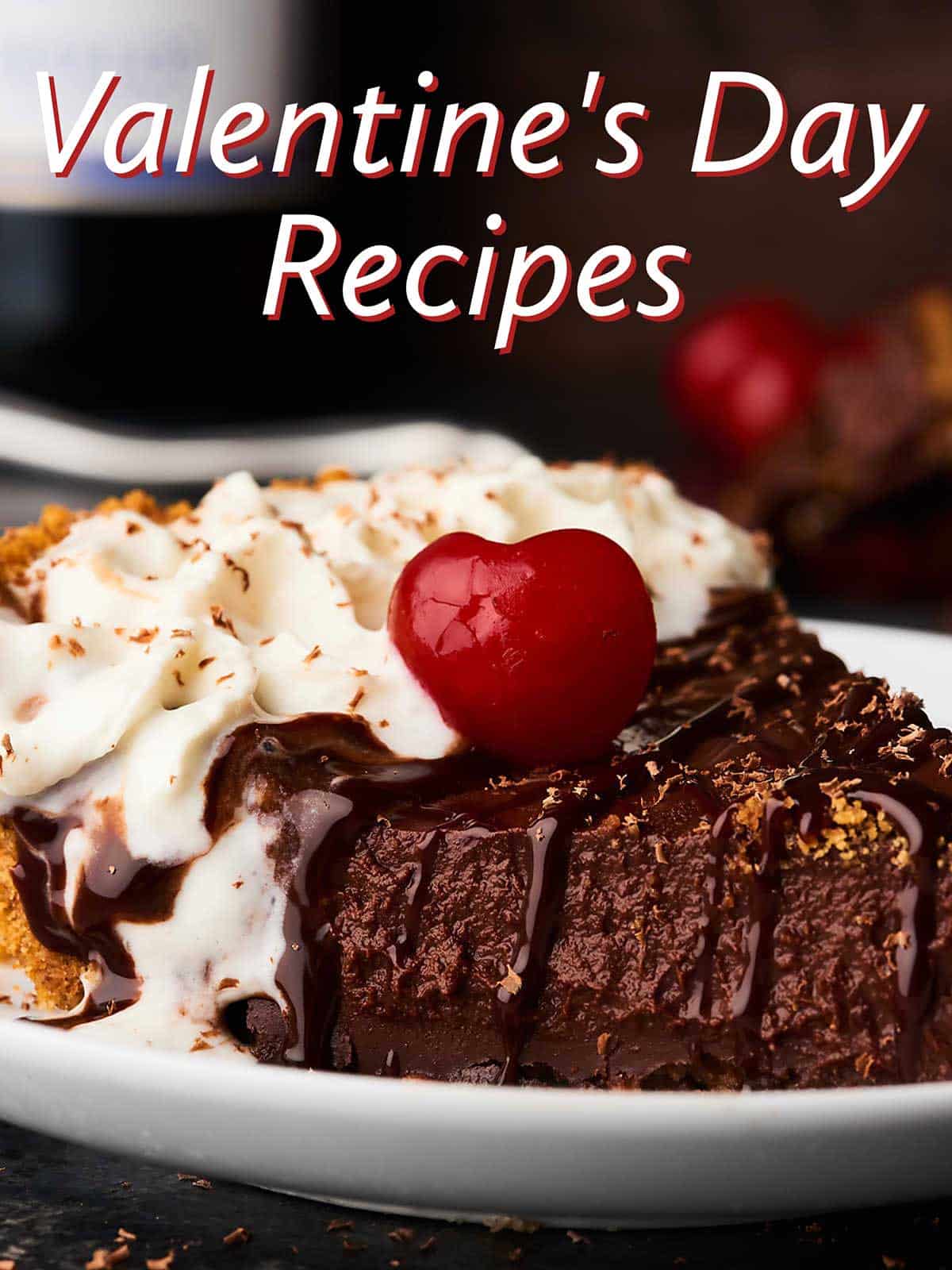 T-Minus one week and one day until Valentine's Day everyone! Who's staying in and who's going out? Trevor and I have done both and I'm honestly not sure what we're doing this year! I'm truly happy with either one.
One way or the other, I do know one thing… there WILL be a box of chocolates waiting to be sampled devoured and a bottle of champagne to be sipped.
*Hint* *Hint* *Wink* *Wink* *Cough* *Cough* Trevor.
Do you think he'll get my subtle hint? 😉
If you're looking to stay in this year, I've totally got you covered with these Easy Valentine's Day Recipes! Start out with a simple appetizer, move into an easy dinner, and finish off with effortless dessert (all while sipping on my champagne cocktails, of course)!
Easy Valentine's Day Appetizers
This Strawberry Baked Brie is the easiest appetizer for spring! Warm brie is topped with strawberries, basil, pecans, & a simple balsamic/honey marinade.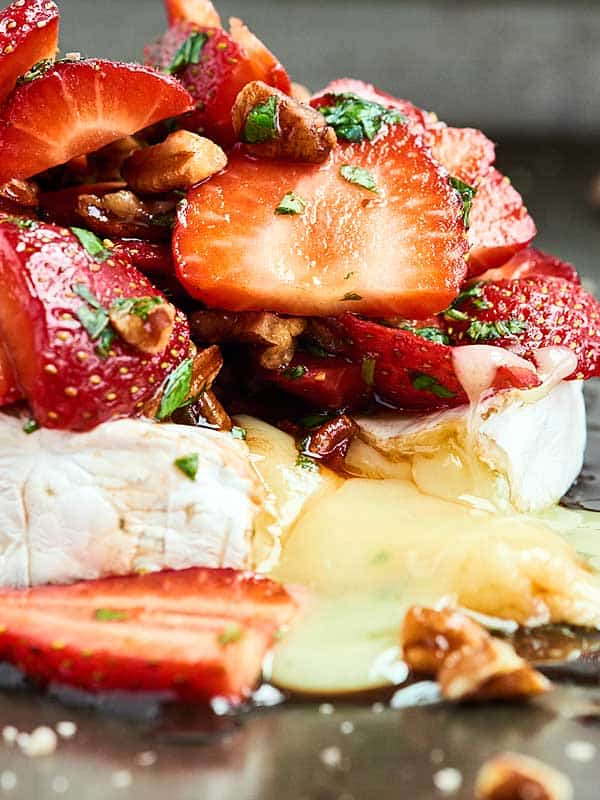 Baked Corn Crab Cakes paired with a Three Cheese Chipotle Potato Soup is the perfect cozy, winter dinner. 10 minutes of prep and you've got yourself a restaurant quality meal!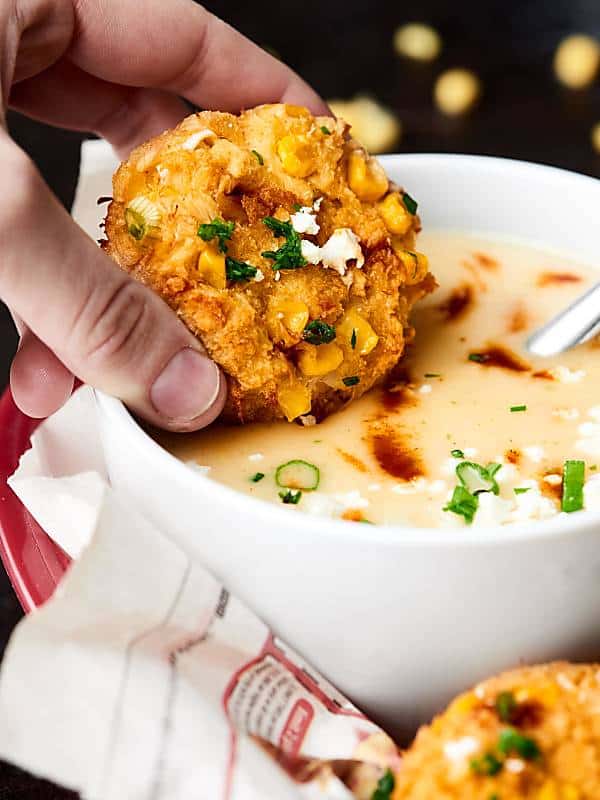 This Blue Cheese Steak Crostini, paired with my favorite hearty bowl of Loaded Potato Soup, is elegant yet simple. Toasted bread, creamy blue cheese, perfectly cooked steak and roasted tomatoes!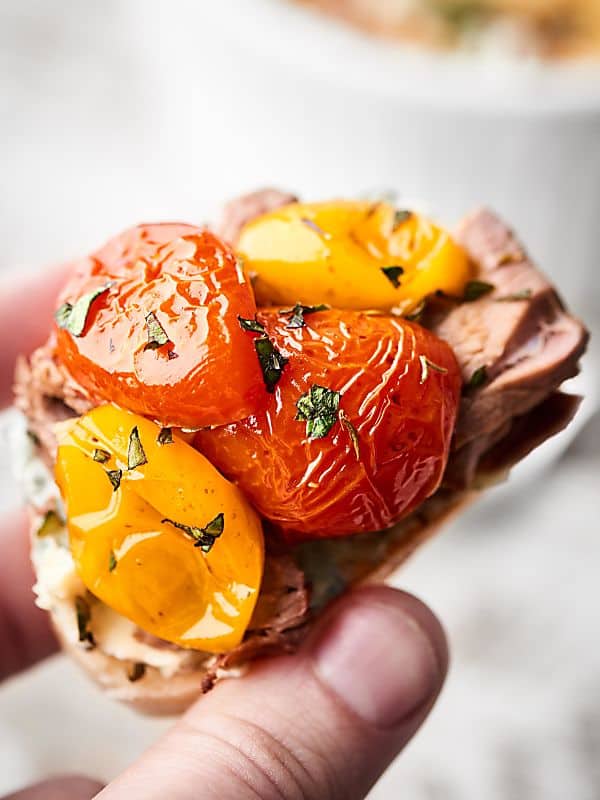 A twist on a classic, this Cherry Bruschetta is the perfect holiday appetizer. Full of sweet dark cherries, pecans, rosemary, thyme, and pinot noir, it comes together in minutes and is paired with a chewy baguette and tangy goat cheese!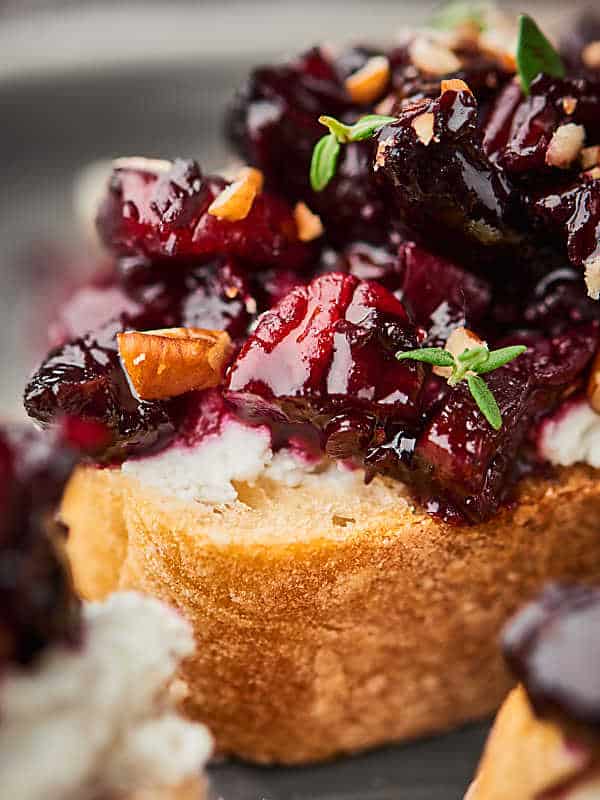 The BEST appetizer yet, this Mushroom Brut Brie is totally impressive, ridiculously easy, and ultra cheesy! Melty brie is topped with brut champagne, buttery mushrooms, and crunchy pistachios!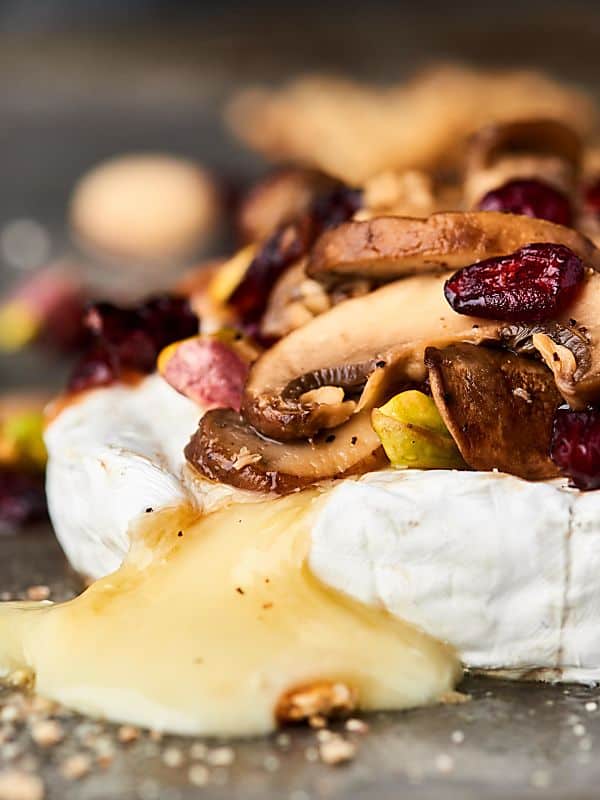 Easy Valentine's Day Sides
A healthy-ish side dish that's perfect for any occasion! You're only 10 ingredients and 30 minutes away from devouring these super simple and delicious Honey Roasted Carrots!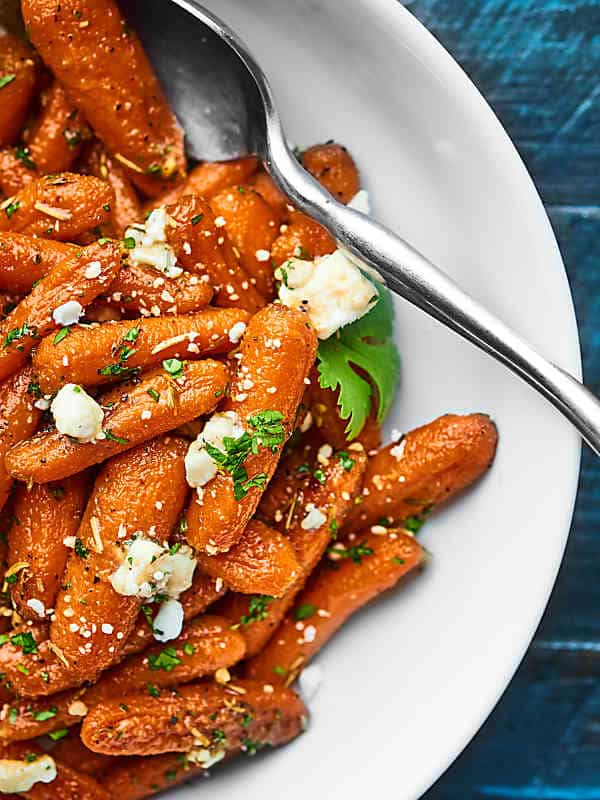 This Caprese Pasta Salad is so quick and easy to put together! Full of orzo pasta, mozzarella, sun dried tomatoes, fresh basil, tangy balsamic, and salty parmesan!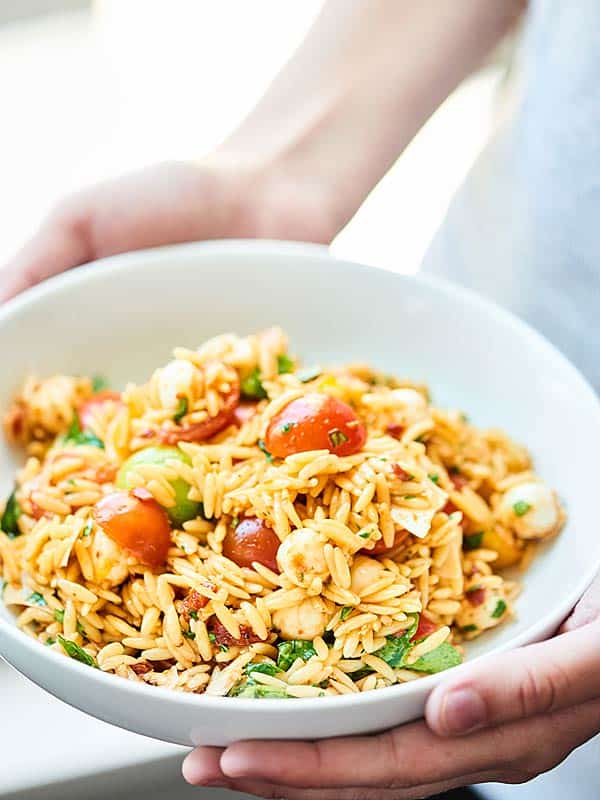 This Roasted Potatoes and Green Beans Recipe is my new, go-to spring side dish! Potatoes are paired w/ green beans & smothered in a lemon mustard dressing.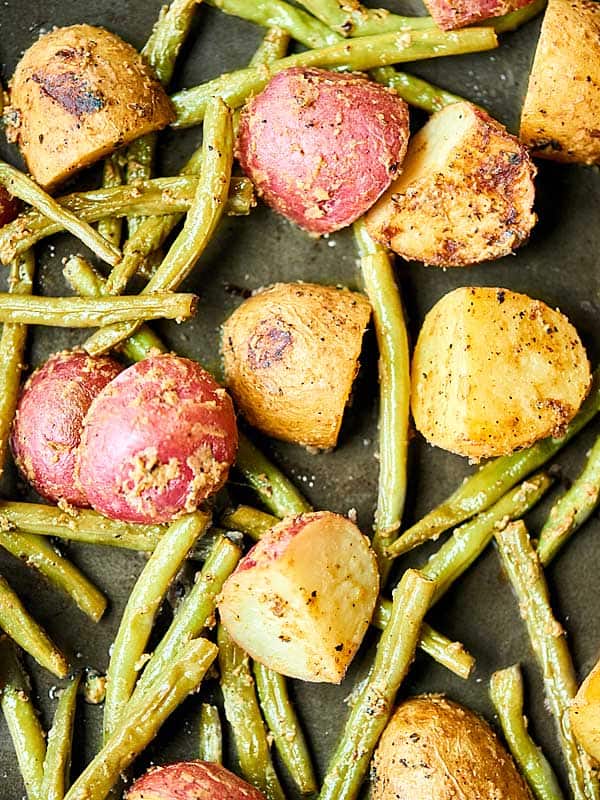 This French Onion Soup Recipe is the perfect appetizer for two! A flavorful beef and onion broth is topped with baguette, parmesan, and gooey swiss cheese!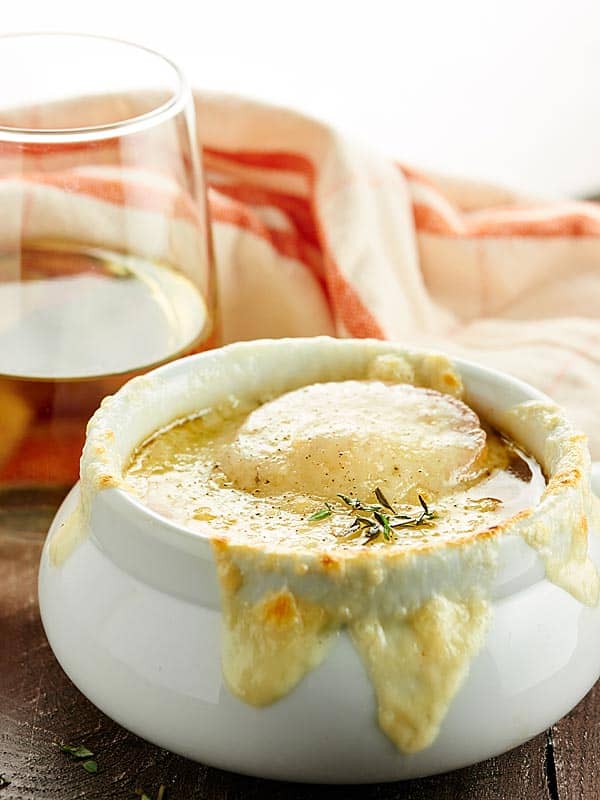 A classic wedge salad with a tangy, sweet blue cheese dressing.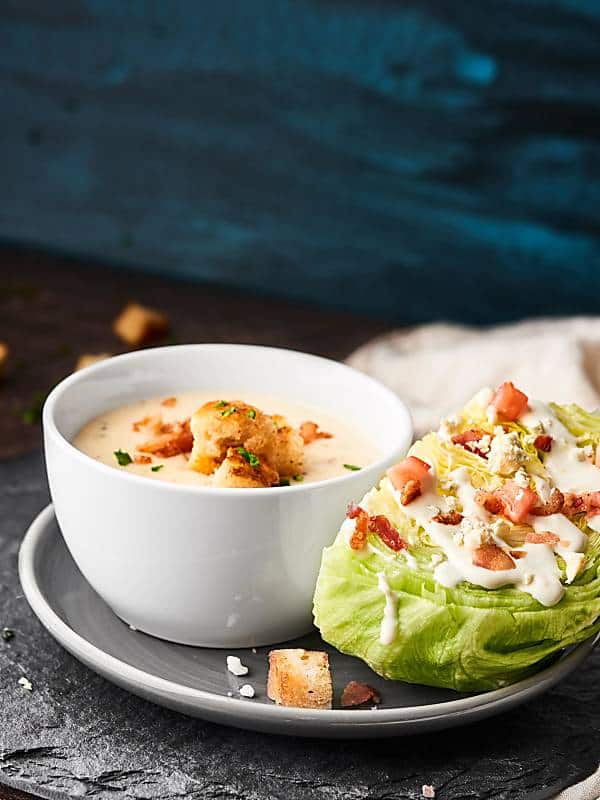 Easy Valentine's Day Dinner
Tender shrimp, butter-y + garlicky sauce… this Shrimp Scampi Recipe is simply perfect!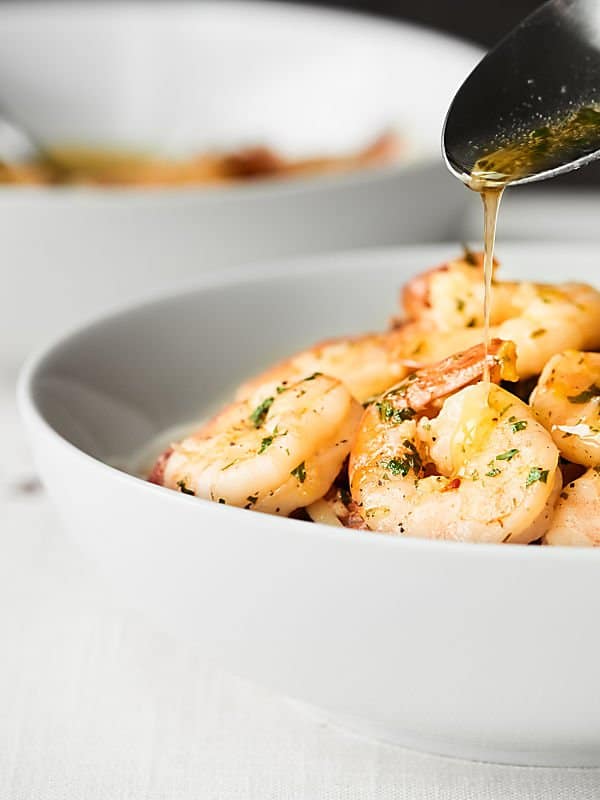 For a little breakfast for dinner situation. This Easy Cheesy Bacon Breakfast Tart Recipe full of crispy bacon, smoky gouda, and creamy sweet potatoes! Made ultra easy with store bought pie dough!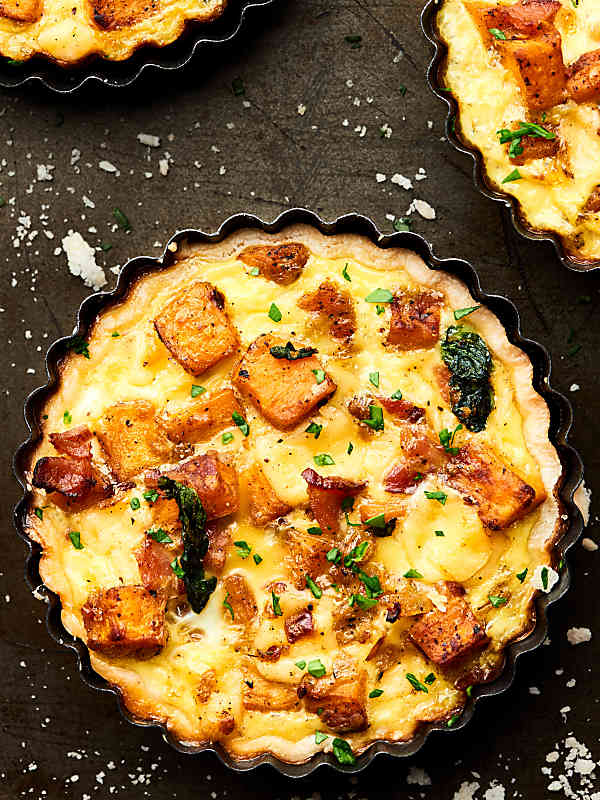 Baked pork tenderloin at it's finest! This Lemon Herb Pork Tenderloin Recipe is healthy, easy, & full of fresh spring flavors like lemon, dijon, & garlic!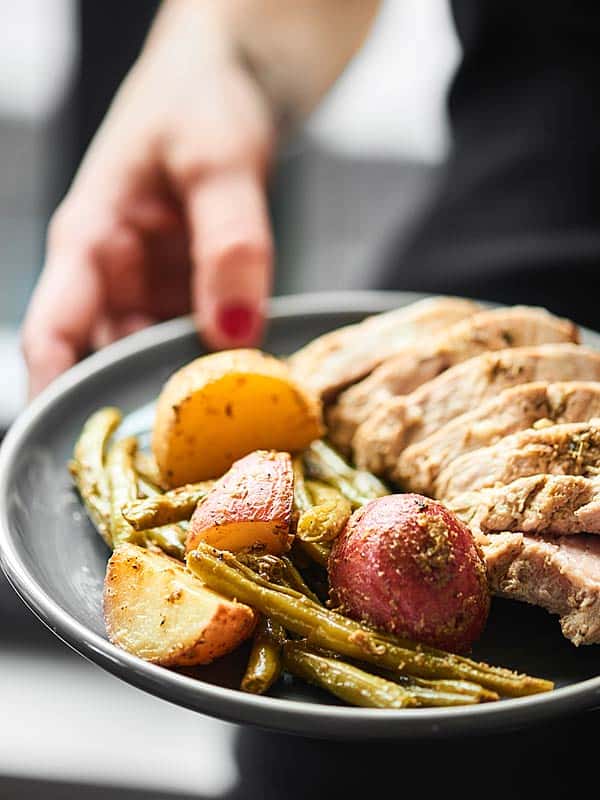 This Chicken Naan Pizza is ready in 20 minutes or less! Garlic naan is topped with a healthy alfredo sauce, diced chicken, mozzarella, tomatoes and basil!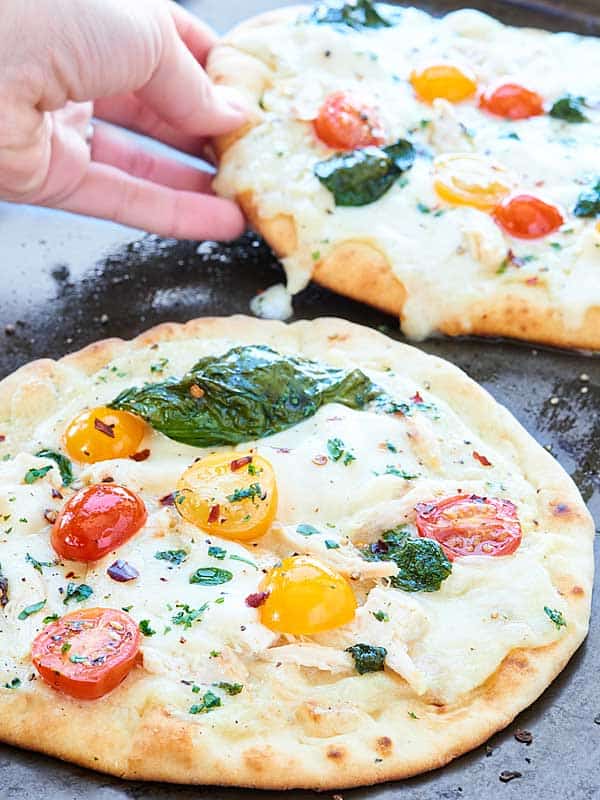 A twist on a Thai curry, this Roasted Red Chili Tilapia Recipe is full of tilapia in yellow curry sauce, roasted red chili paste, sweet potatoes, and coconut milk. Served over rice, this recipe is easy and full of flavor!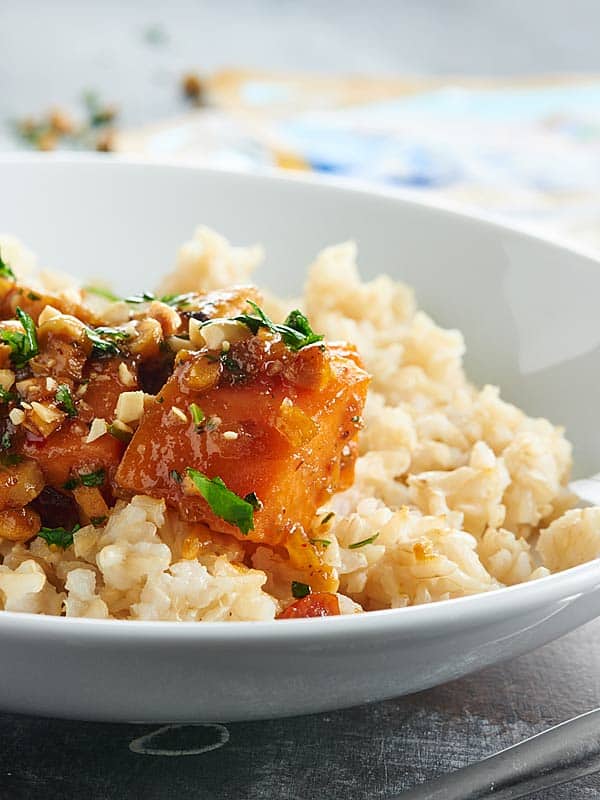 Easy Valentine's Day Desserts
These Champagne Sugar Cookies with Champagne Buttercream are ultra sparkly and perfect for celebrating! They're also surprisingly easy to make and only require 7 ingredients!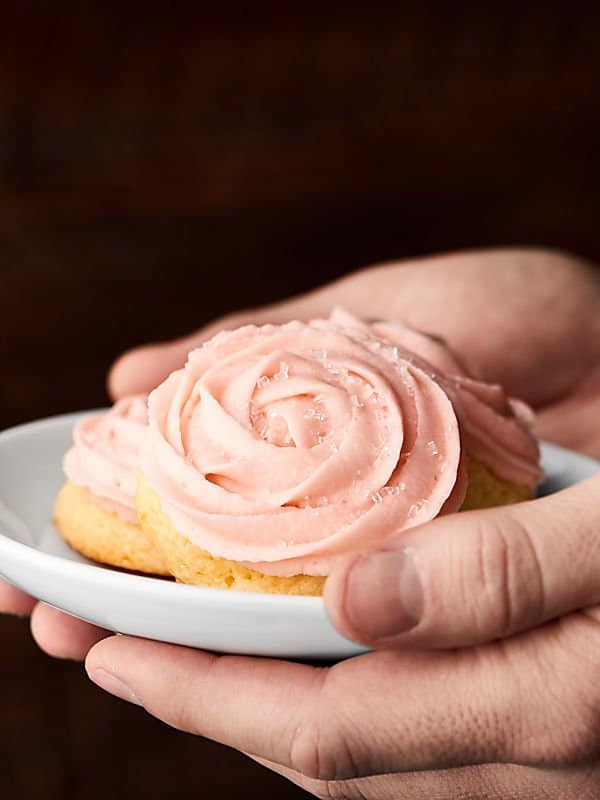 This Red Wine Chocolate Pudding Pie will be the star of your next holiday gathering. A simple graham cracker crust is filled with the most decadent, rich, red wine chocolate pudding!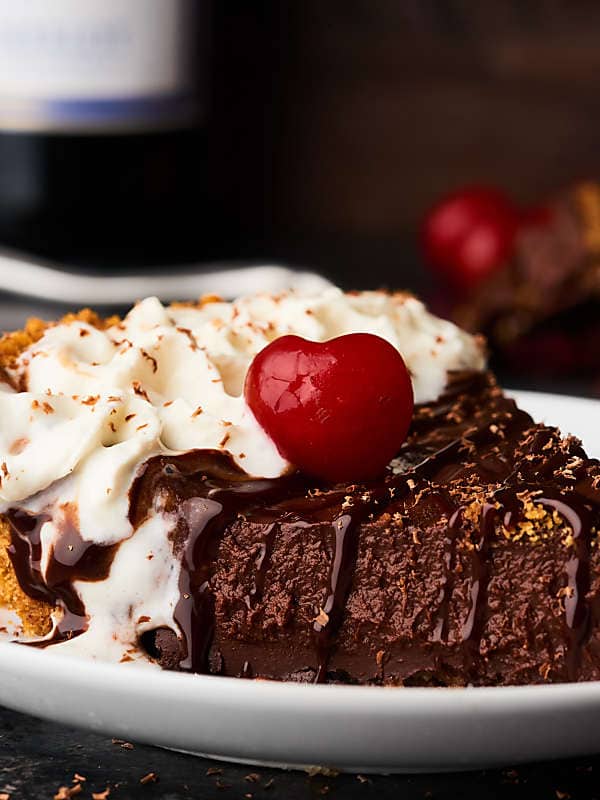 Chardonnay Caramel Cake: a ridiculously easy, flavorful, moist vanilla cake topped with lightly sweetened fluffy whipped cream, and an ultra rich, buttery caramel sauce.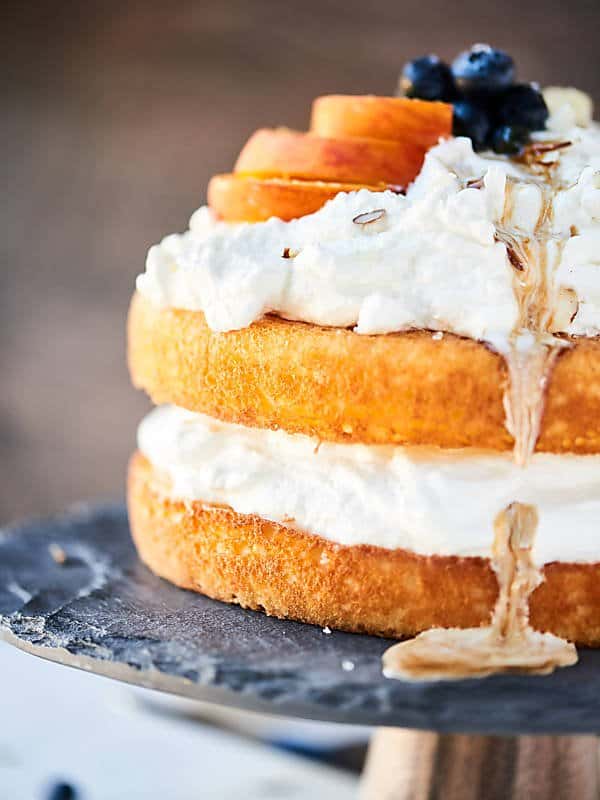 Only 5 ingredients and 10 minutes are needed to make these Healthy Fruit Tarts! A simple crust made of cashews and raisins is topped with vanilla greek yogurt and loads of fresh raspberries. Healthy enough for breakfast, yet decadent enough for dessert!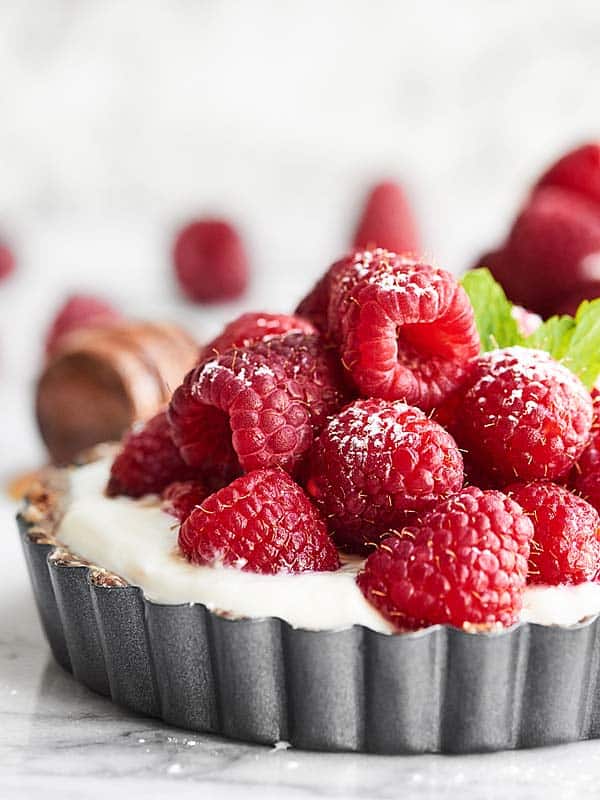 An ultra tender cake with slightly crisp edges and a perfectly white chocolate lemon-y molten lava gooey center, this Lemon Lava Cake is surprisingly simple to make and is in other words: heaven. 😉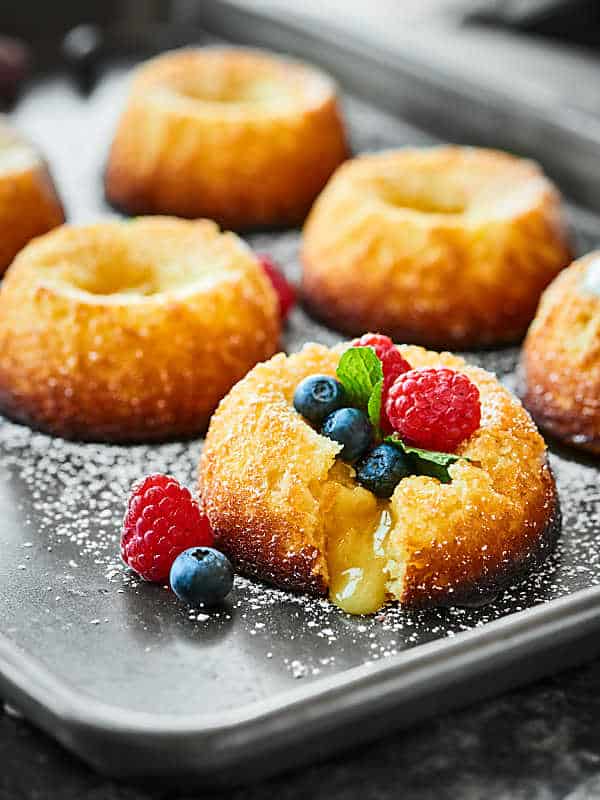 Easy Valentine's Day Drinks
Happy Valentine's Day! Here are four champagne cocktails to celebrate: Raspberry Royale, Mimosa, Poinsettia, and the Classic Champagne Cocktail!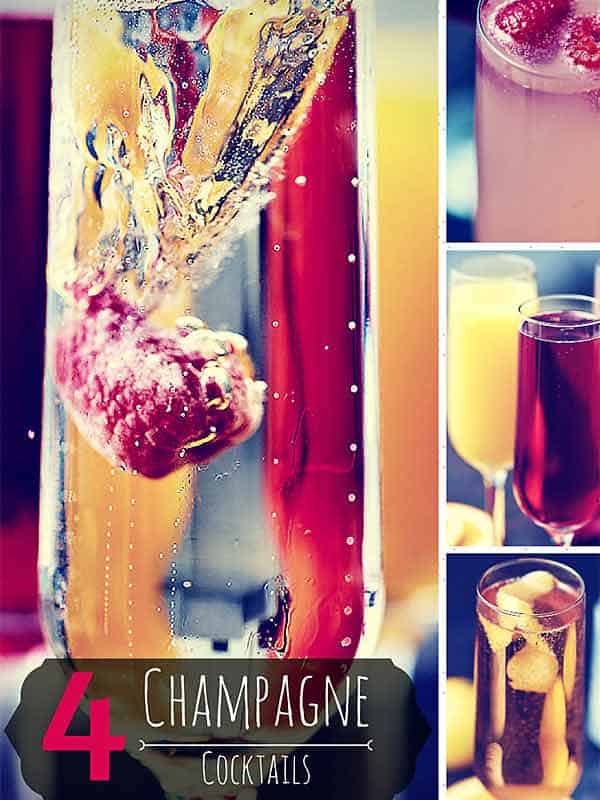 – Jennifer
Want more? Check out my round up from last year! What are YOU having for Valentine's Day? Show Me the Yummy!