Easy 4th of July Recipes! Everything from snacks/sides/apps –> the BEST pasta salads –> main dishes –> desserts and drinks!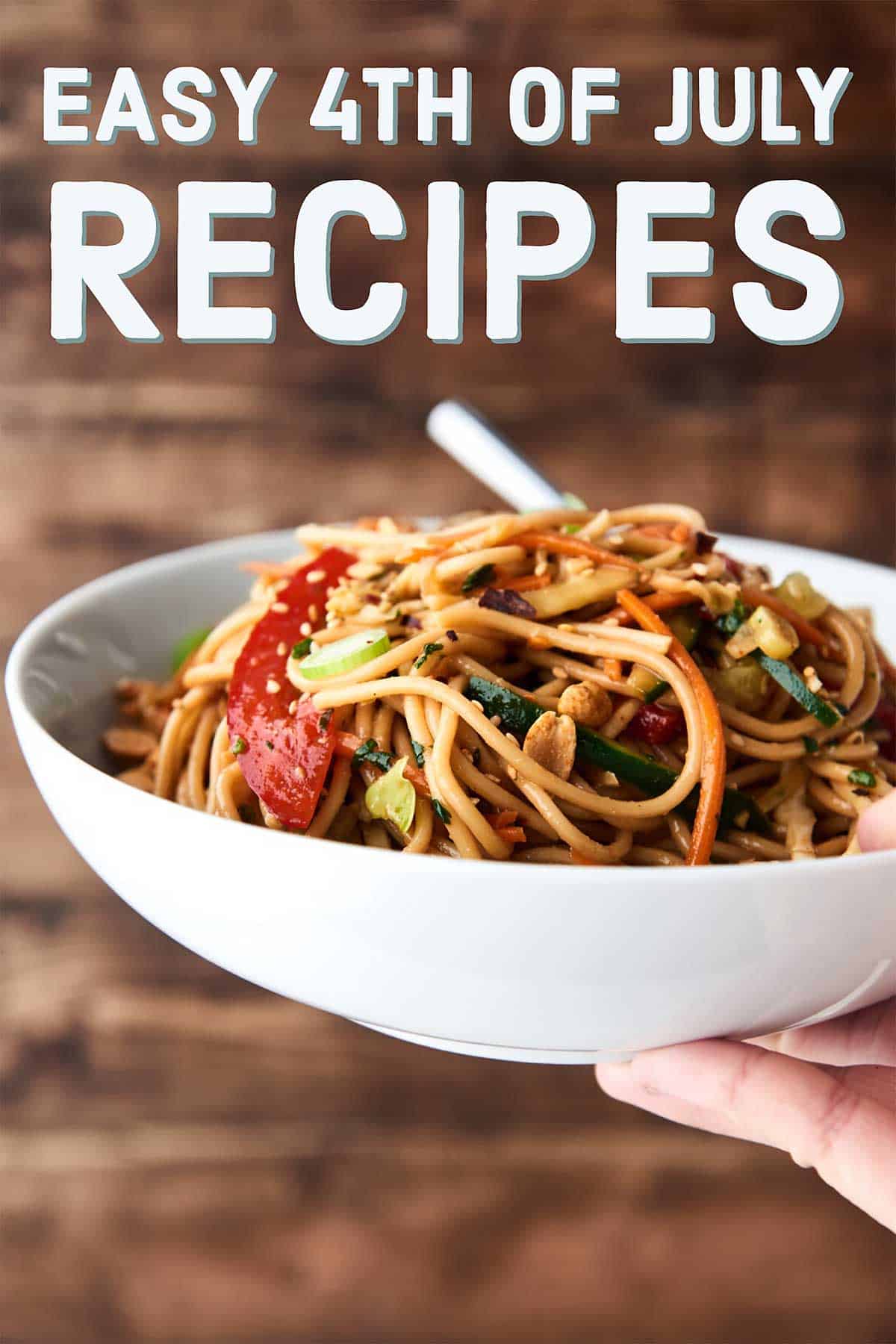 Let's be real. 4th of July is allll about hangin' out with your friends and family . . . while eating really good food.
Right?
Right!
So here ya go . . . Easy 4th of July Recipes! Everything from snacks/sides/apps –> the BEST pasta salads –> main dishes –> desserts and drinks!
I tried to keep in mind a few things when coming up with these recipes. They're all:
EASY
Can feed a crowd
Can be made in advance
Can sit out for long (ish) periods of time
Enjoy! I hope you all have a Happy (& safe!) holiday. 🙂 
Easy 4th of July Snacks & App Recipes
This easy bruschetta recipe is a healthy summer classic! Juicy tomatoes tossed with sun dried tomatoes, garlic, a touch of oil, balsamic vinegar, and fresh basil . . . we can't get enough of this stuff!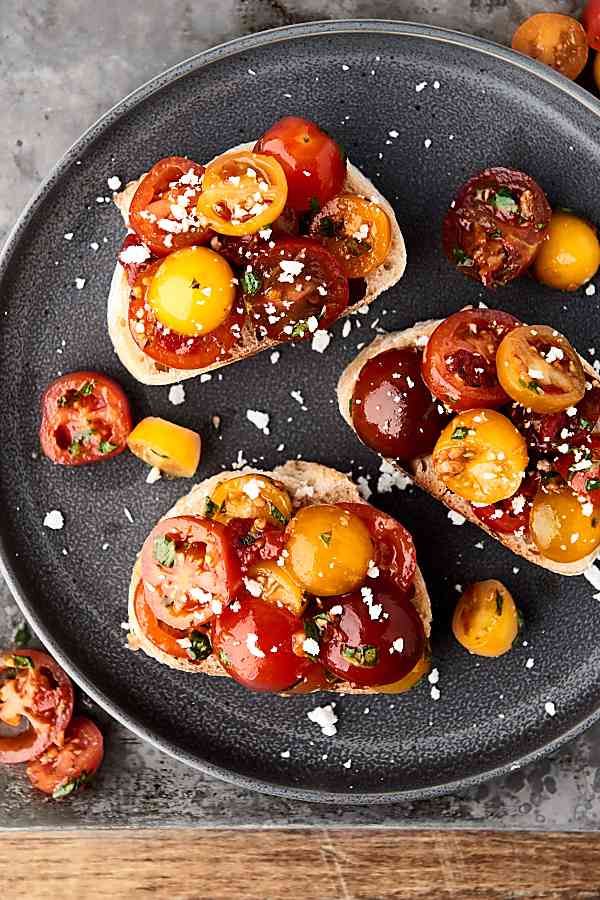 This Easy Pico de Gallo Recipe comes together in a matter of minutes! Fresh tomatoes, onion, cilantro, jalapeno, lime, & garlic make this truly delicious.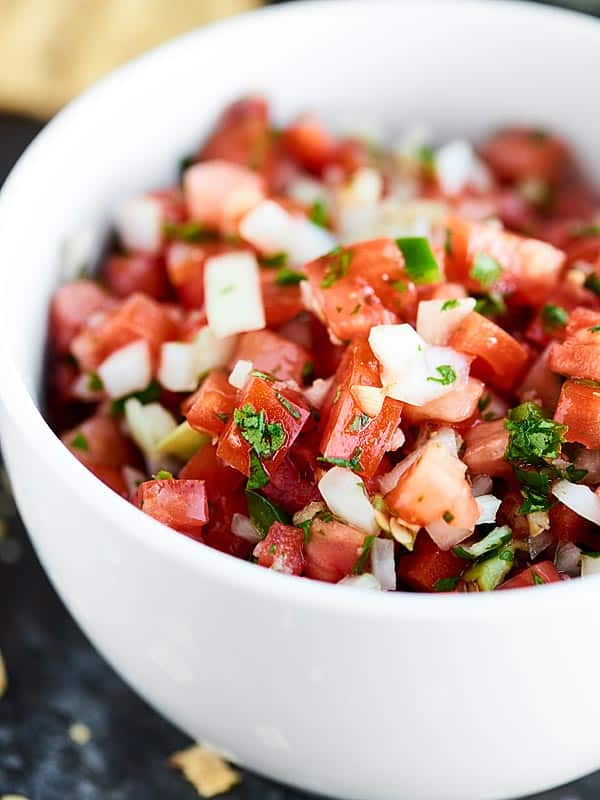 This Sweet and Salty Snack Board is perfect for entertaining! As easy way to impress your guests! Full of chocolate, cheeses, fruit, crackers, and more!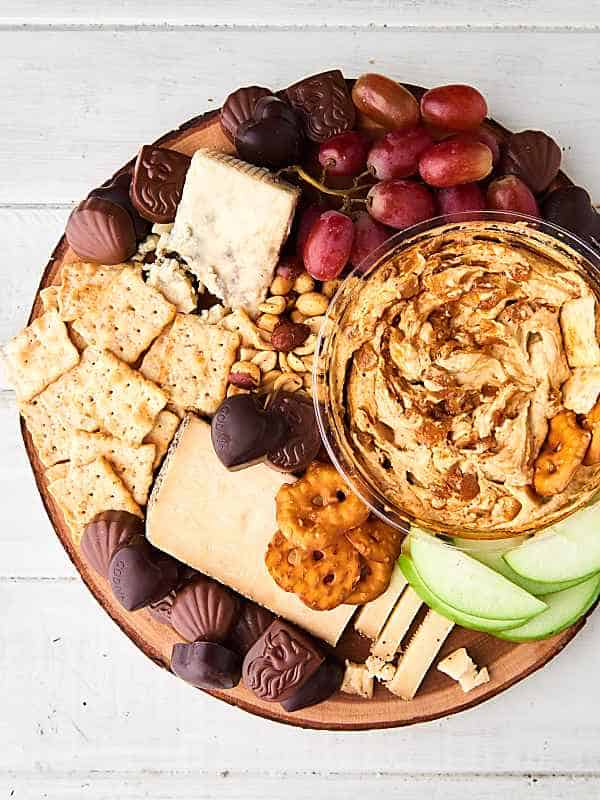 This Grilled Corn and Avocado Salsa Recipe is loaded with fresh summer produce: corn, avocado, tomatoes, and more! Only 9 ingredients necessary!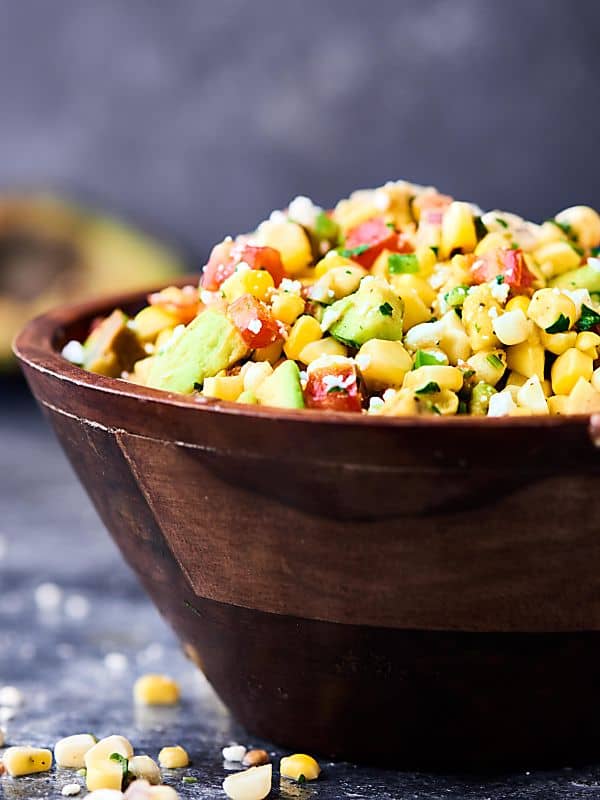 Ready for the easiest Cinco de Mayo recipe? This Texas Caviar comes together in a matter of minutes and is full of fresh veggies – peppers, onion, tomatoes – beans, corn, and a tangy dressing!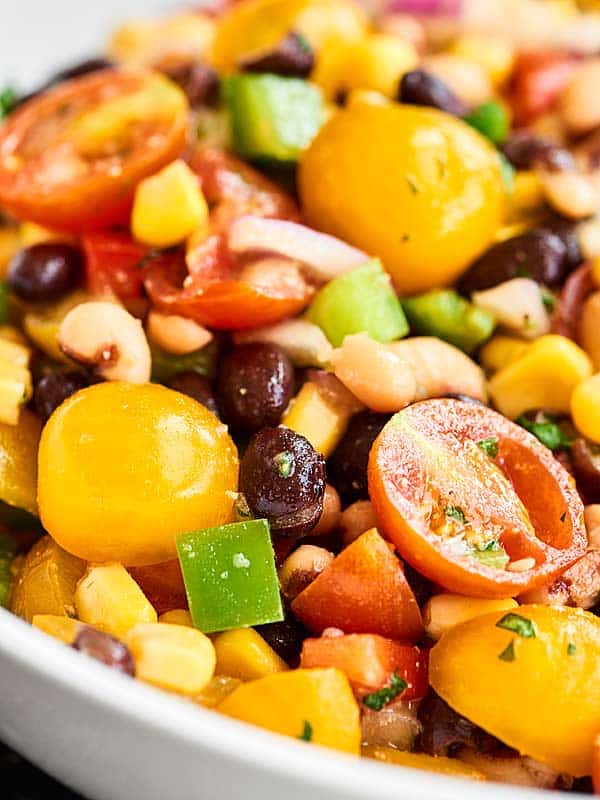 This Healthy French Onion Dip Recipe is lightened up w/ non fat greek yogurt, olive oil mayo, & is full of yummy spices! The perfect dip for your chips!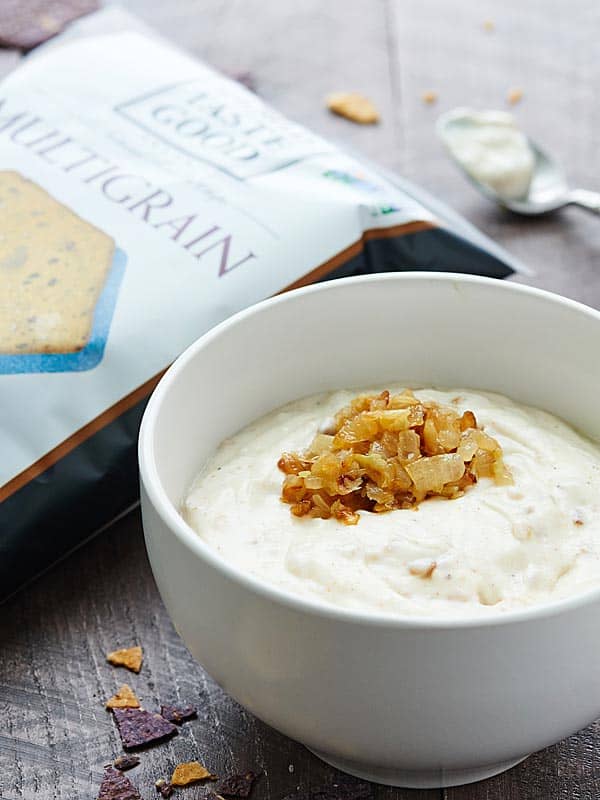 This Cream Cheese Salsa Dip requires two ingredients and 30 seconds of prep! It's addicting, it's creamy, it's so easy, and the spice level is up to you!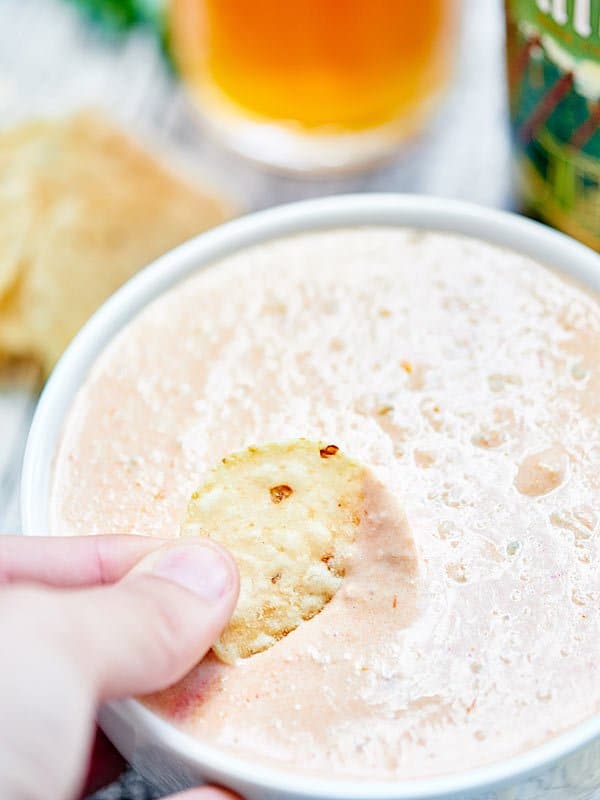 This easy guacamole recipe is vegan, gluten free, and healthy! This guacamole only has 8 ingredients and takes 5 minutes to put together!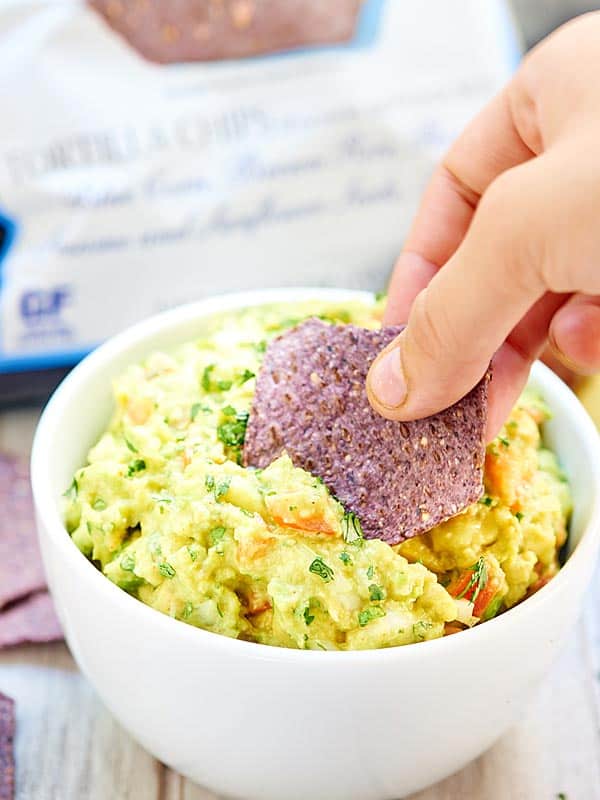 This Strawberry Goat Cheese Bruschetta is my new favorite appetizer. Slightly chewy bruschetta is topped with creamy goat cheese, peppery arugula, juicy strawberries, and earthy basil!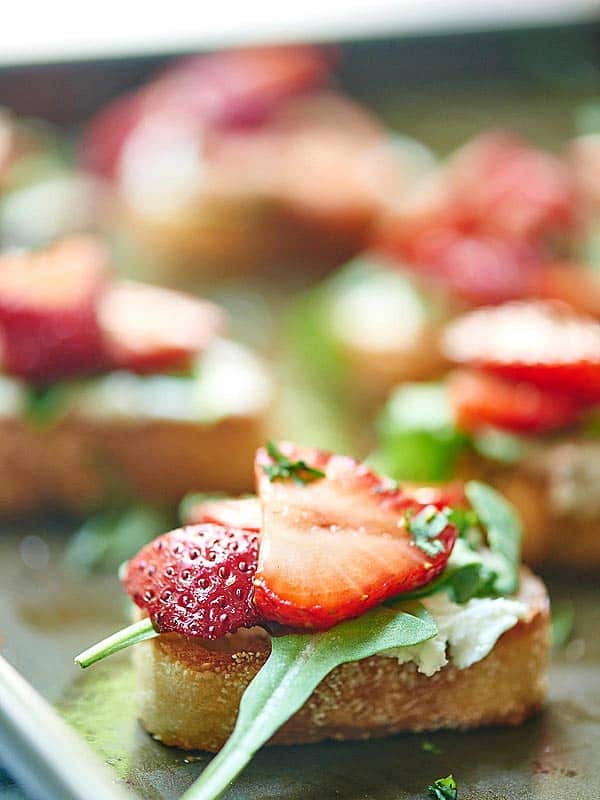 Easy 4th of July Salad Recipes
This Asian Pasta Salad Recipe is loaded with a homemade dressing: sesame oil, vinegar, lime juice, honey, soy sauce, spices, etc. –  fresh crunchy veggies: carrots, bell pepper, cucumbers – and other great mix-ins: noodles, peanuts, and cilantro! Light, fresh, quick and easy!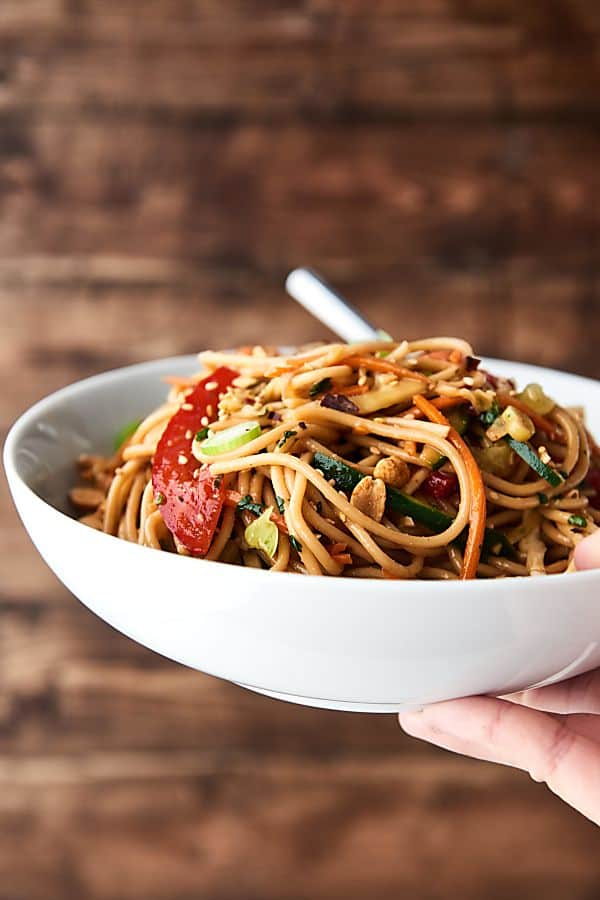 Grilled Potato Salad with Hickory Smoked Brown Sugar Pork Chops aka the perfect summer dinner! Juicy fresh pork paired with a grilled potato salad that's loaded with blue cheese, bacon, garlic, red onion, cilantro, and more! Quick. Easy. Delicious!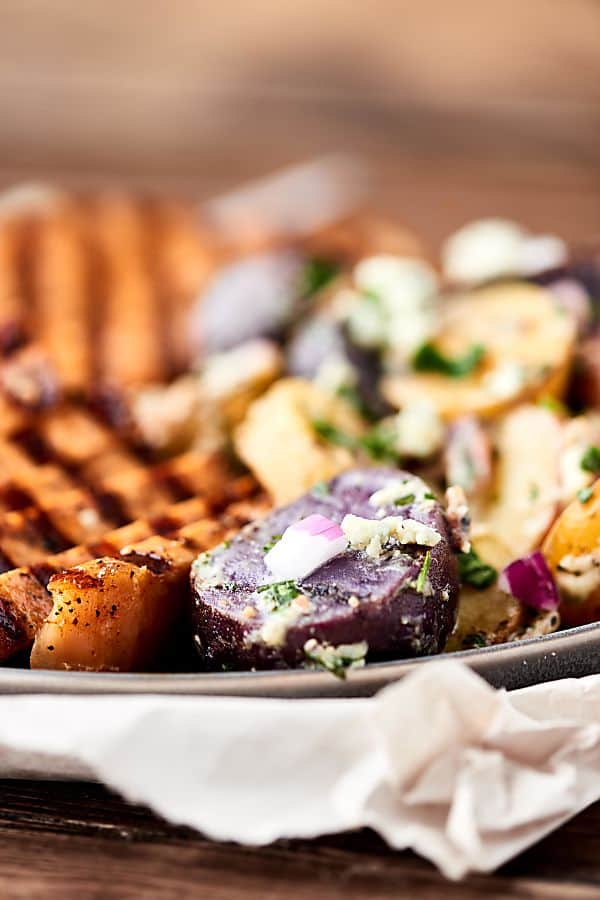 Hearty farro meets loads of fresh, crunchy veggies, tangy red wine vinegar, chickpeas, and spices to make this healthy and delicious Mediterranean Farro Salad Recipe!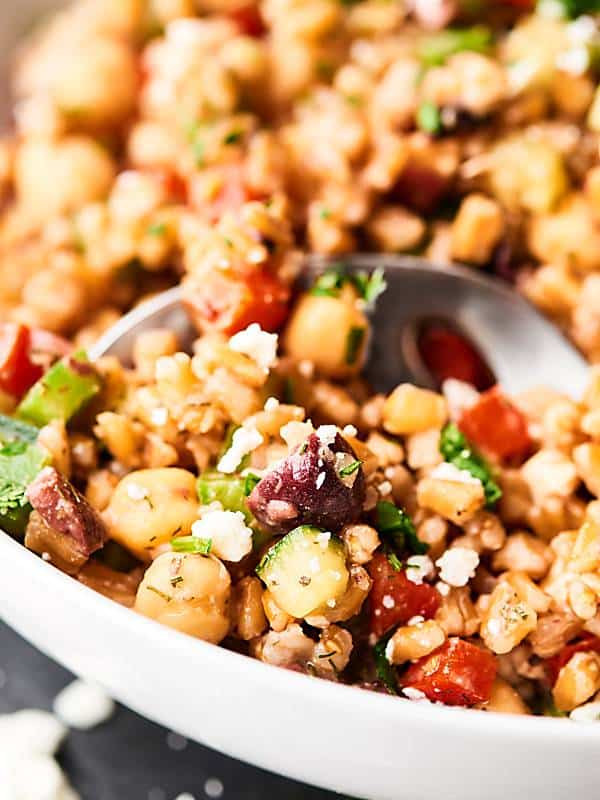 Only 7 ingredients needed to make this Berry Fruit Salad. All your favorite berries + fresh mint + lemon juice and honey! So yummy!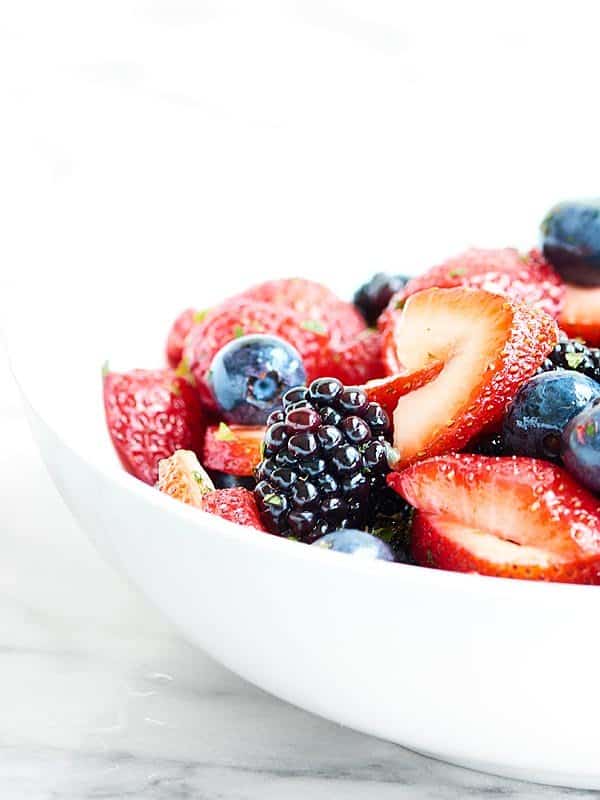 This Mexican Pasta Salad needs to make an appearance at your next grill out. A fun textured pasta + fresh crunchy veggies + black beans + a kick butt sauce!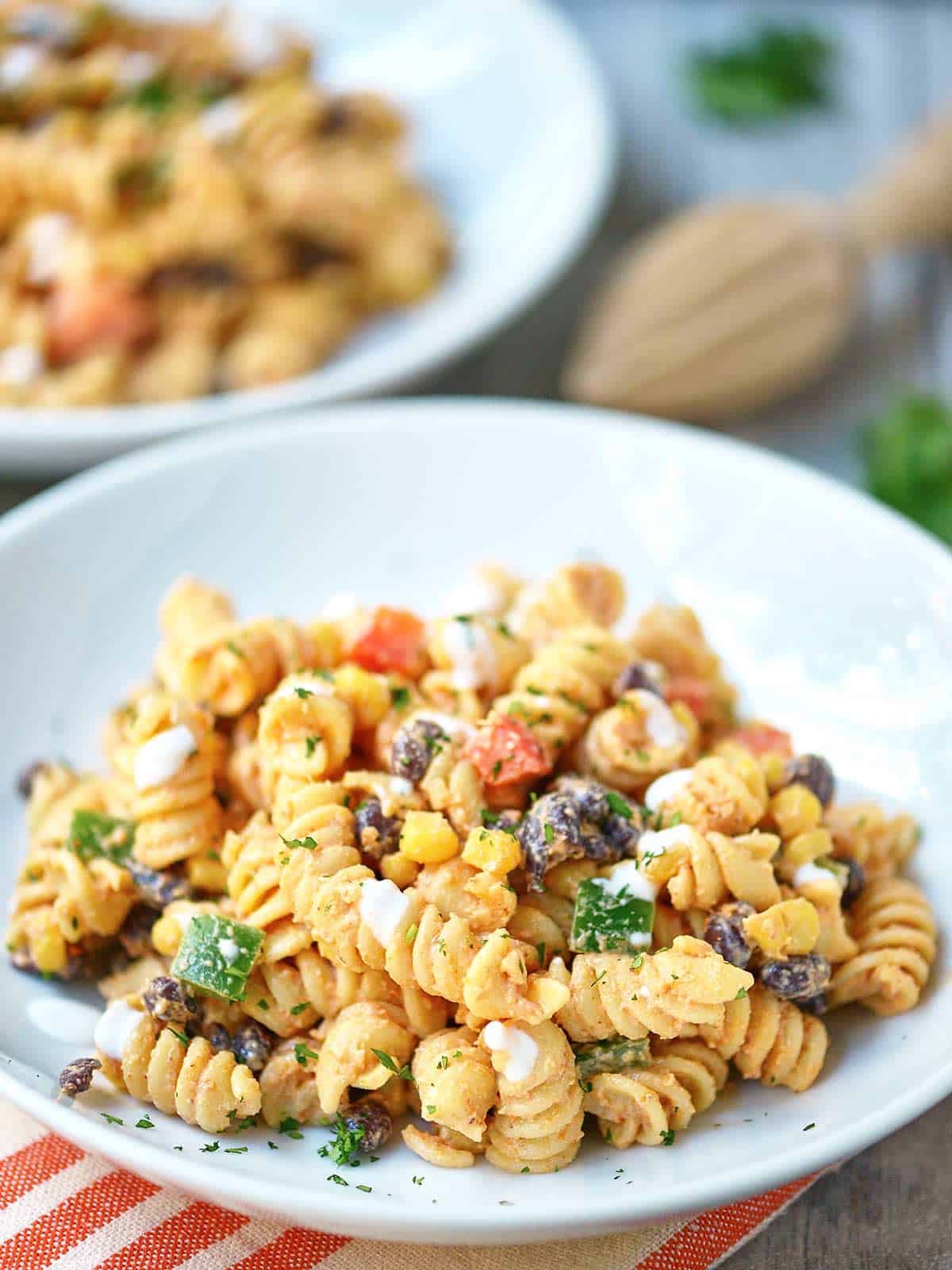 This Caprese Pasta Salad is so quick and easy to put together! Full of orzo pasta, mozzarella, sun dried tomatoes, fresh basil, tangy balsamic, and salty parmesan!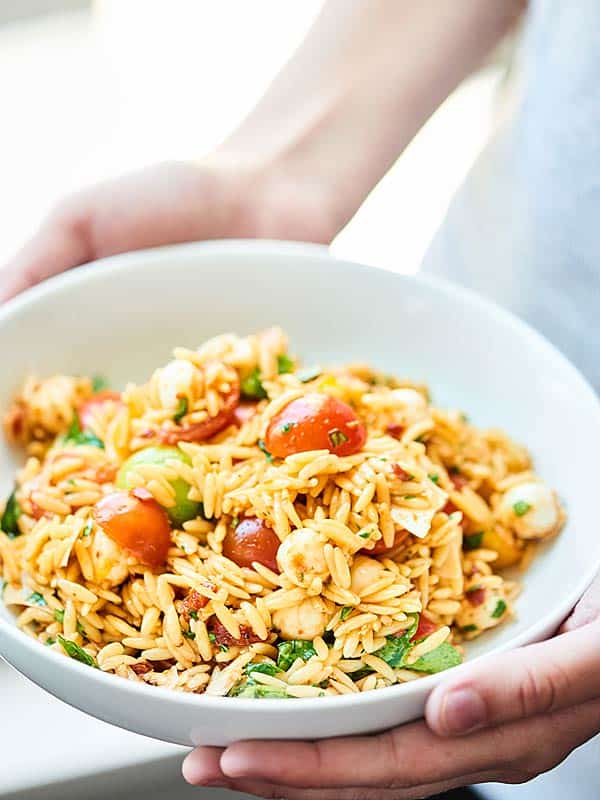 This broccoli salad recipe will definitely blow you away. Pasta, bacon, and broccoli? What could be better? This pasta salad is my go-to summer side dish!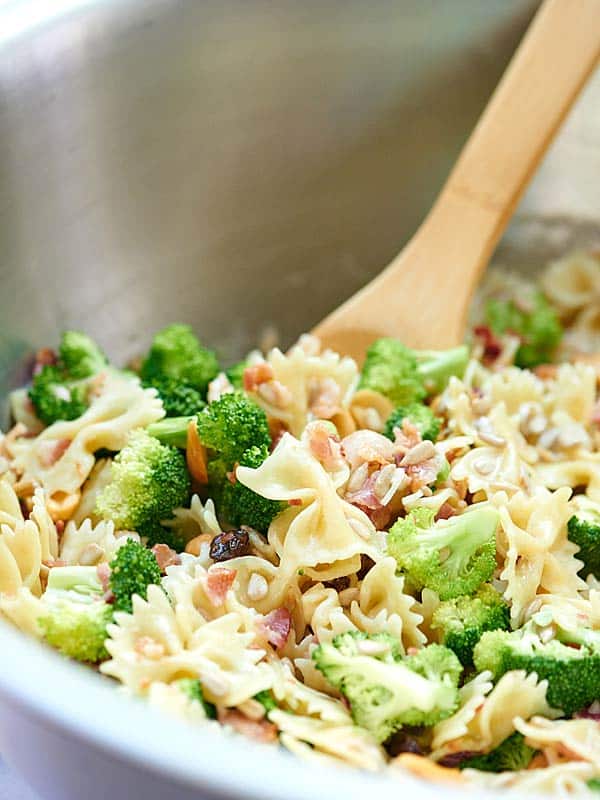 This Greek Tortellini Pasta Salad is vegetarian, easy, and so tasty! Sun dried tomatoes. Salty feta. Chickpeas. Fresh vegetables. Cheese Pasta. Yes please!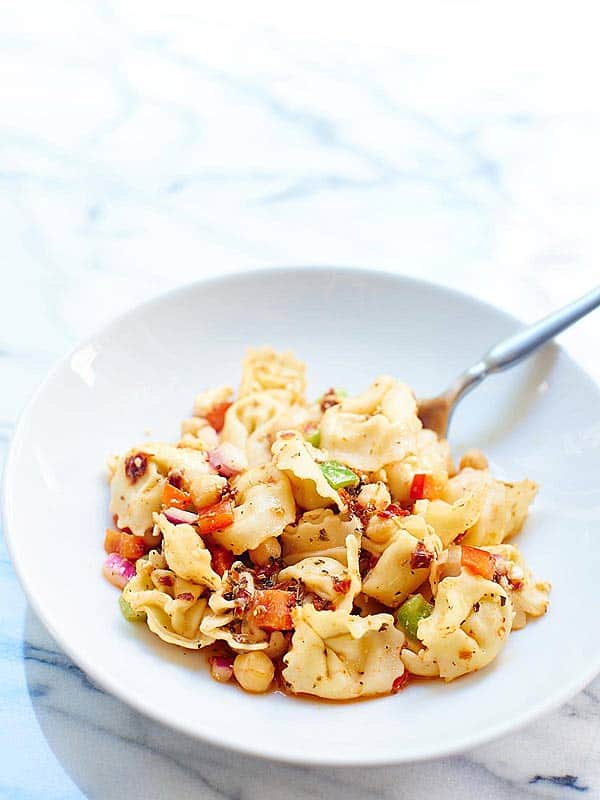 This simple Pesto Pasta Salad is loaded with pasta shells, fresh pesto, salty bacon, crumbly feta, juicy tomatoes, and crunchy cashews!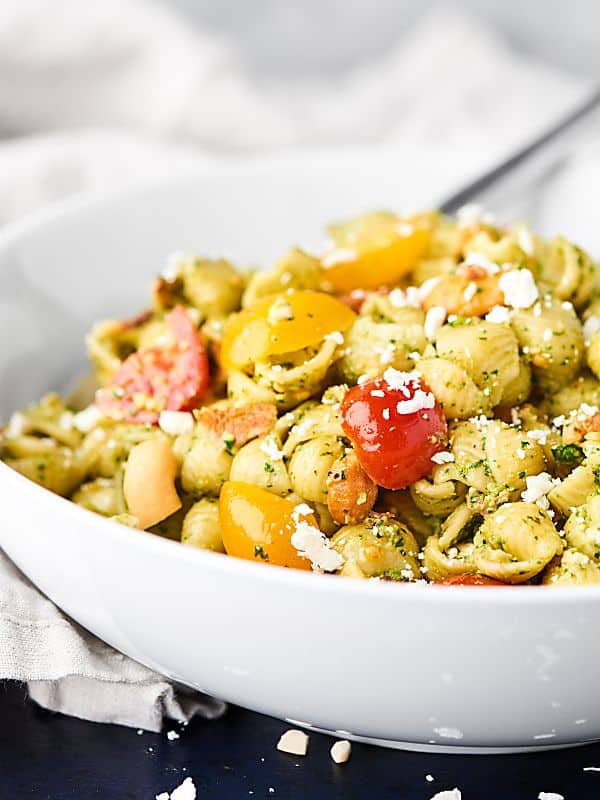 This Shrimp Avocado Salad Recipe is perfect for hot summer days! It's an EASY, cold, no-cook, healthy, refreshing salad full of shrimp, avocado, cucumbers, sun dried tomatoes, lemon juice, spices, and more!
Southwestern chicken salad cups. Baked wonton cups filled with chicken, corn, beans, peppers, greek yogurt, lime, and taco seasonings! About 100 calories per cup! Great for easy lunches, snacks, or a big party!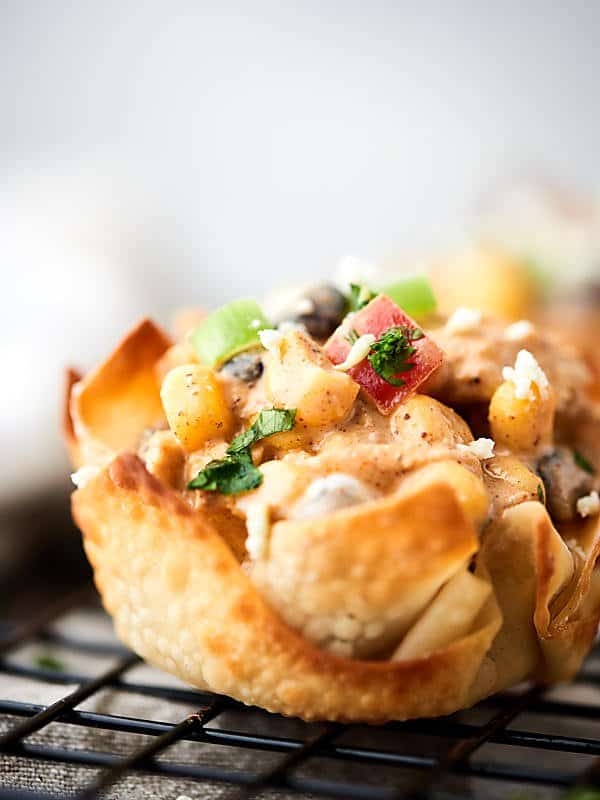 Easy 4th of July Dinner Recipes
This Black Bean Burger Recipe is PACKED with vegetables and flavor and is super quick and easy to make. All you need is 10 minutes and a food processor! Vegan. Gluten Free.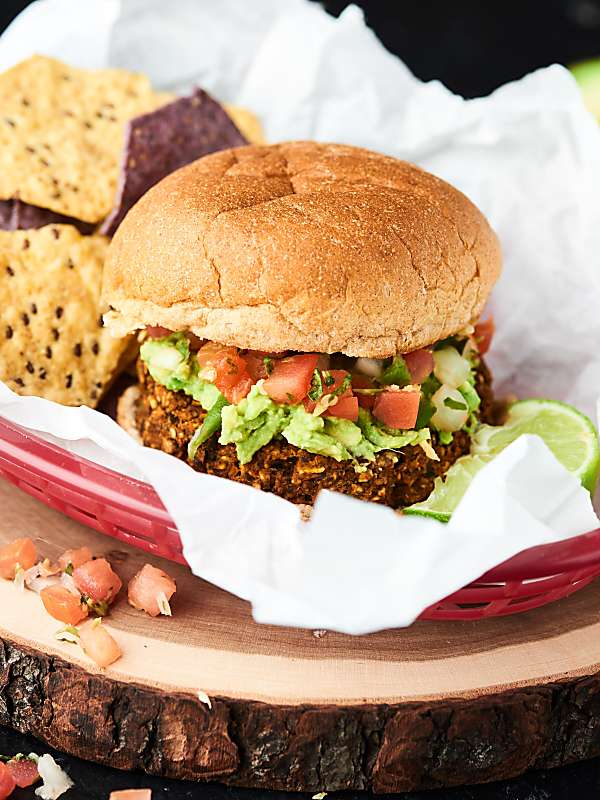 Healthy Crockpot Mexican Chicken. Easy. Flavorful. Gluten Free. HEALTHY! Perfect for meal prep salads, burrito bowls, Taco Tuesdays, nachos, and more!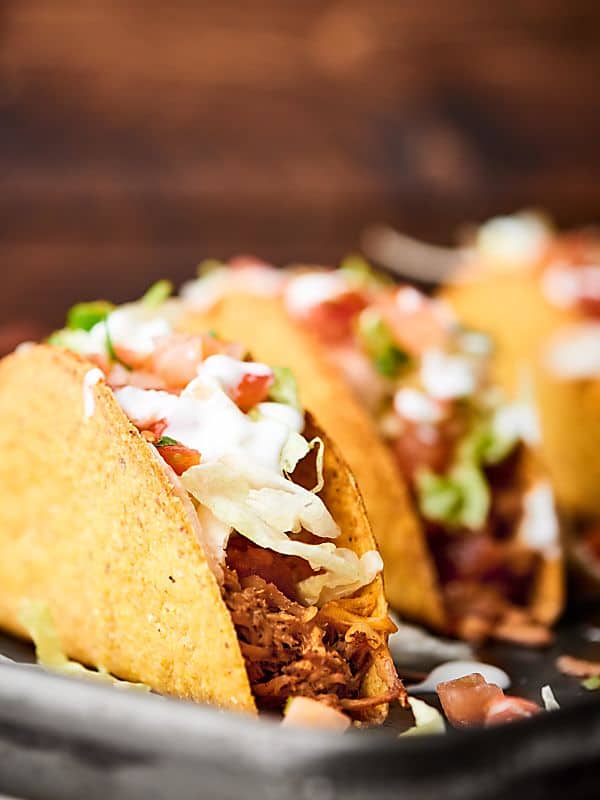 Instant Pot Lentil Sloppy Joes. A health-i-fied vegan, gluten free version of a classic! Quick, easy, meatless weeknight dinner.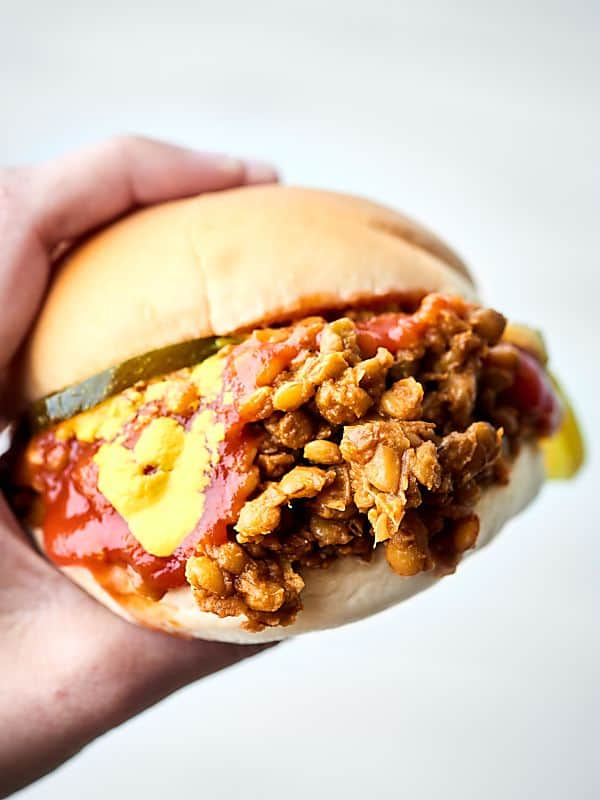 Paired with tzatziki and full of tender chicken, veggies, and an herb-y garlic marinade, these Greek Kebabs are the perfect, quick & easy, healthy summer dinner!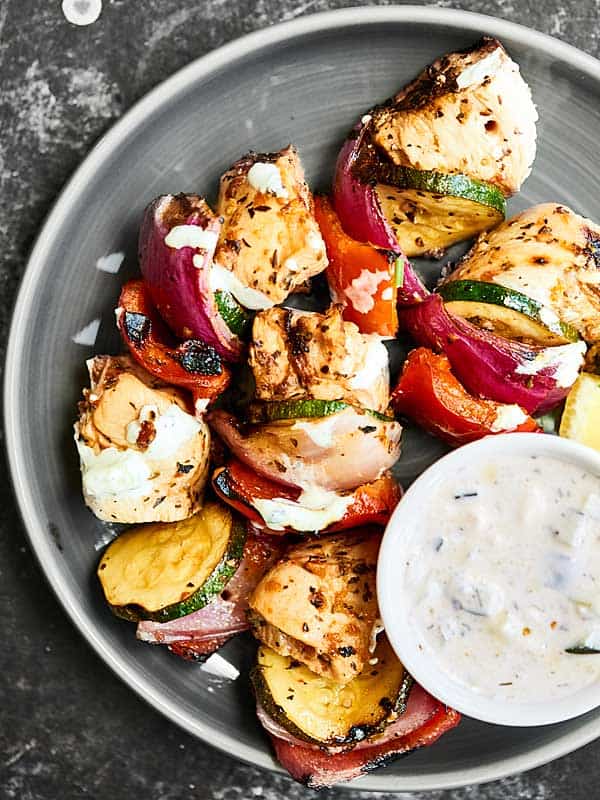 Slow Cooker Carnitas. An easy, flavorful, healthy meal made in the crockpot. Tender pork served in your favorite tortilla and topped with a homemade salsa? Gimme!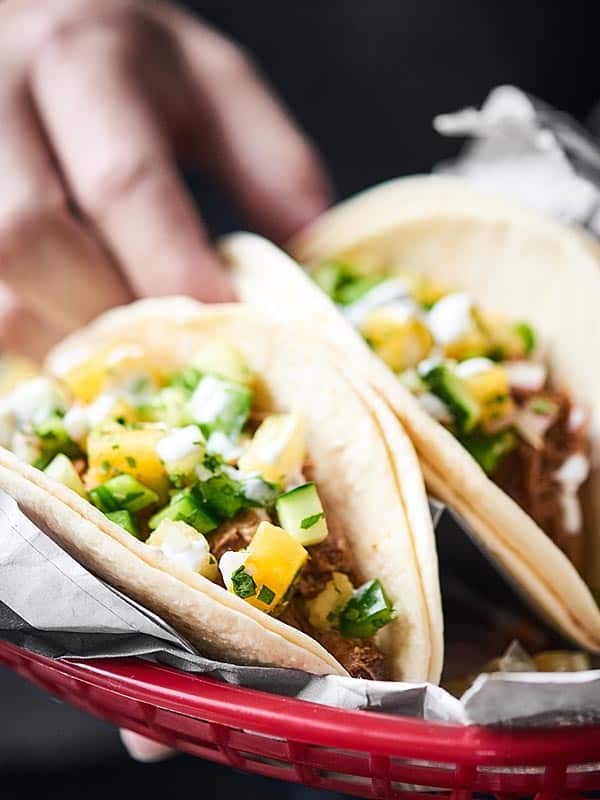 These are the BEST Mexican Turkey Burgers. Tender, seasoned turkey burgers + crunchy slaw, fresh pico, and a creamy avocado sauce make these perfect for an easy, healthy, and delicious dinner!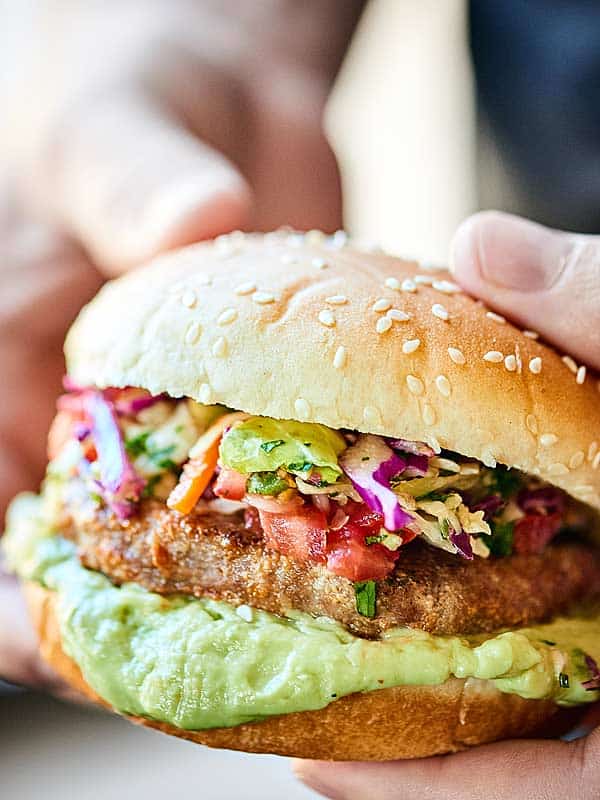 This Instant Pot BBQ Pulled Pork Recipe comes together in a matter of minutes and cooks in only 90 minutes! A quick, easy, pretty darn healthy weeknight dinner that's packed with tender pork and a tangy homemade BBQ sauce!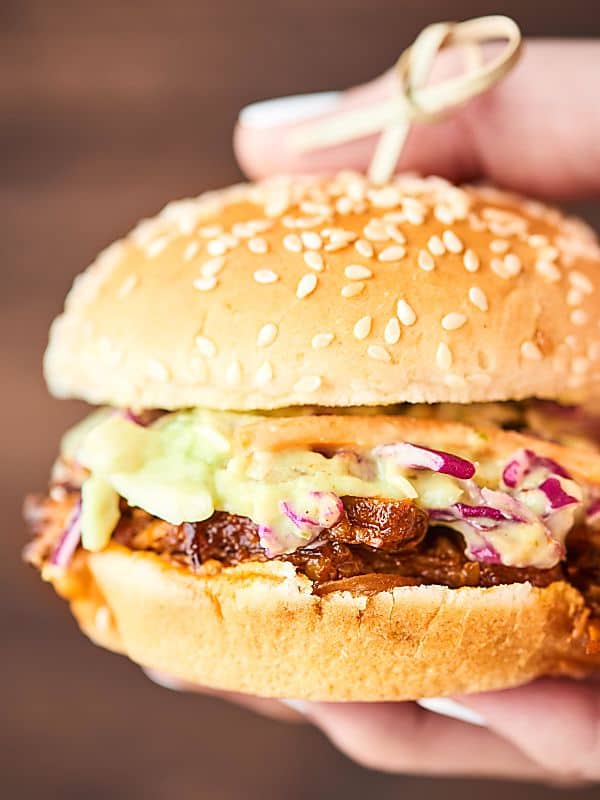 Juicy grilled chicken smothered in BBQ sauce plus creamy, crunchy, fresh coleslaw makes these the easiest and tastiest Grilled BBQ Chicken Tacos you'll ever have!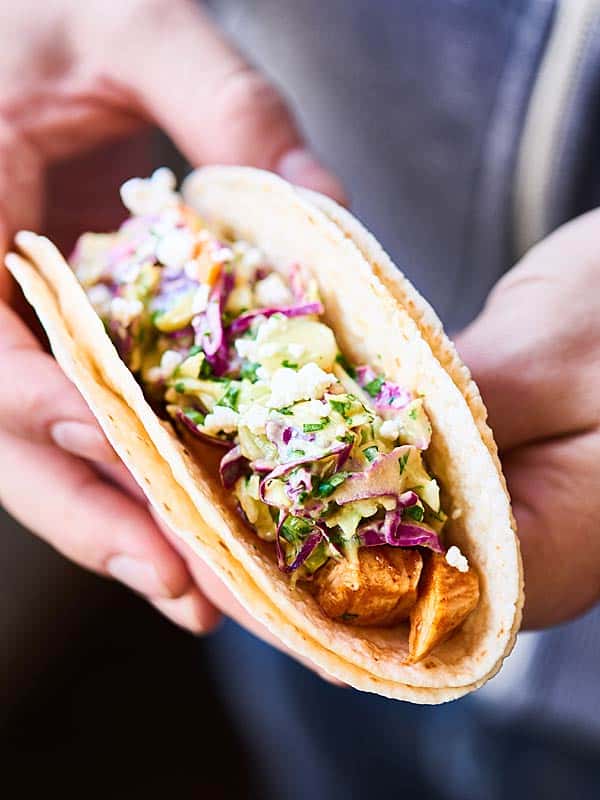 Easy 4th of July Dessert Recipes
A spring twist on a chocolate classic, these lemon crinkle cookies are bright, lemon-y, and perfectly sweet! My secret ingredients? Lemon pudding mix, white chocolate, and lemon extract!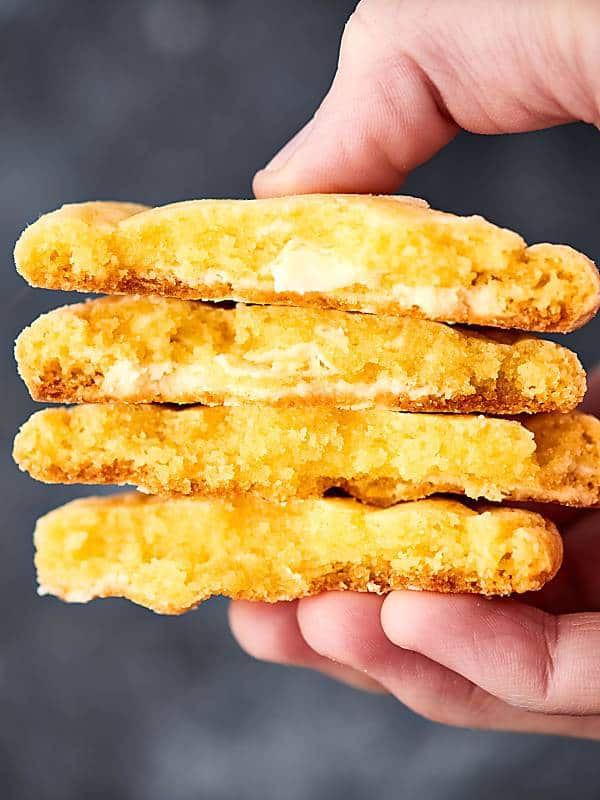 These Vegan Scotcheroos are loaded with brown rice crispies, all natural peanut butter, and agave and smothered in vegan dark chocolate and a pinch of sea salt. An easier, slightly healthier, gluten free take on the classic no bake treat.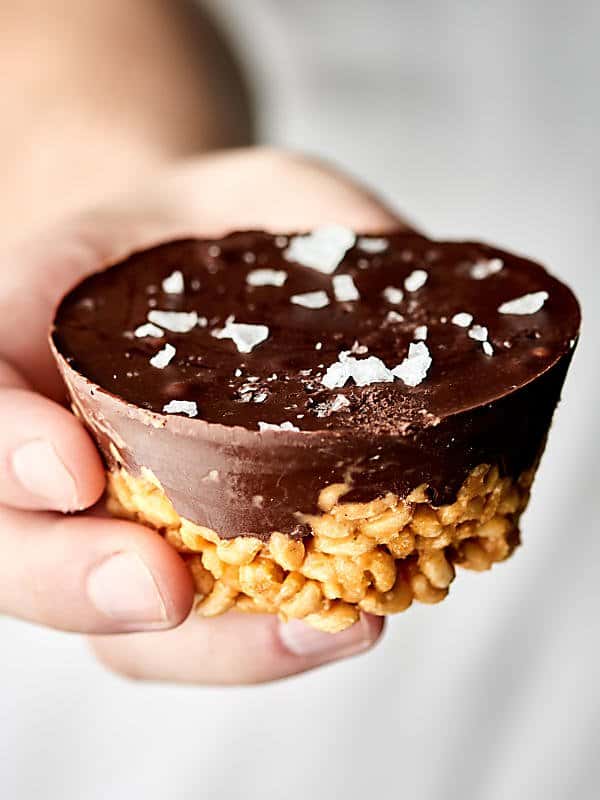 The perfect fudge-y, chocolatey, gooey, thick brownies you'll ever taste. Plus, you only need one bowl to make them!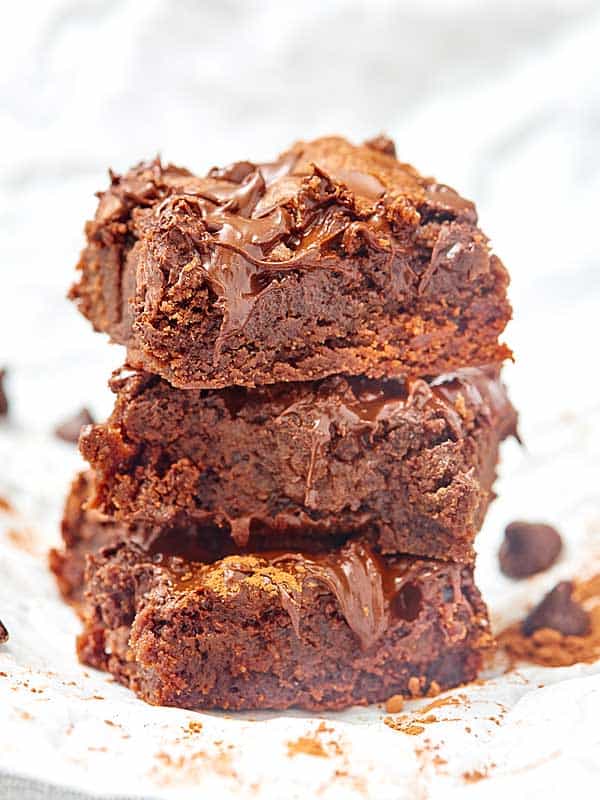 This is the best puppy chow recipe! Why? More chocolate, more peanut butter, more powdered sugar! This childhood classic aka muddy buddies just got better. 🙂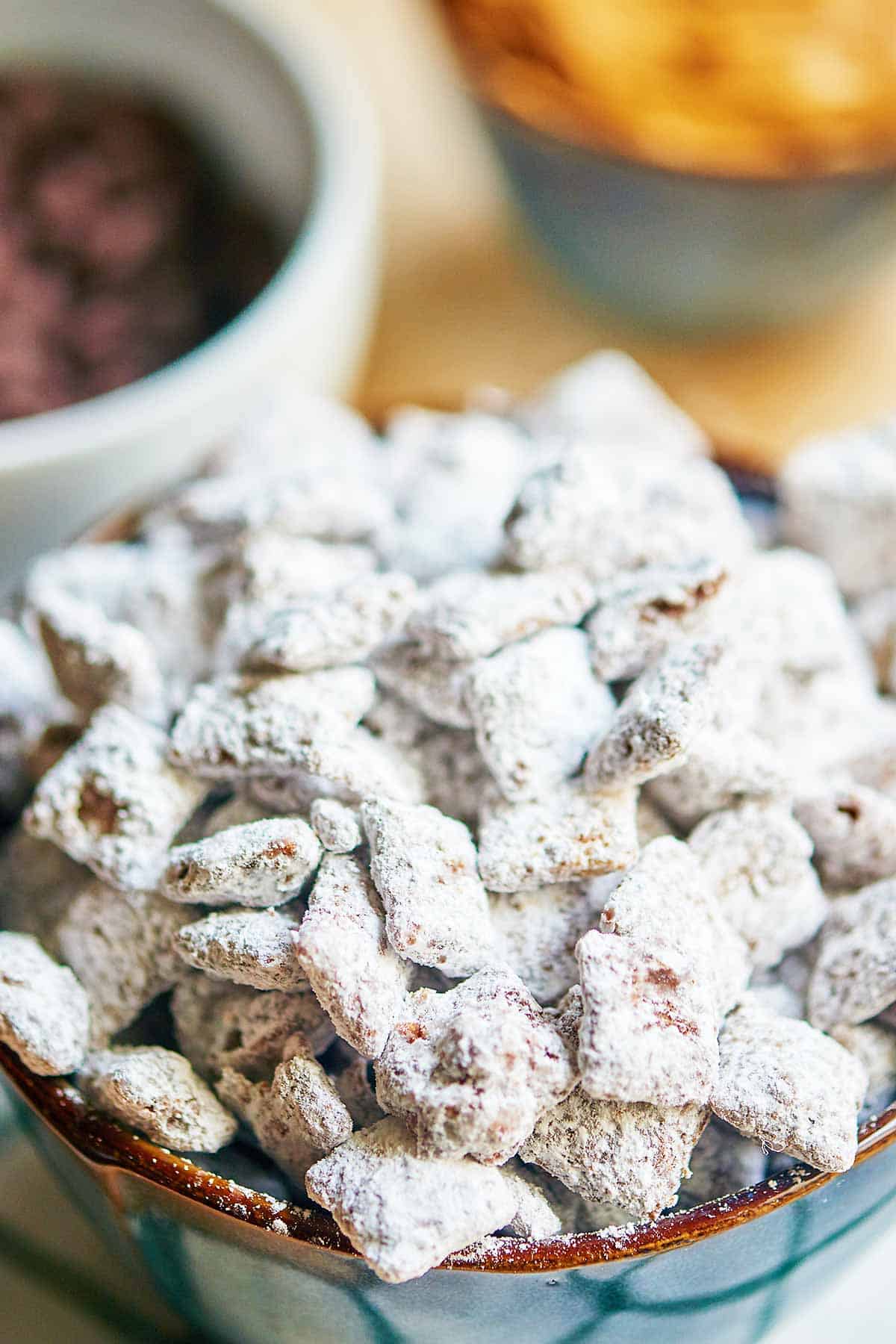 Cut out sugar cookies with cream cheese frosting! These are perfectly golden on the outside yet remain fluffy in the middle!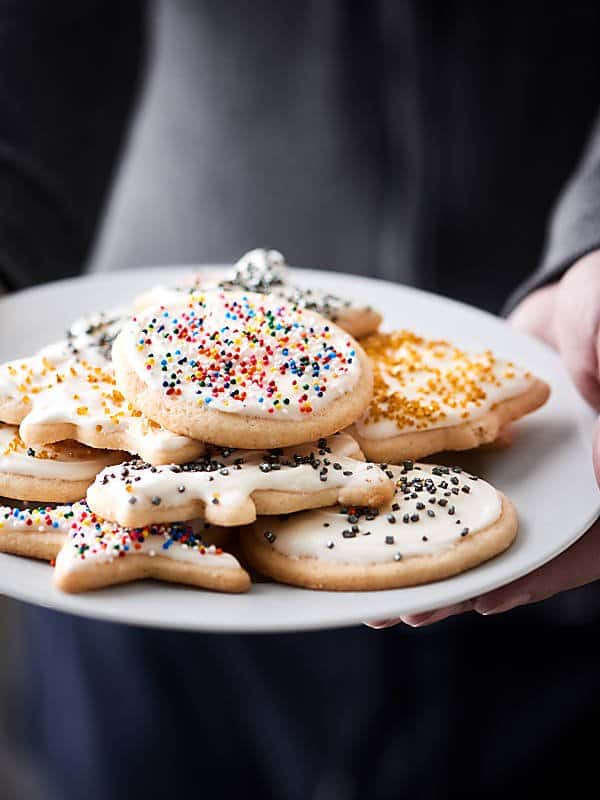 Stay cool this summer, but satisfy your chocolate craving with these easy, yummy, oatmeal, peanut butter, chocolatey no-bake cookies! No oven necessary!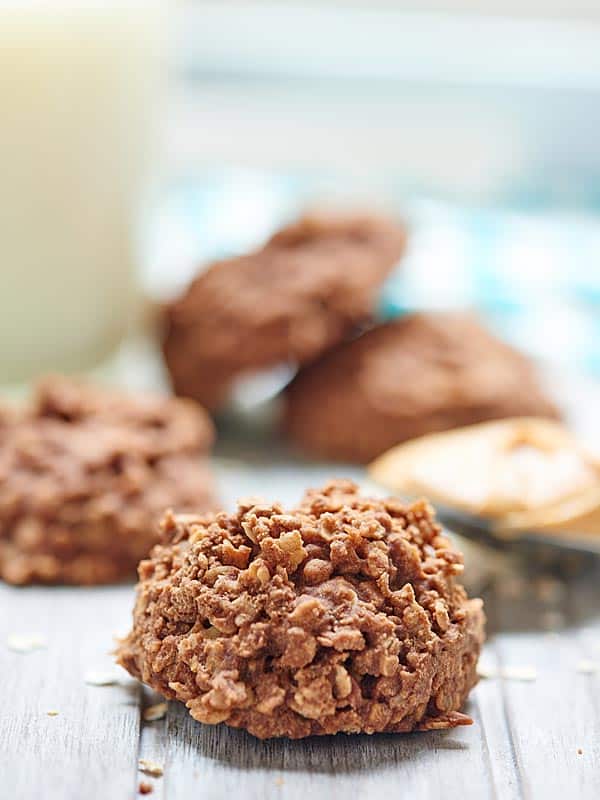 Just when you thought S'Mores couldn't possibly get better… enter: Sweet & Salty S'Mores Bars! Potato chips, honey graham cereal, marshmallows, milk chocolate bars, and butter!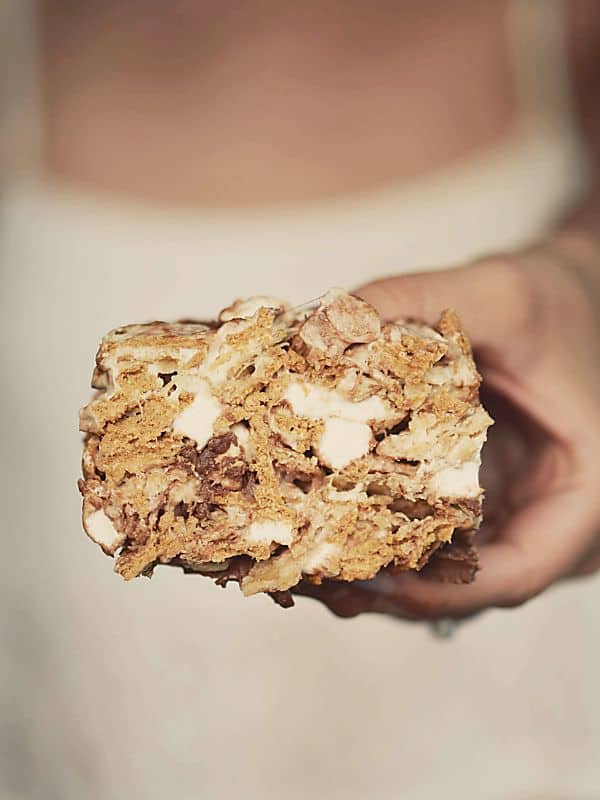 Easy 4th of July Drink Recipes
A classic, Easy Margarita Recipe. 5 ingredients: tequila, simple syrup (or agave), lime, lemon, and orange juice! A simply perfect and refreshing cocktail!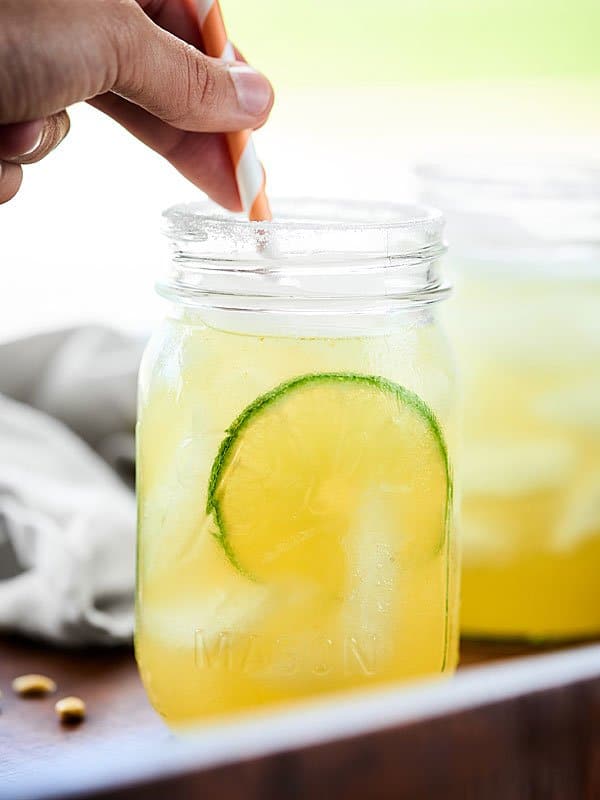 This honey strawberry lemonade only has four ingredients and is naturally sweetened! Perfect for kids! Add a shot of gin for an adults only cocktail!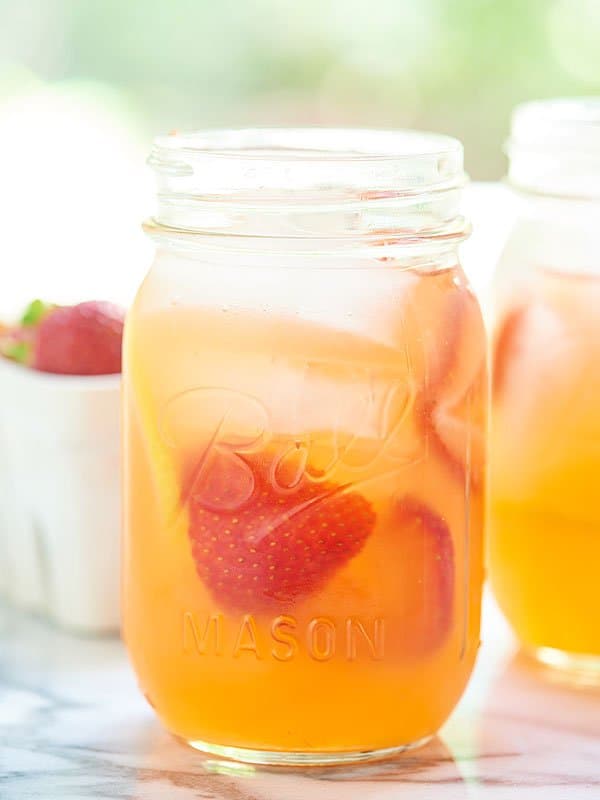 This Watermelon Sangria is summer in a glass! Fresh watermelon, strawberries, & lemons make it so seasonal! The addition of wine & vodka doesn't hurt either. 😉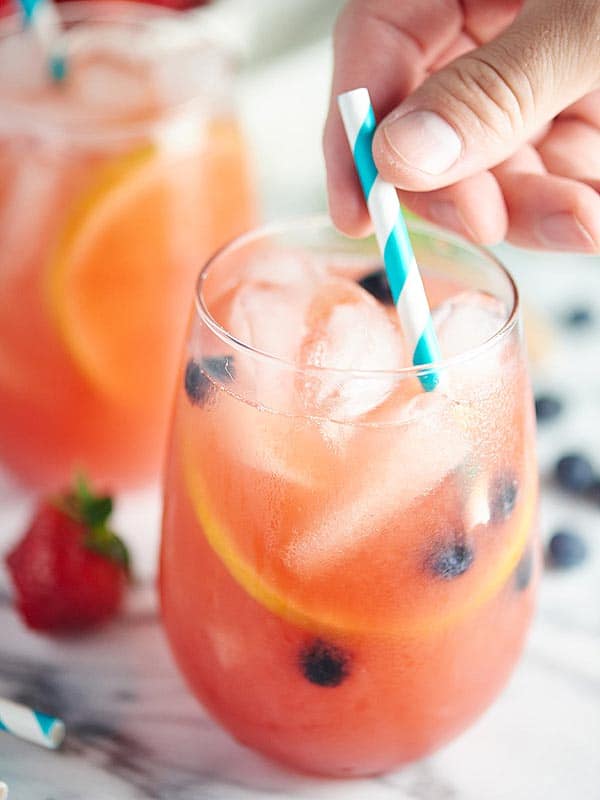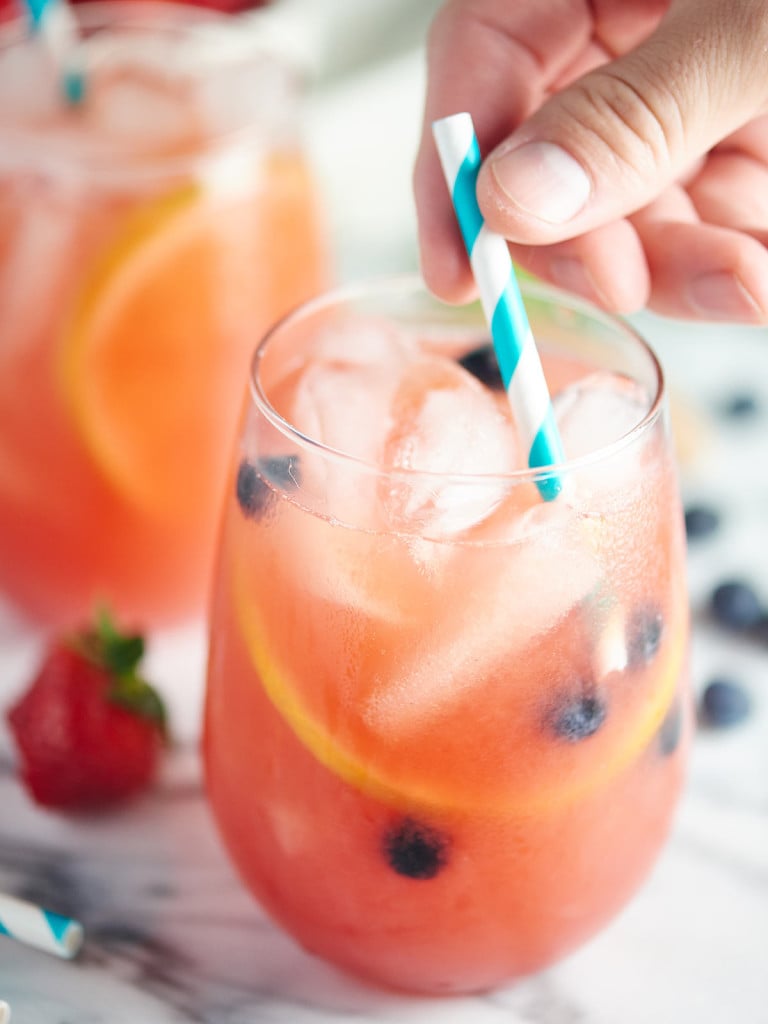 Happy 4th of July, everyone!
– Jennifer
What other 4th of July recipes do you want to see for next year? Show Me the Yummy!