This Cheesy Broccoli Rice Casserole is a one pot wonder that's made on the stove! This lightened up version is made with brown rice and plenty of cheese!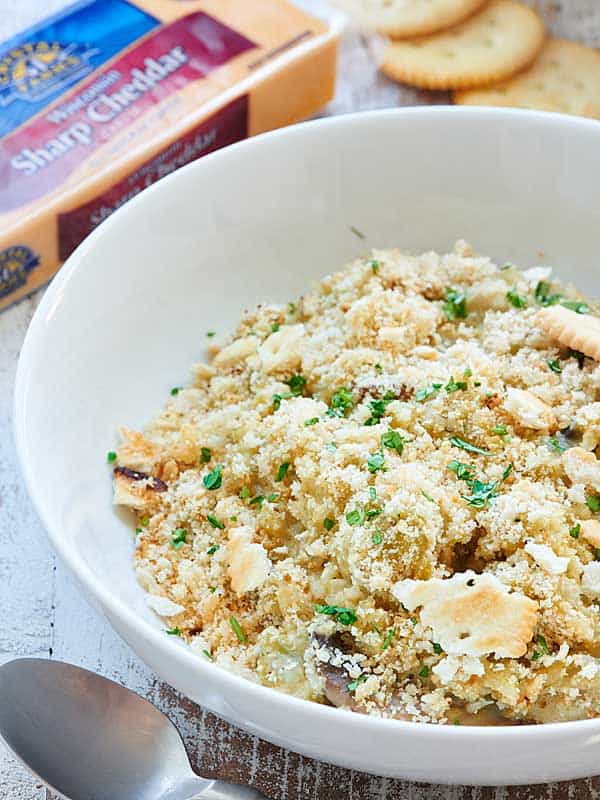 Today's cheesy goodness is brought to you by Crystal Farms Cheese. Their cheese is made by cheese lovers for cheese lovers and I'm l.o.v.i.n. it. Where's that cheese emoji when ya need one? 
---
Ohhh cheesy broccoli rice casserole. I've missed you. I grew up eating this casserole often in the cold wintery months. Usually with a side of chocolate chip muffin and pork tenderloin. Honestly, it was one of the only ways my mom could get me to eat anything green.
While I truly, deeply, honestly love her recipe, she uses processed cheese and I wanted to share something more natural with you guys. Gooood bye processed cheese and helllooooo Crystal Farms Cheese. All of their cheeses are all natural with few preservatives, tons of calcium, and gluten free! Get. In. Mah. Belly.
Let's talk about that cheese for a second. One of the things I was looking forward to when moving from Seattle –> Wisconsin was, yep, you guessed it, the CHEESE.
You can imagined then, when Crystal Farms Cheese reached out to work with us, I was super pumped. Crystal Farms is one of the largest cheese brands in the country and it's located just 30 minutes away in Lake Mills, Wisconsin!  Howdy neighbor 🙂
I actually see their truck delivering cheese every morning to my local grocery store. ♡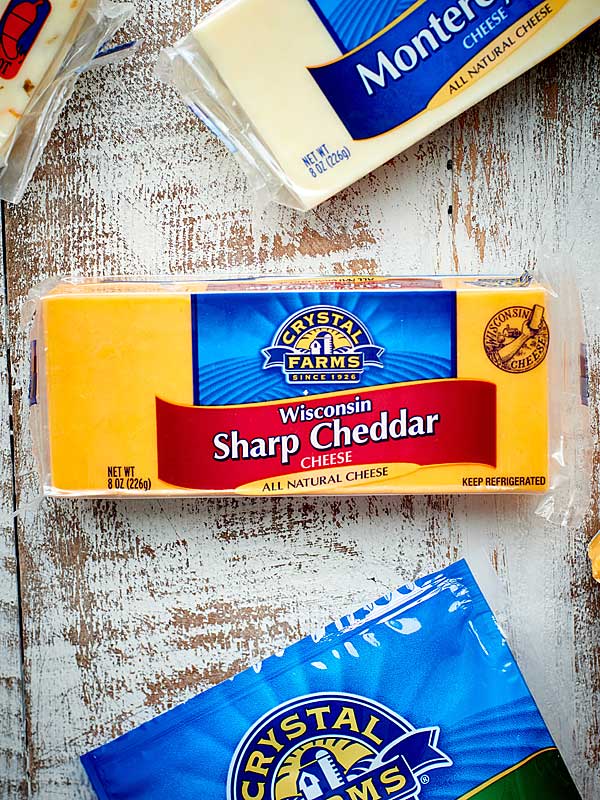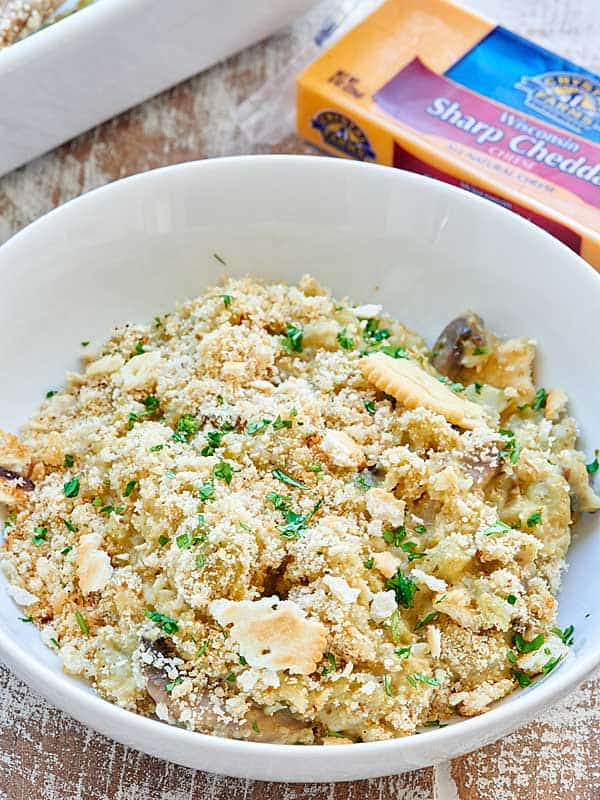 Their cheese is definitely the focal point of this cheesy broccoli rice casserole and I'm lovin' every cheesy bite.
This cheesy broccoli rice casserole is slightly different than your standard broccoli rice casserole.
#1: We use REAL cheese. Today, we're using three kinds of cheese: cheddar, monterey, and parmesan. The cheese I grew up eating in a broccoli rice casserole came in a jar. 😉 There's definitely a time and place for that, but for this recipe I'm using the real deal.
#2: This can be a ONE POT WONDER. Heck. Yes. During the holiday season, I feel like almost everything needs to be in the oven and unfortunately, I'm not one of those lucky people who have more than one oven. My solution? A one pot, stove top cheesy broccoli rice casserole.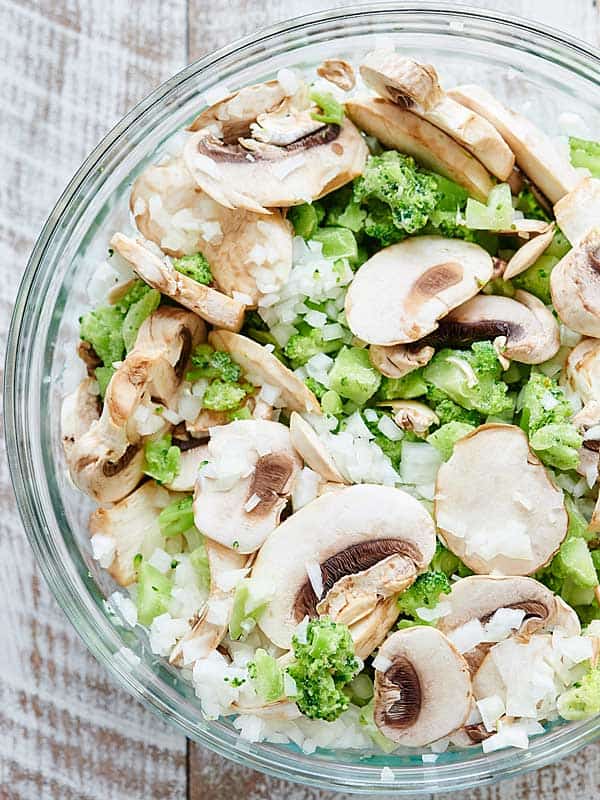 This recipe is also super low maintenance: saute some veggies, stir everything else in, cover, and simmer until the rice is tender. Easy. Peasy.
After it's cooked, you have the option to top it with crumbled crackers and broil it for a second, but it's totally not necessary.
Side note: either way, you'll need a super cute serving dish to serve this up in, so Crystal Farms is giving away a 14" Oval Le Creuset Stoneware Dish (in my favorite color: blue) below! 👇 Seriously. Don't miss out.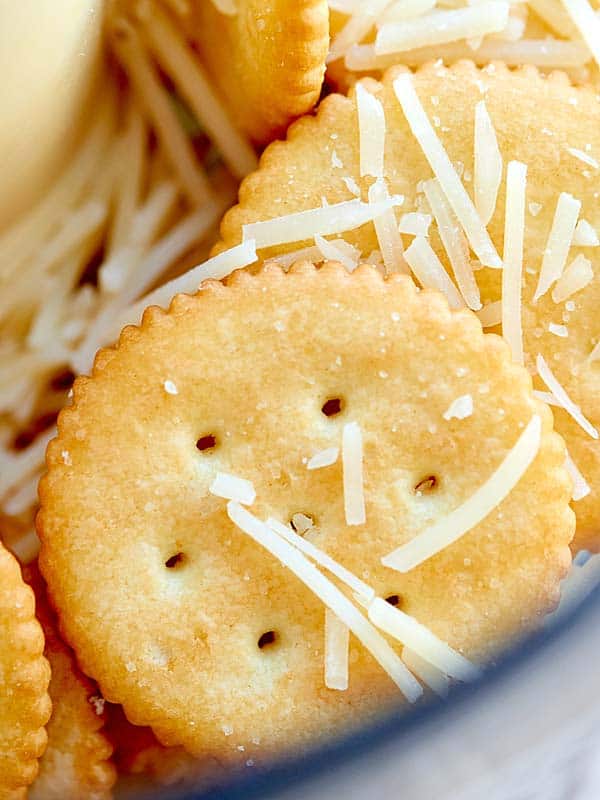 #3: We've lightened it up juuuust a touch – don't worry, plenty of cheese is still involved. This cheesy broccoli rice casserole uses brown rice vs white and real mushrooms vs cream of mushroom soup. I've also upped the broccoli and use skim milk.
So let's review, this cheesy broccoli rice casserole uses real cheese, is a one pot wonder, is low maintenance, and is lightened up while still tasting like comfy, cozy, cheesy rice heaven?
Yeahhh. I think we've just discovered the perfect side dish.
Ever.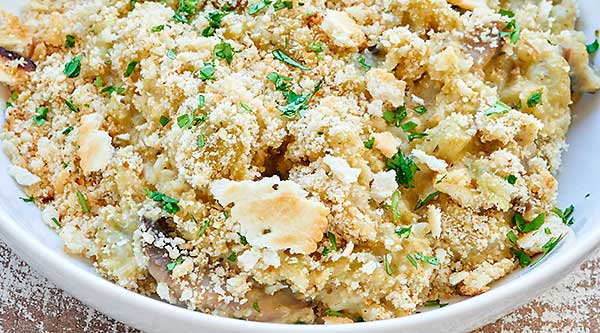 Cheesy Broccoli Rice Casserole
This Cheesy Broccoli Rice Casserole is a one pot wonder that's made on the stove! This lightened up version is made with brown rice and plenty of cheese!
Ingredients
1/2

stick (1/4 cup)

unsalted butter

1

(8 oz) package

sliced mushrooms

1/2

small yellow onion

diced

1

(16 oz) bag

frozen chopped broccoli

1

teaspoon

salt

1/2

teaspoon

pepper

2

cloves

garlic

minced or pressed

2

tablespoons

all purpose flour

1

cup

skim milk

2

cups

stock

chicken or vegetable

2

cups

Crystal Farms shredded cheddar cheese

divided

2

cups

Crystal Farms shredded monterey jack

divided

1

cup

uncooked brown rice
Optional topping
1

sleeve

Ritz snacker crackers

1/2

cup

Crystal Farms shredded parmesan cheese
Instructions
In a large stock pot, melt butter over medium high heat.

Stir in the mushrooms, onions, broccoli, salt and pepper, and cook for about 5 minutes, stirring regularly.

Add the garlic and cook for another 30 seconds.

Stir in flour and cook for 1 minute.

Stir in milk, stock, 1 cup cheddar cheese, 1 cup monterey jack cheese, and brown rice.

Raise heat to high and bring to a simmer. Lower heat to low, cover, and simmer for 45-60 minutes or until rice is tender.

Remove lid, stir in another 1 cup of cheddar cheese and 1 cup of monterey jack cheese and let simmer (I raised my heat to medium - medium low), uncovered, for an additional 10-15 minutes or until sauce has thickened. Keep an eye on it and stir regularly, so rice doesn't stick.

Serve immediately or add optional topping.
Optional topping
In a food processor, pulse together crackers and parmesan cheese until desired texture has been reached. Set aside.

Pour cooked casserole into a greased 9 x 13 in pan.

Top with crackers/cheese topping and broil until golden. Keep an eye on this as it can burn quickly!

Serve immediately.
Notes
I always use block cheese and shred it myself! I find it melts better than pre-shredded cheese.
**Make sure you use brown rice as it cooks longer than standard white rice.
Nutrition Information
Nutrition Facts
Cheesy Broccoli Rice Casserole
Amount Per Serving
Calories 343
Calories from Fat 180
% Daily Value*
Fat 20g31%
Cholesterol 51mg17%
Sodium 636mg28%
Potassium 351mg10%
Carbohydrates 25g8%
Protein 16g32%
Vitamin A 645IU13%
Vitamin C 34.7mg42%
Calcium 390mg39%
Iron 1.5mg8%
* Percent Daily Values are based on a 2000 calorie diet.
*Note: Nutrition information is estimated and varies based on products used.
Keywords:
cheesy broccoli rice, cheesy broccoli rice casserole